This looks healthy .
19 Healthier Super Bowl Recipes That Still Taste Indulgent
Mozzarella sticks, sliders, taco dip, and more game-day classics get some much-need makeovers.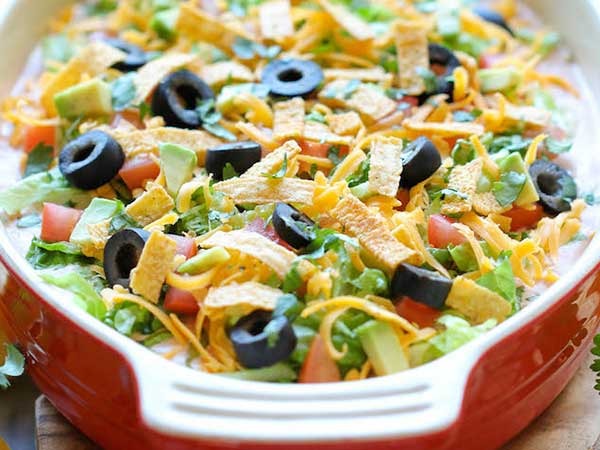 Between the crazy amount of snacks and the alcohol, it's no surprise that Super Bowl Sunday can totally derail your diet in a single day. You don't have to sabotage yourself this year, though.
You can enjoy game day with these healthier-for-you food ideas that still taste indulgent. We have curated a list of game day recipes that won't derail your body goals. As always, practice portion control and make sure to use the same plate; when we toss away plates between dishes, we also toss away the reality of what we are actually eating. You don't have to ditch your favorite football foods, as long as you choose the right version of them. From healthier taco dip and Buffalo chicken to potato skins and mozzarella sticks, we've got all the classic football snacks you want—just healthified. Find your favorites, and if by some chance you end up ordering in, be sure to stay away from the worst menu options from tons of popular restaurants. You're welcome in advanc
Cauliflower Buffalo bites
If you lose all self-control when it comes to anything bite-sized and buffalo, this just might be your antidote. Cauliflower baked in olive oil and then tossed in hot sauce makes a much more waistline-friendly finger food. Not to mention, the cruciferous veg is credited with reducing inflammation, fighting cancer, boosting heart health, detoxifying your body, aiding digestion, and even improving brain function!
Get the recipe from Good Dinner Mom.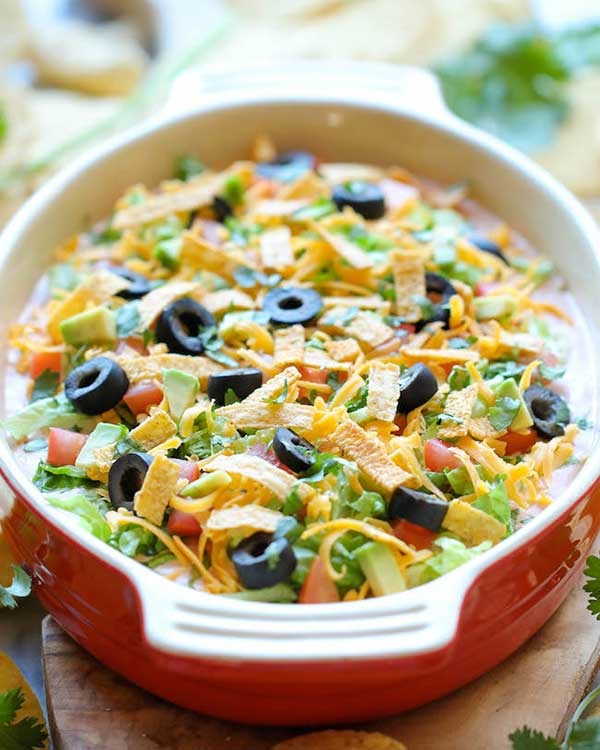 Tacos are basically everything, right? And this skinny dip version is crack, but even the healthiest dips can quickly spiral out of control. We know you're not going to bust out a measuring cup in the middle of the game. Here's our advice: a half a cup serving is about the size of a tennis ball or 3-4 spoonfuls. Rather that directly dip into the bowl, dish a ½ cup serving on an individual plate and go to another area to consume it.
Get the recipe from Damn Delicious.
Healthy sweet potato skins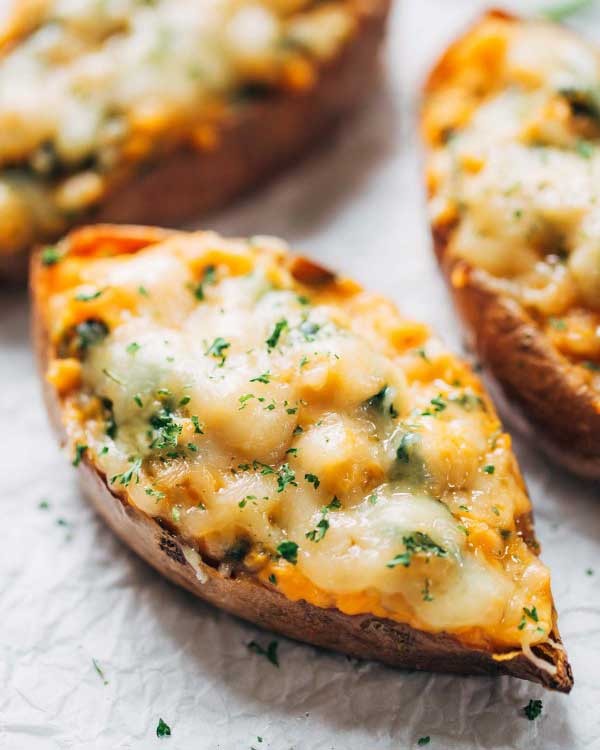 The orange spuds pack in vitamin B6, vitamin C, vitamin D, iron, magnesium, and potassium. Basically, they're your edible multivitamin.
Get the recipe from Pinch of Yum.
Crispy baked honey BBQ wings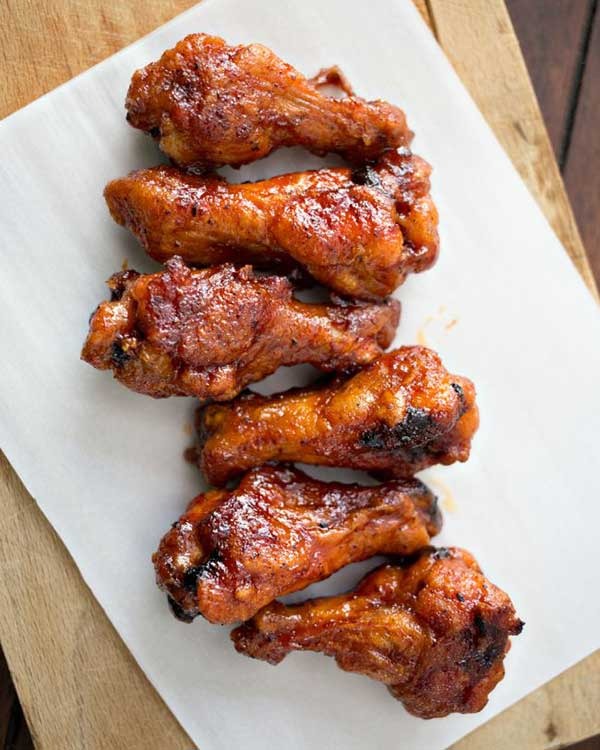 These sweet and spicy wings pack in a whopping 30 grams of protein per serving. And if you're on a quest to a healthier, slimmer you, that's music to your ears. When you make protein a priority, you can boost post-meal burn by as much as 35 percent!
Get the recipe from A Night Owl Blog.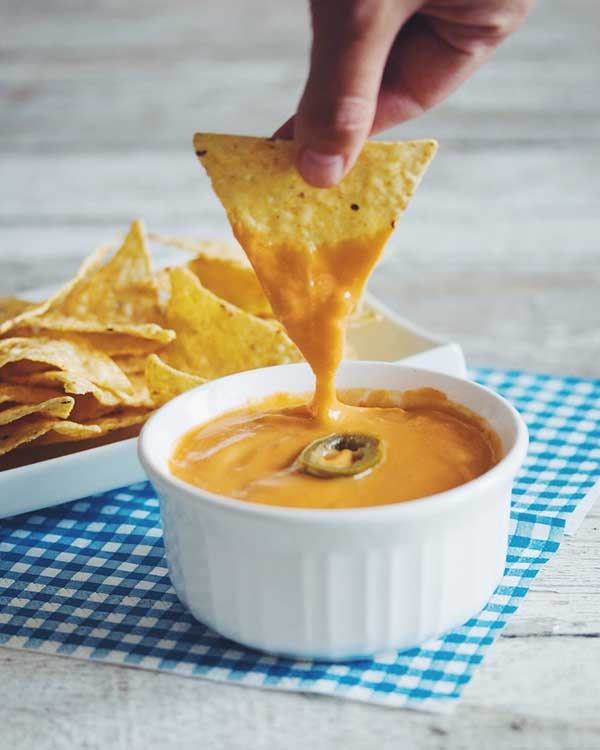 This "nacho cheese" is made with sunflower oil, carrots, potato, lemon juice, jalapeno, and tomato. And according to Stephanie Middleberg, MS, RD, CDN of Middleberg Nutrition, sun butters are a "wonderful source of protein, vitamin E, B vitamins, folic acid, and selenium." In fact, research shows that they fight bodily inflammation, heart disease, and cancer. You'd be hard pressed to find a Tostitos dip that can do all that.
Get the recipe from Hot For Food.
Crispy Buffalo chicken fingers
Even the most health-conscious have a hard time turning down a buff chic tender or two. Luckily we've found a healthified baked version. Our only recommendation: swap in Greek yogurt for mayo. When it comes to weight loss, fat burning and fitness fuel, few foods are more powerful than the white stuff. Plus, protein aside, it's loaded with probiotics that aid in digestion, plus calcium and vitamin D, which are essential for bone health. The best part? Your guests will be none the wiser.
Get the recipe from Sally's Baking Addiction.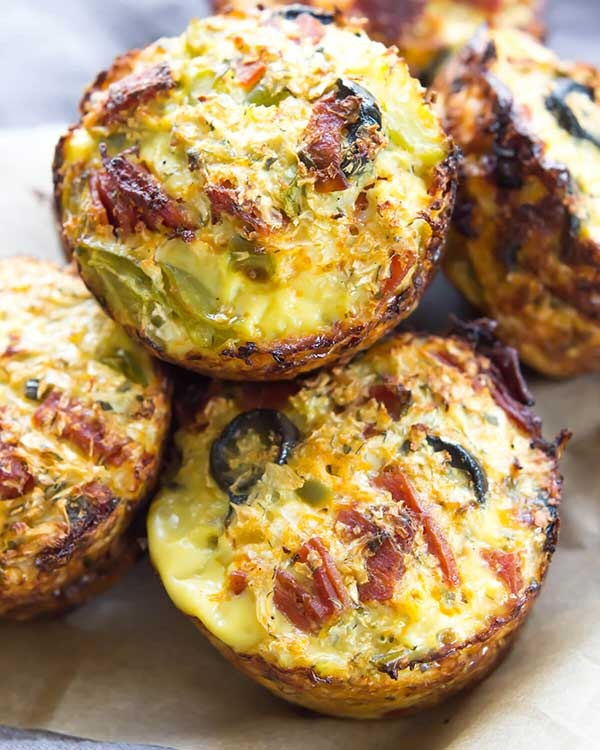 Good luck finding a pizza with 4 grams of carbs. Cauliflower adapts to the flavors it's combined with so trust us, these pizza bites are freakin' amazing!
Get the recipe from Wicked Spatula.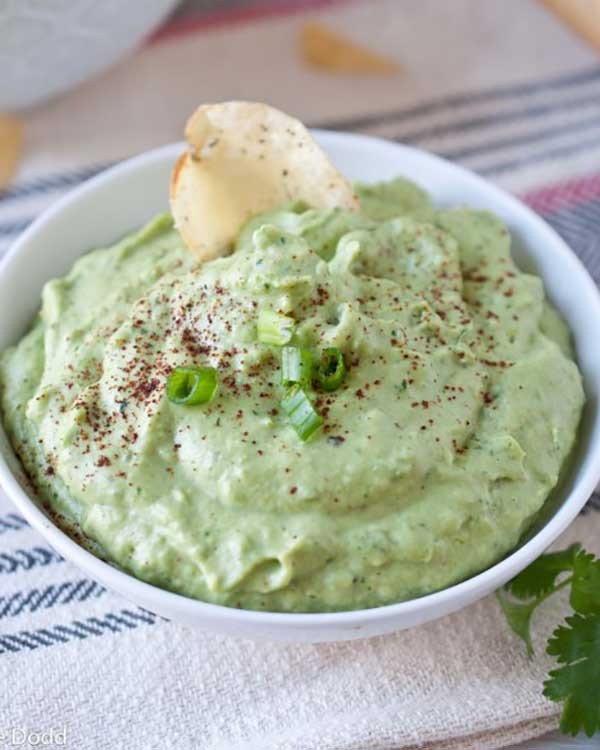 You know the saying, "if it's not broke, don't fix it." Well, guac is never broke (unless, of course, you're ordering it from Subway). However, we are firm believers in trying new things and this broccomole is definitely one of them. Plus, according to clinical trials, weekly broccoli consumption can lower rates of prostate, breast, lung and skin cancers! And it's all thanks to sulforaphane, a compound that can effectively "switch off" cancer genes, wiping out cancer cells and slowing the progression of disease.
Get the recipe from Domestic Fits.
Cheesy avocado quesadillas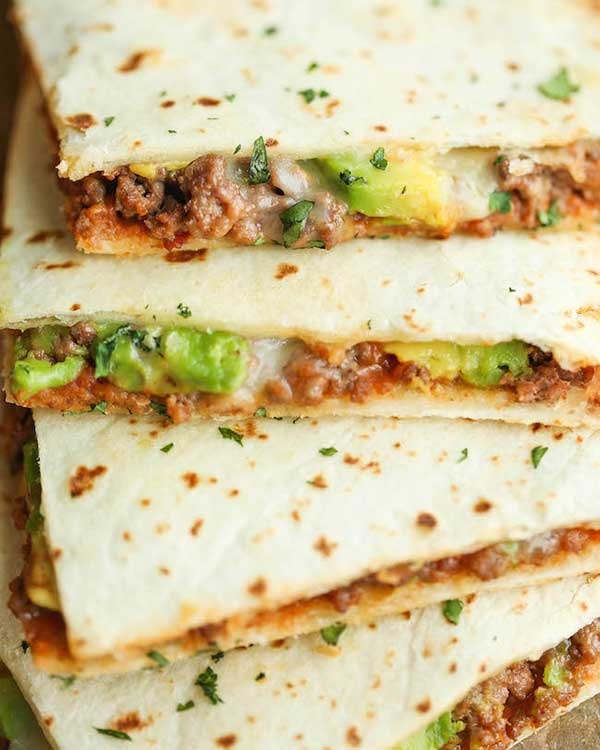 Don't worry meat lovers—we didn't forget about you. Just make sure to opt for grass-fed beef, which is naturally leaner and void of carcinogenic antibiotics and chemicals. And do we really have to mention the green flat-belly goddess sandwiched between this one?
Get the recipe from Damn Delicious.
Vegan sweet potato sliders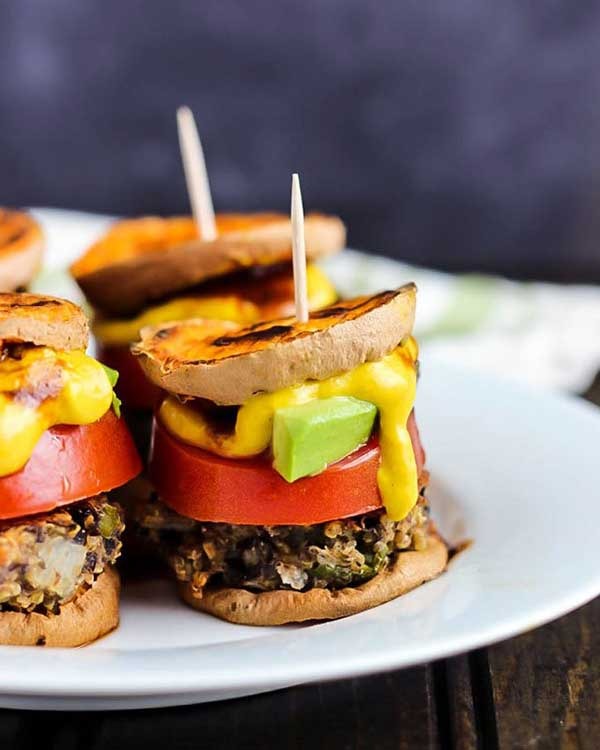 These hearty veggie burgers are made with protein-packed quinoa, detoxifying garlic, flat-belly black beans, calorie-scorching spices, and cancer-fighting flaxseed, and then sandwiched between a filling sweet potato bun. It doesn't get much healthier than this.
Get the recipe from Emilie Eats.
Mini pepper nachos with corn, black beans, and avocado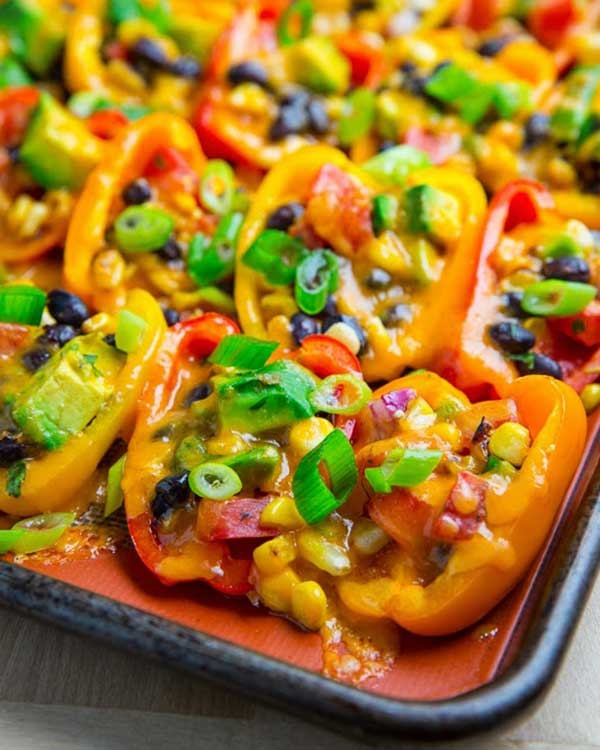 Nachos that can boost your happiness—that is if you ditch tortilla chips for bell peppers and always go red. Here's why: researchers at William Paterson University ranked red peppers as the second most potent vegetables. Aside from boosting your immune system, the sky-high concentration of vitamins helps to improve your mood directly!
Get the recipe from Closet Cooking.
Skinny Buffalo turkey sliders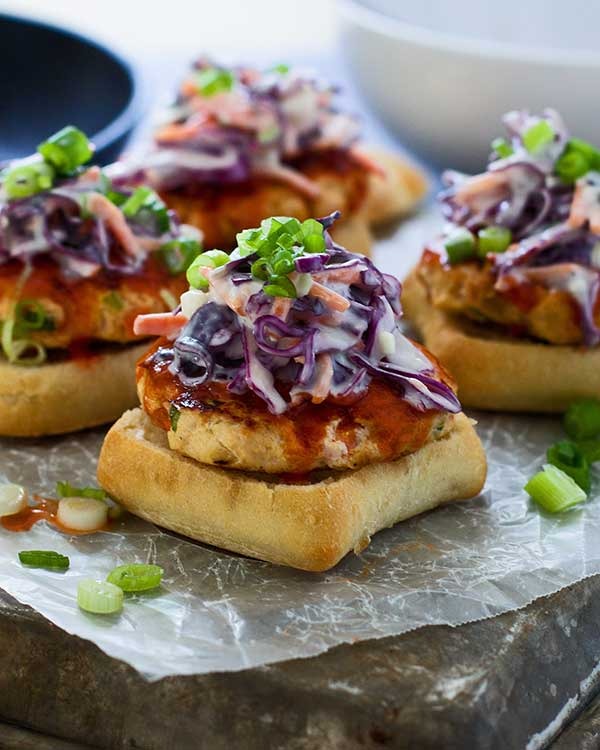 Eat so much chicken lately, you're surprised you haven't started clucking? We got you. These sliders use lean ground turkey to deliver that same fiery taste and muscle-building protein to your palate.
Get the recipe from Cooking For Keeps.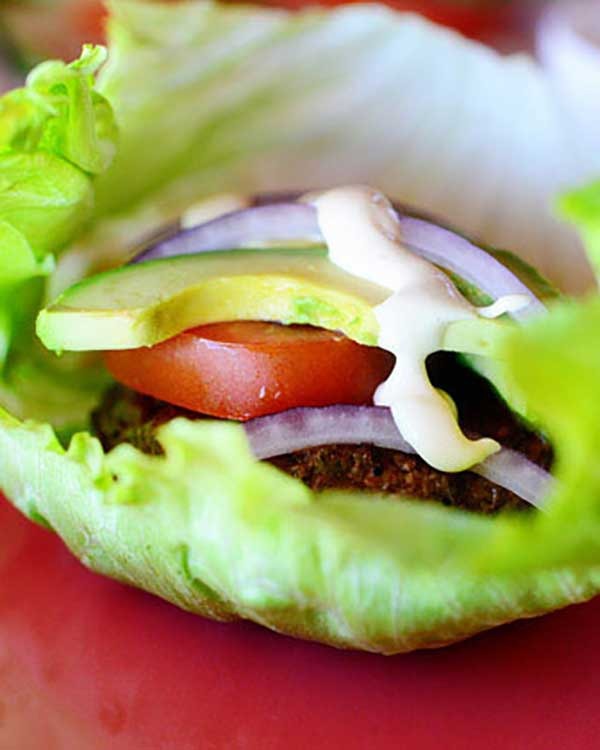 These satiating, low carb burgers are wrapped up inside a lettuce bun with cheese, onion and waist-shrinking avocado. In fact, a study in the journal Diabetes Care found similar results: A diet rich in monounsaturated fat may actually prevent body fat distribution around the belly by down-regulating the expression of certain fat genes!
Get the recipe from The Pioneer Woman.
Baked garlic parmesan potato wedges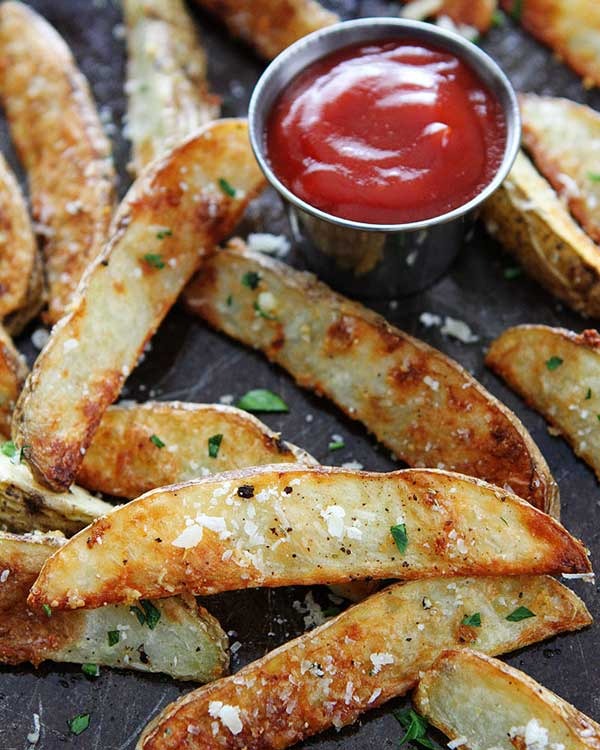 Potato wedges are favorite for many—but not all fries are created equal. Zero trans fats, and a hunger-busting combo of fiber and protein, these garlicky delights surpass most.
Get the recipe from Two Peas and Their Pod.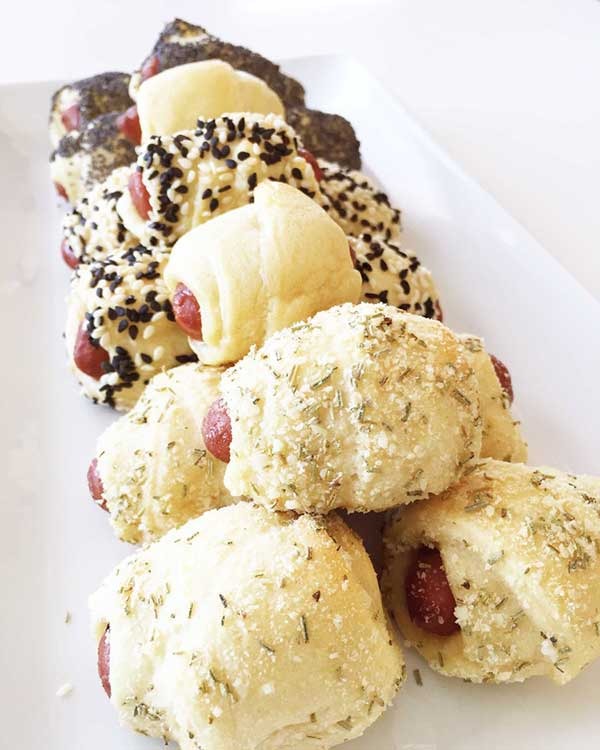 Unlike conventional hot dogs, which are doused with nitrates and nitrites, chemicals that have been shown to cause cancer and diabetes, these pigs in a blanket are made with organic turkey. Most notable is the sodium count, which won't break your daily salt bank. While we don't recommend consuming them on the reg, the occasional indulgence won't hurt you.
Get the recipe from The Skinny Fork.
Buffalo chicken quesadilla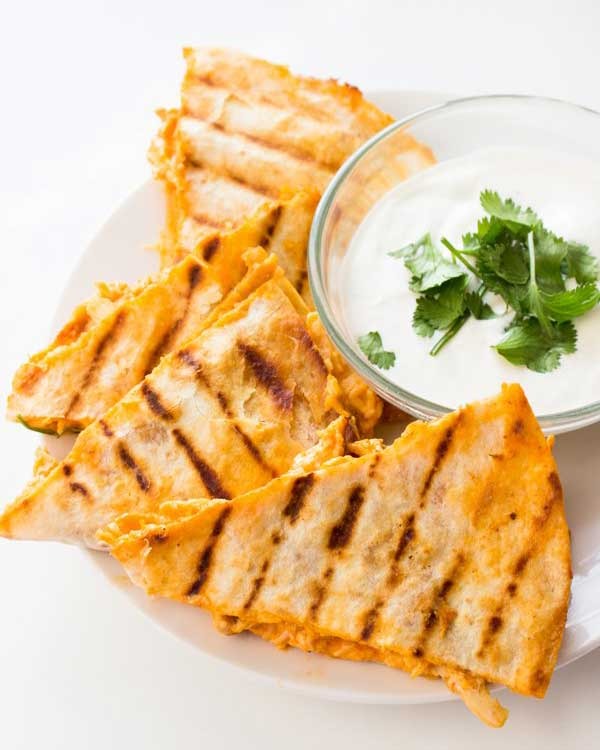 Rotisserie chicken is a dieter's BFF. Feeding an entire family for less than $10, they can go from plastic container to quesadilla in just minutes because who really has time to cook 2 pounds of chicken? Superbowl meal prep doesn't get much easier (or cheaper than that).
Get the recipe from Gimme Delicious.
Carrots boost immunity, promote vibrant skin, reduce cholesterol, boost oral health, protect the heart, improve digestion, increase cardiovascular health, and detoxify the body, thanks to a plethora of vitamins and minerals. No hot dog is going to do all that. P.S. Did you know your body prefers to burn the fats in coconut oil (also a key ingredient in this one), rather than store them? If not, it might be time to brush up on the healthy benefits of coconut oil before you bite into this one.
Get the recipe from Neurotic Mommy.
Caesar wedge salad with bacon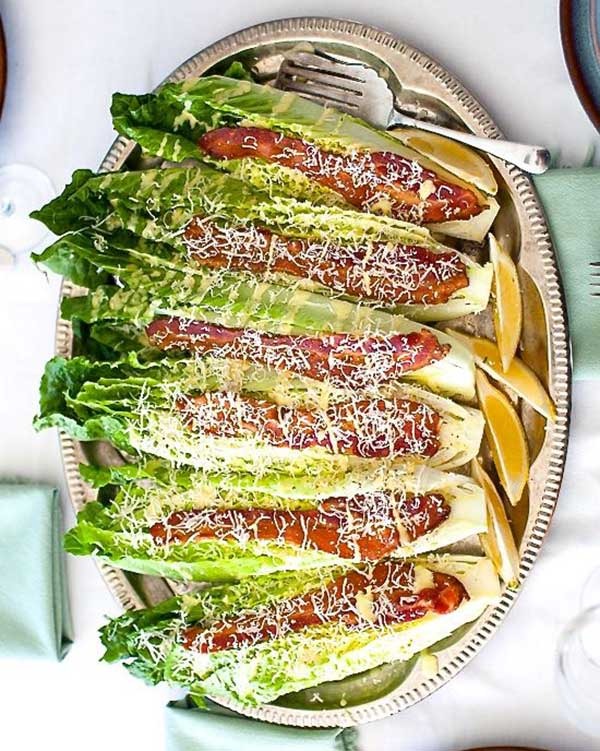 All the flavor and none of the empty, nutrient-void carbs—we love lettuce boats. Although Caesar and bacon don't have the most weight loss friendly rep, at 66 calories a wedge, this one is a green light. And don't opt for turkey bacon.
According to Sarah-Jane Bedwell, RD, LDN, a Nashville-based nutritionist and author of Schedule Me Skinny: Plan to Lose Weight and Keep it Off in Just 30 Minutes a Week, "center cut pork bacon, considered the highest quality bacon in the meat industry, is actually similar in nutrition to turkey bacon—but tastes way better. The fatty portions from the top and bottom have been removed, resulting in leaner, more uniformed slices that include more meat and less fat. A serving of center cut pork bacon has only about 25 more calories than a serving of turkey bacon. And although turkey bacon is a bit leaner—only by about half a gram of fat per serving—it's actually quite a bit lower in protein; turkey bacon has about two grams of protein per serving, whereas center cut bacon has six grams of protein per serving."
Get the recipe from Simple Bites.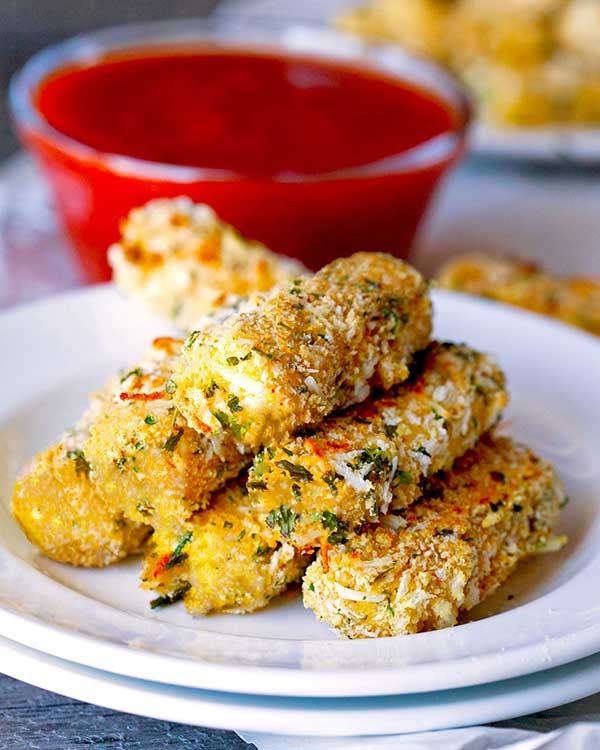 Next time you're on a hunt for low-carb snacks to whip up, don't forget about this one. Part-skim cheese sticks dipped in egg and rolled in flour, panko breadcrumbs, parmesan, and parsley—one word: genius.
Get the recipe from Deliciously Yum.