Whilst corporate wear tends to be traditionally defined, your clothing choices should be anything but boring. With this in mind we bring you a complete guide to men's shirt, tie and suit colour combinations that will help you to stand out from the crowd in a good way.
The Colour Wheel – How to Match Colours
The colour wheel is useful when it comes to pairing your ties with shirts, allowing you to identify colours that are complementary, contrasting and similar. Whilst it can be used as a rough guide for pairing your shirts and ties, you should be aware that it is one thing to do something in theory and another in practice. The colour wheel is informative, but it shouldn't be taken as gospel. Perfecting tie and shirt combinations will come from experience! Colours beside each other in the colour wheel are similar, meaning they possess similar tones. Colours opposite to one another are complementary, but the shades of these tones need to be well considered. Finally, colours that are three sections away from other colours are contrasting.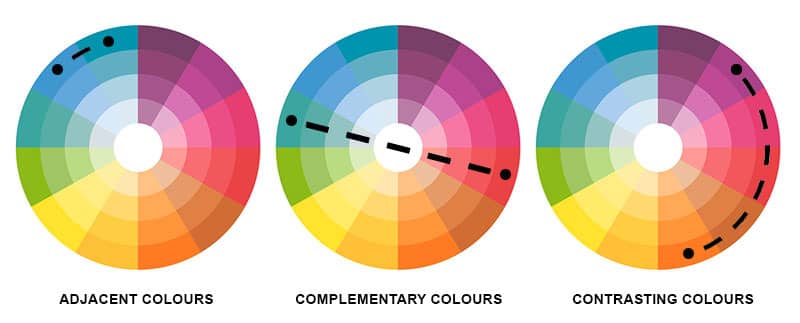 The trick to perfecting similarly coloured shirts and ties is to vary your shades. Ties should be darker than your shirts, so opt for deeper, darker colours of your shirts for your tie choices. Similar colours can work well together, but ensure there is enough distinction between the shades of your shirts and ties. Take a powder blue shirt and a navy tie – the navy will pick up the lighter blue tones of your shirt, and will work well because they are distinctly different. Complementary colours need to be paired thoughtfully, as they can be more difficult to team together – don't match these colours in bolder tones, the look will be a bit intimidating. Contrasting colours are typically easier to team together, given they juxtapose and create a bit more dimension. Blues and reds are the best example of contrasting tones that work phenomenally well together.
Shirt and Tie Rules
You can never go wrong with traditional colours for your shirt choices. Ensure you have all the great staples, like white, powder blue and pale pink. This will afford you more freedom when you come to pair your shirts with ties. Patterned shirts should be welcomed for a distinctive change, but stick to traditionalist patterns and colours to keep your looks grounded, like simplistic checks and washed out ginghams. For your ties, opt for knitted and textured versions to really change up your sartorial corporate looks. Additionally, silk ties are recommended in classic prints with thicker stripes and solid tones for maximum versatility and timelessness.
Keep in mind that traditional coloured suits (blacks, grey, navy, etc.) are encouraged when you try out the following colour shirt/tie combinations, and should be matched accordingly.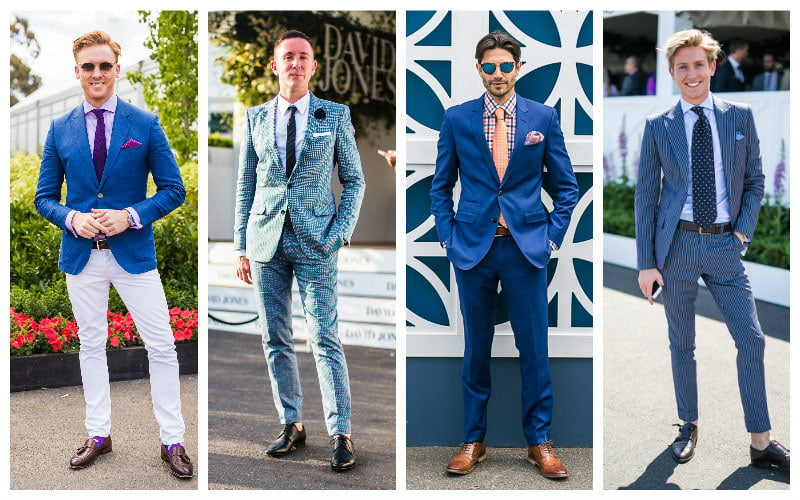 White Shirt
White as a tone is preferred for versatility, given this shade works well with pretty much every colour. The quintessential tone is clean, crisp and classic. White shirts thus afford much freedom when it comes to pairing them with ties. No matter your tie choice (solid colours, classic stripes, traditional patterns, modern textures), white is the obvious choice for easy combos you can formulate without thinking twice about. The key to nailing your white shirt complements? Opt for classic navies, vermillion reds, emerald tones of green and preppy patterns for playful touches to your corporate looks.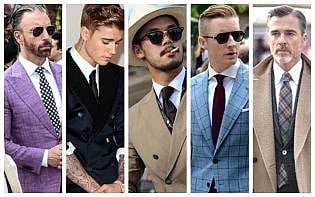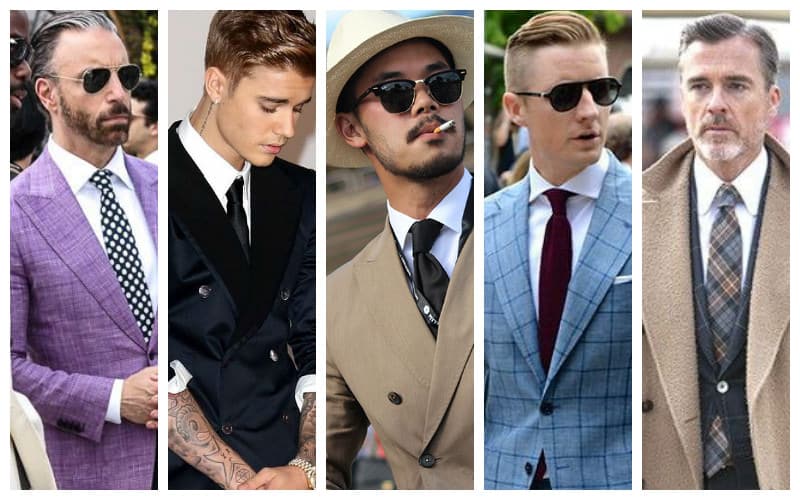 White Shirt / Black Suit Combination
For white shirt and black suit combinations, interpret this combination classically for a timeless edge. Whilst most colours work really well with black and white (obviously, they are the base shades), monochromatic ties will sustain a refined approach to this colour combinations. Try out different textured ties for a more dimensional take on classic black and white.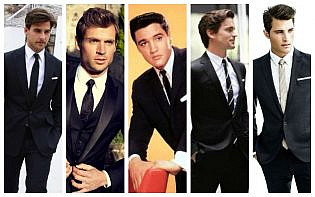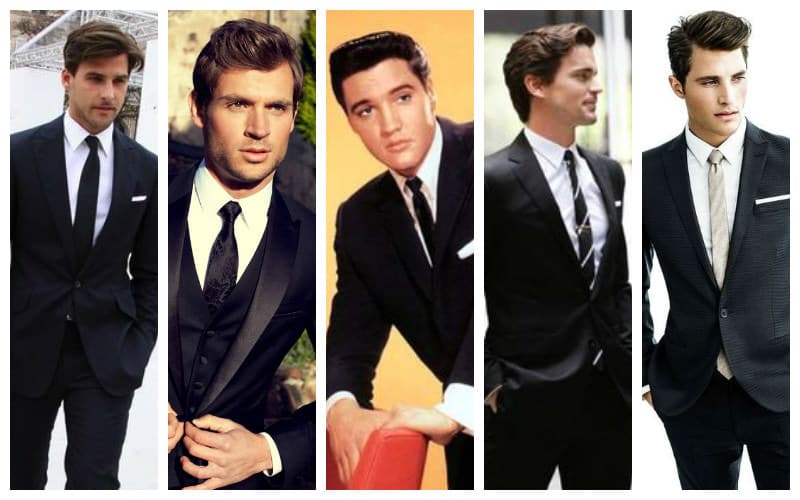 White Shirt / Grey Suit Combination
Given grey and white are more neutral, be sure to add dashes of colour to warm such a palette up. Grey suits with white shirts can be warmed up with redder tones, grounding your looks. So, opt for classic burgundies and rich oxbloods to add a dash of colour to grey.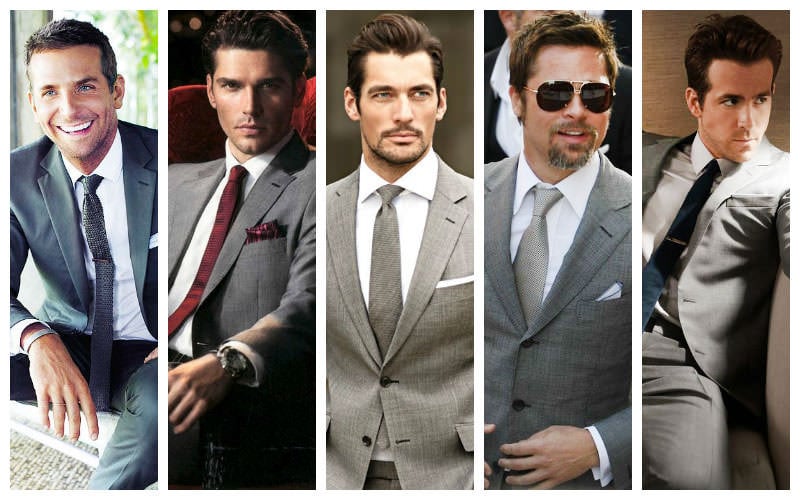 White Shirt / Navy Suit Combination
White and navy have proven to be an alluring colour combination for the modern man, particularly for corporate looks. Play with different patterns like ginghams and tartans which feature similar blue tones for a nod to private school uniforms. Alternatively, go for knitted ties in solid colours like cherry reds and grass greens for a clean, classic way to interpret a navy suit with a white shirt.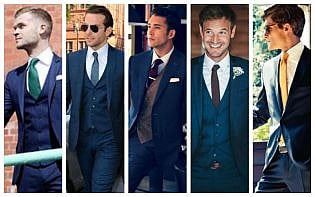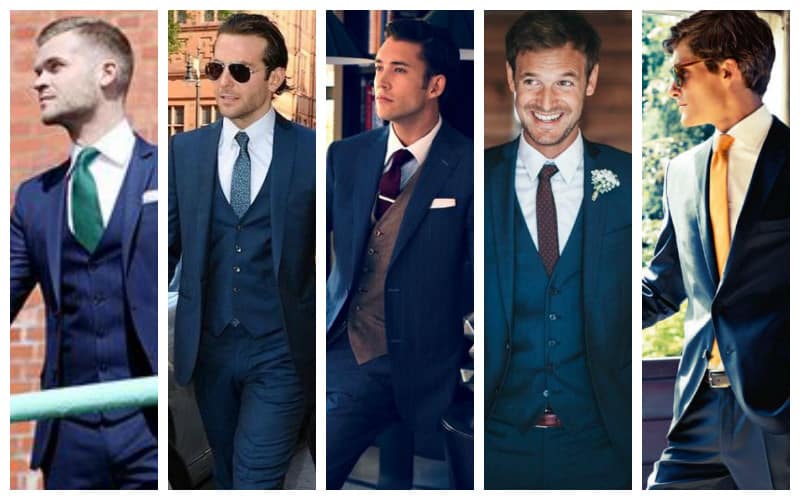 White Shirt / Tan Suit Combination
For tan suits and white shirts, blue tones are your best bet. Different shades of blue will complement the warmth of a tan suit, so keep an open mind with the types of tones you go for. Navy kitted ties in different patterns, like horizontal stripes will liven up your take on neutral suiting and powder blue tones will also pick up the warmth of tan and also brighten up a simple white shirt.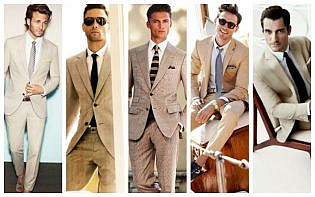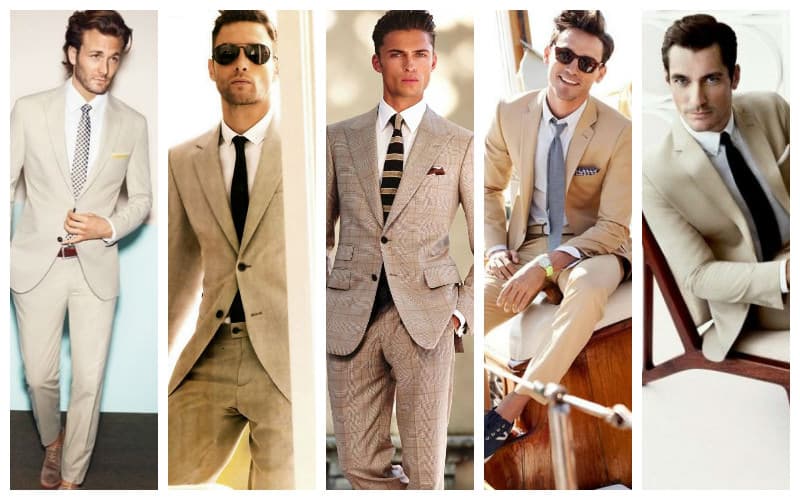 Blue Shirt
Blue is one of the best shades you should go for when choosing dress shirts. Firstly, it's a change from classic white, but it is still conservative and formal. Blue is also great to give you a deeper tan complexion and warms up your clothing palettes subtly. Powder blue is your best bet for another corporate staple that works incredibly well with different tie colours and patterns. Pale blue also tends to complement a range of skin tones and hair colours, making it an alluring shirt staple. For powder blue work shirts, opt for ties in the same colour family like darker navies for a grounded look. Alternatively, go for dark patterned ties or mix things up with deep crimson silks or darker green variations for corporate looks with a twist.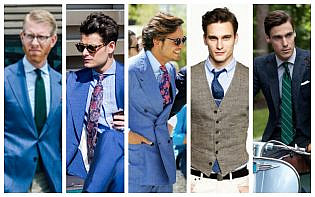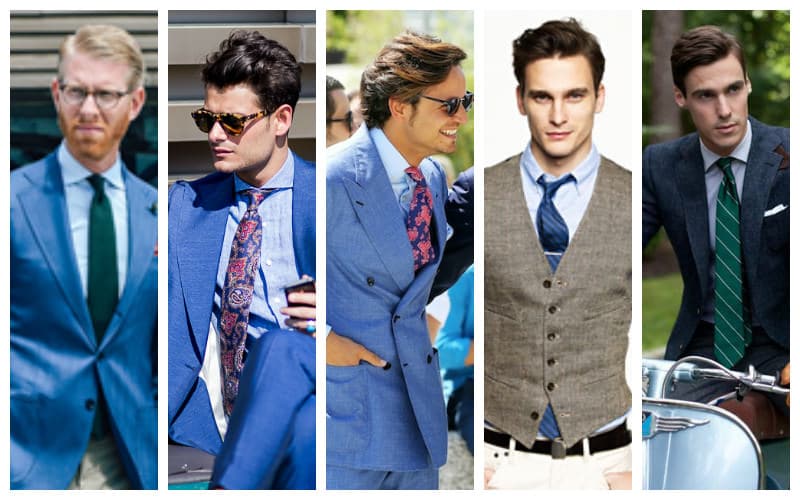 Blue Shirts / Grey Suit Combination
For powder blue shirts and grey suiting, you will want to distinguish between your shirt and your tie. The best way to do this for this combination is to opt for a navy, which is still within the same colour family but it is distinctive from a powder blue shirt. Try out silks for added shine and knitted ties for a bit more texture. Alternatively, opt for pinks and violets to add variation, without straying too far from your colour story.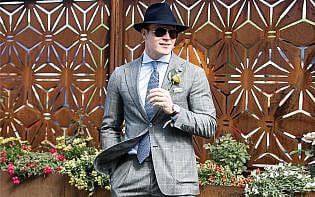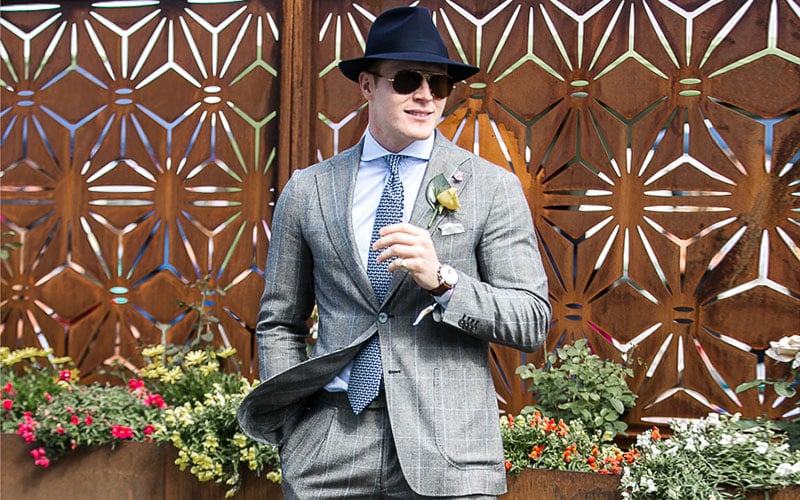 Blue Shirts / Tan Suit Combination
The best way to annotate a tan suit with a blue shirt is to stick to the classics. You're working with some opposing tones, so it is best to keep things conservative. Deeper scarlet ties will do just that, offering a bit of diversity when you don a blue shirt with a tan suit. Also consider patterned ties in classic colours which will lend a preppy edge to a well tailored neutral suit when paired with a blue shirt.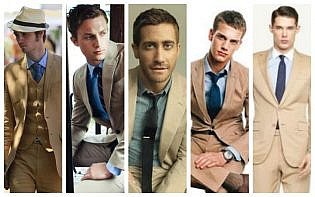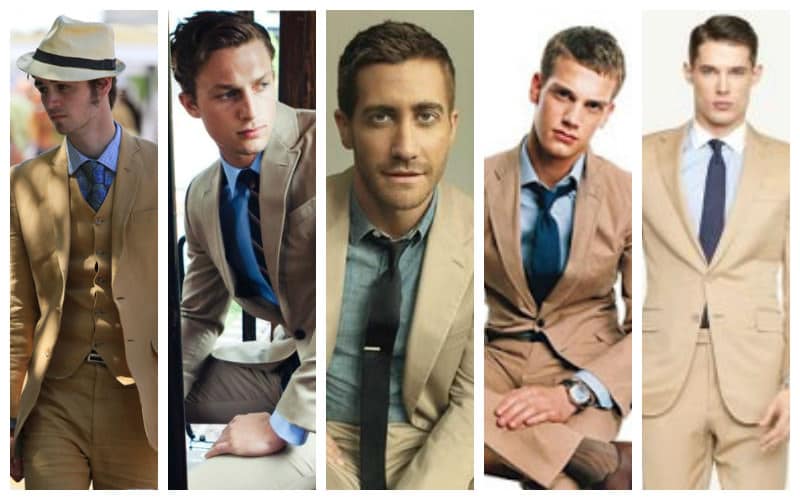 Blue Shirts / Navy Suit Combination
The trick to pulling off lighter blue shirts under deeper blue suiting is to diversify your look, adding ties in different prints and patterns. This will allow your tie to be the focal point, as opposed to just blending in. Stripes work well and are classic, but also consider a darker tartan to tie your look together. For a failsafe look that is hard to fault, go for deep crimson ties to stand out amongst the shades of blue.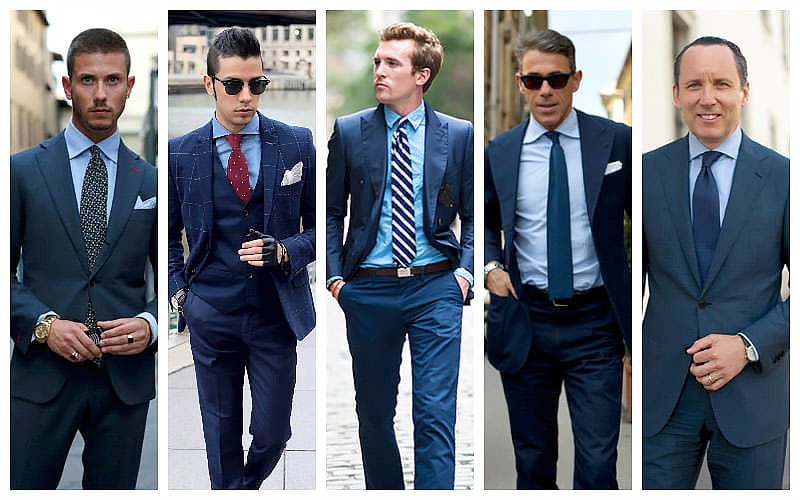 Pink Shirt
Powder pinks can be a refreshing change to the monotony of staple shirt colours. This tone can also bring a bit more colour to standard suits. You will need to ensure that the pink shirts you pick are not overwhelmingly pigmented, so opt for softer tones to complement accompanying navy, grey and tan blazers. The trick to pairing appropriate ties with pink is to work with both contrasting and similar colours. A deep purple or violet tie will pick up the tones of pink, and deeper navies will add depth to this pastel tone.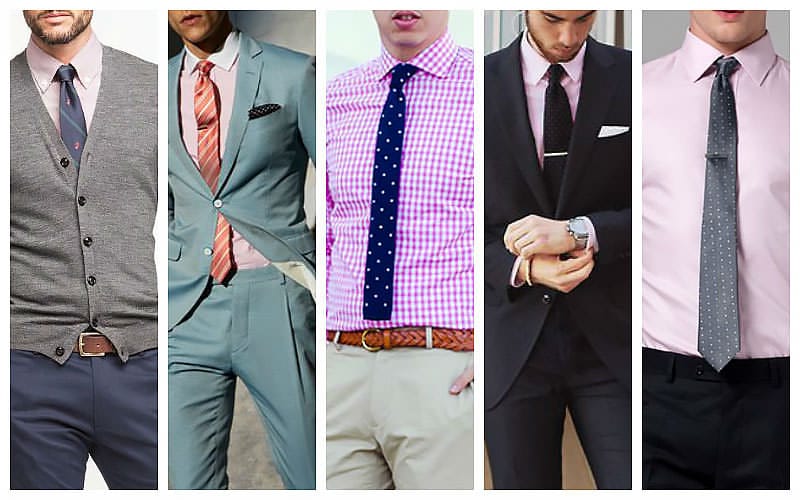 Pink Shirt / Navy Suit Combination
Pink shirts are the perfect accompaniment to navy suits, so keep in mind that working with similar tones will complement this colour combination. For a safer interpretation, opt for a matching textured navy tie, like crotchet versions, which will reference your suit, but add a bit more diversity to your look. Mid-tone pinks may also work well, but ensure they are darker than your shirt. Alternatively, opt for ties in stripes or plaids that feature classic tones to play off this colour combination.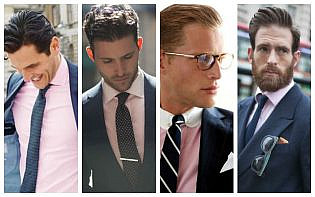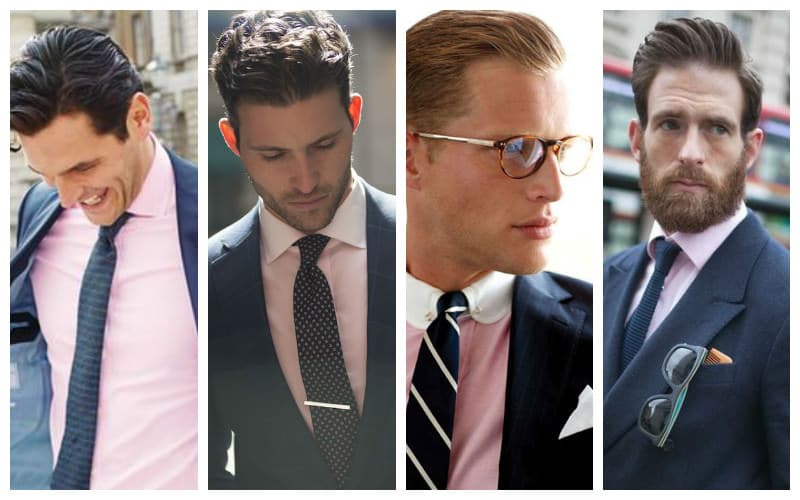 Pink Shirt / Grey Suit Combination
A deep purple or sandy violet will complement the tones of pink in your shirt and also correspond well with the neutrality of a grey suit. We note that as usual, tailoring should be exceptionally done especially with these colours to modernise such looks.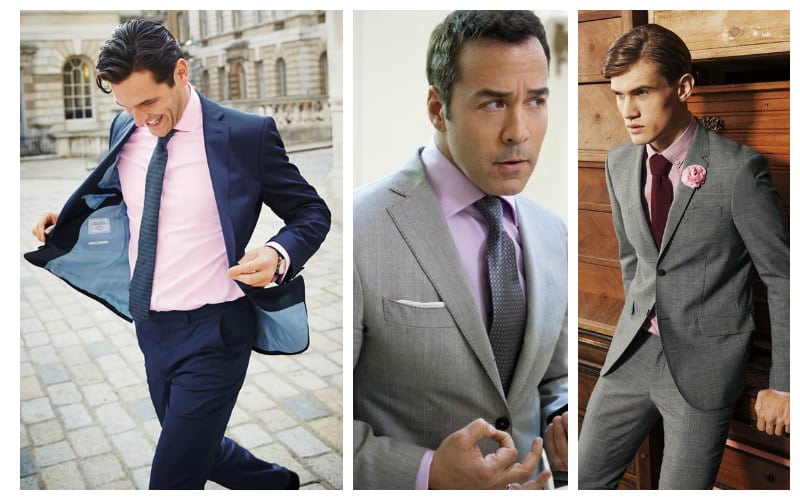 Pink Shirts / Tan Suit Combination
Try playing off the warm neutral tones that a tan suit provides, and opt for dusty browns. The warmth of brown will also complement a softer pink, so your palette will correspond well with all the components of your outfit.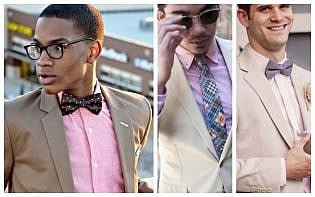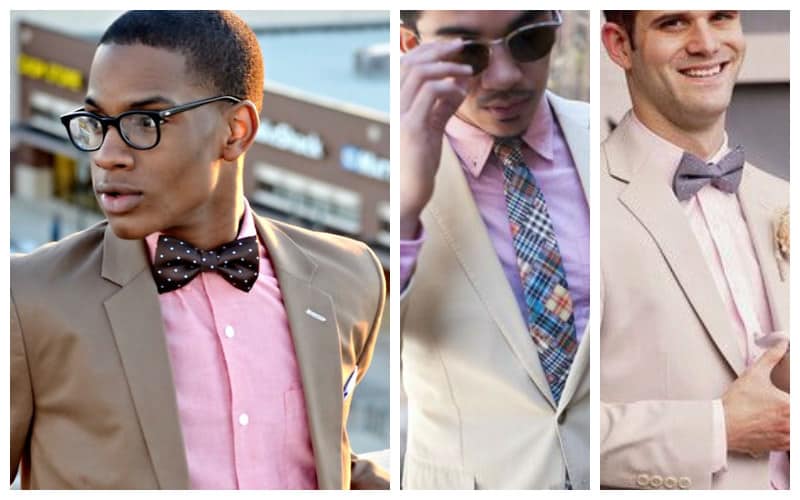 Checked Shirts
For checks, opt for ties in bolder colours and patterns to ensure that it will stand out against your shirt. The trick is to make your tie the statement. With subtle print shirts, you can get away with more vivid prints and patterns. Just ensure that your tie is bolder and darker than your shirt, to ensure there is distinction between your apparel.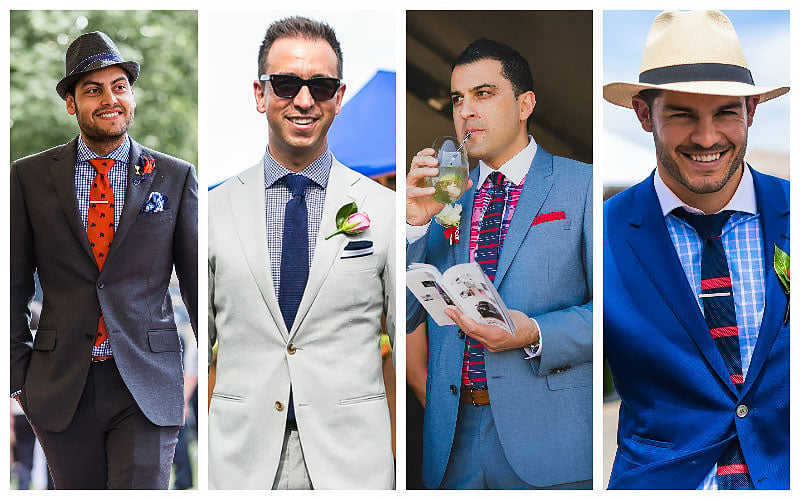 Striped Shirts
Striped shirts obviously work with plainer ties, but also consider mixing it up with striped ties to contrast the print of your shirts. The key to perfecting this combination is to ensure that the stripes in your ties and shirts are not the same width, because contrast is what you should go for. A thicker striped tie will correspond well with a thinner striped shirt. Also, more subtle prints like smaller polka dots can also work well to complement striped shirts.