Are Necklace Bags the New Fanny Pack?
A look for dads and hype baes alike.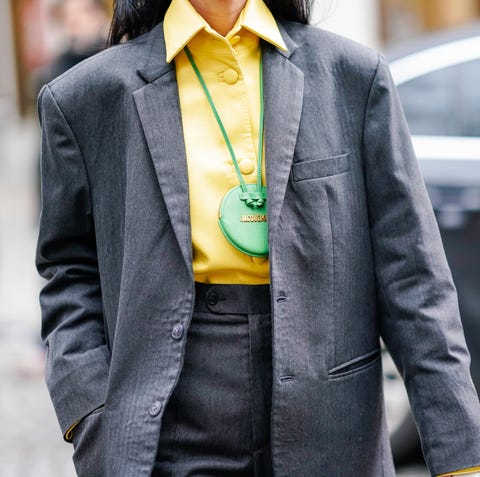 Between dad shoes, dad bods, and dad hats, you would think our daddy issues would eventually give. But no. Our fraught relationship with paternal style endures and we're currently inspired by dads on vacation. You know the look, because you watched it up close and personal: the Hawaiian print shirt he bought at the gas station that doubles as a tourist shop; cargo shorts with socks with sandals; and, of course, a neck bag. The chest-front accessory stored your family's passports, hard cash, and the day's itinerary. If your dad was extra suspicious, he'd wear it on the inside of his shirt for fear of Disneyland pick pocketers. He looked lame—but now we want to look lame too? That has to be the only way to explain the sudden resurgence of the pops-approved piece.
Much like the fanny pack, the necklace bag is getting the designer treatment. We first spotted the style on the Gucci runway almost three years ago, but the look is growing in popularity. The Spring 2019 season offered multiple variations: Jacquemus (of bitty bag fame) pioneered the style as coin purses. Gabriela Hearst layered them with gold jewelry, and Burberry went literal with actual passport holders.
On the streets, neck bags are taking their own form. Hypebeasts and baes alike are especially fond of nylon styles that look directly inspired by the OG dad bags. From chest straps to flat pouches, these anti-theft shapes would make your dad proud. Necklace bags might not be for everyone, but with festival season about to commence, the hands-free look is seriously appealing.