This soup is  delicious.
Laksa Soup (Malaysian Coconut Curry Noodle Soup)
This post may contain affiliate links. For more information, please see our privacy policy.
How to make authentic Laksa Soup!  This Malaysian Coconut Curry Noodle Soup can be made with your choice of chicken, shrimp or tofu (or all) with rice noodles in the most fragrant coconut broth. Top with fresh bean sprouts, lime, cilantro.  Learn how to make authentic Laksa Paste from scratch, or use store-bought laksa paste– either way, you will love this!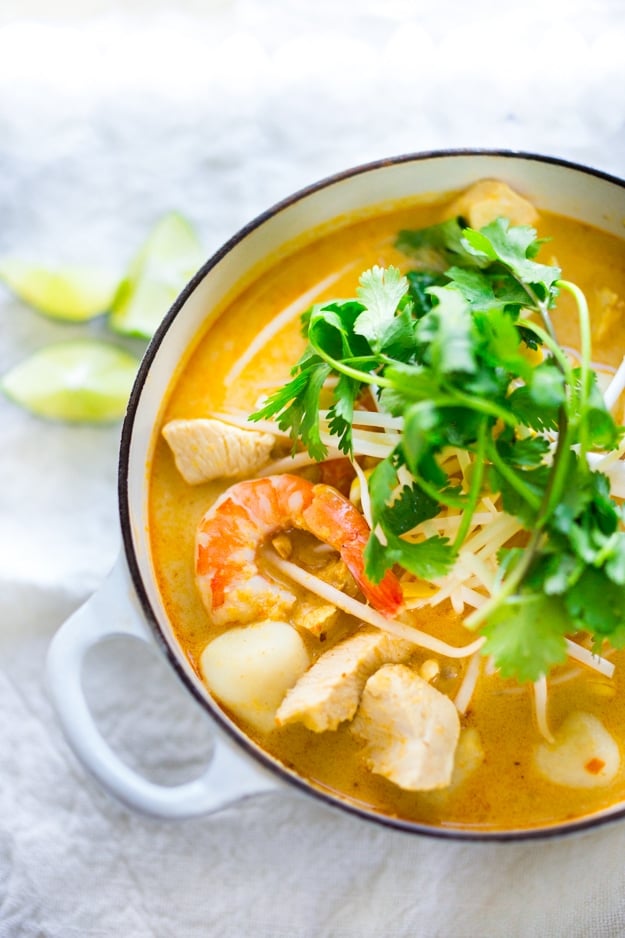 Meet one of my favorite meals on the blog! This recipe for Laksa Soup – Malaysian Coconut Curry Soup is full of amazing flavor and surprisingly simple to make. The secret to this soup is its flavorful base, and rich coconut broth enhanced with Laksa paste -which you can make from scratch or buy.
Add your choice of protein to the flavorful coconut broth, then ladle it over fresh rice noodles, top with a handful of crunchy bean sprouts, fresh cilantro, and mint, and serve with lime wedges. So much flavor here friends!
It's a soup that takes you far, far away, and it has been a hit at home when the temperatures are cooler.
HOW TO MAKE LAKSA SOUP  | 2-MIN V
WHAT YOU'LL NEED TO MAKE LAKSA SOUP:
Homemade Laksa Paste (see recipe) – or  buy 1-2  jars (7-ounce) of store-bought Laksa Paste – ( I like this brand- see notes)
chicken stock or broth
brown sugar or palm sugar
chicken (breast or thigh meat) or sub fish or crispy tofu
raw large shrimp (or more chicken or veggies)
coconut milk. Do not use "lite" – and if you like an even richer broth, add a third can.
lime juice
ice noodles
Garnishes: bean sprouts, lime wedges, cilantro or Vietnamese mint, scallions, sambal chili paste, fried shallots (available in jars at an Asian market)
OPTIONAL ADDITIONS or Substitutions: Fried tofu cubes, fish balls ( frozen), scallops or other firm fish, clams, mussels, and veggies like snow peas, mushrooms, carrots, bell pepper, chopped spinach or greens
WHAT IS LAKSA PASTE MADE OF?
Laksa paste is a blend of lemongrass, dried chilies, shallots, galanga, turmeric, spices, dried shrimp and shrimp paste, all blended up in the food processor, then sautéed in a little oil to deepen the flavor.
It will take you on a fun adventure to your local Asian market, perhaps introducing you to new ingredients and can be made authentically from scratch.
Or if you prefer, I've included an easier, fast  "cheater version" as well, using store-bought laksa paste.
Like I said, the easy "cheater version", is simply to purchase pre-made Laksa Paste in a jar. I like this brand!
Or if you want to make the laksa paste from scratch – it's actually not that hard and has no preservatives or msg.
If making laksa paste from scratch, just make sure you have all the ingredients before you start.
LAKSA PASTE INGREDIENTS:
dried red chilies
dried shrimp (available at Asian Markets) optional photo above
shallots
garlic cloves
galanga
fresh turmeric (ground turmeric is OK, too)
candlenuts or substitute soaked cashews, brazil nuts or macadamia nuts (soak in hot water 15 mins- optional- you can leave the nuts out)
shrimp paste (or shrimp sauce) optional, but elevates
sweet paprika
 peanut oil or coconut oil olive
HOW TO MAKE LAKSA PASTE
STEP 1:
Soak dried red chilies and dried shrimp in boiling water for  20 minutes. You can leave out the dried shrimp but it will lack its beautiful authentic depth. The dried really shrimp elevates this soup.  Use 3 chilies for a milder version. 5-6 for spicy!
STEP 2:
While they are steeping, chop up the rest of the Laksa paste ingredients- shallot, lemongrass, garlic, turmeric,  and galanga, and place them in a food processor.
Be sure to finely chop galangal root, turmeric root and lemongrass.
If you can't find fresh turmeric, ground is fine.
af
Tip: For catering, I go through a ton of lemongrass – so I buy it pre-chopped and frozen at the Asian Market. I divide it up and keep it in the freezer, pulling it out whenever I need it.
STEP 3:
Needless to say, if you are not a fan of fishy dishes you may not love this. But if you are like me, and love anchovies and 
fish sauce
 . . . you will love this, too. 😉 It really adds depth and elevates!
f
STEP 4:
Add the drained chilis, soaked dried shrimp, and nuts and blend it all up until it becomes a vibrantly colored paste.
STEP 5
In a large 
dutch oven
 or heavy bottom pot, sauté the Laksa paste in a little oil for 2-3 minutes until fragrant, to release all the flavor. Turn your fan on- it will smell fishy- but trust me it will all balance out at the end!
Then continue on with the soup recipe.
LAKSA SOUP VARIATIONS:
Other traditional things to toss into the Laksa Soup are:
fried puffy tofu (above) available at Asian markets (refrigerated)
thinly sliced chicken
fresh fish and seafood
fish balls (available at Asian market, frozen)
vegetables!
If using fresh fish take a look at this list.
THE BEST FIRM FISH FOR SOUPS OR STEWS:
You generally want to use firm white fish for most stews and soups, because they will hold their shape and not disintegrate in the liquid. Here are 10 of the best fish (and seafood) to use in soups and stews.
sea bass
halibut
black cod
haddock
escolar
ono
red snapper
salmon
scallops
shrimp
EXPERT TIPS:
Cook dry rice noodles according to directions on the package or use fresh rice noodles that can be purchased at the Asian market -just dip them in boiling water for 30 seconds to heat them up before serving.
Do not add the noodles to the soup– rather, ladle the soup over the noodles in the bowl.
Be sure to use a rich, full-fat brand of coconut milk. I love Mae Ploy, for its thickness and extra-large size.
Taste the soup and adjust lime and fish sauce to your taste.
Garnishes are everything! Lime wedges, chili sauce (like Sriracha or sambal) bean sprouts and lots of fresh herbs – cilantro and mint. Crispy shallots add nice texture and can be found at the Asian market in a jar.
Divide the fresh 
rice noodles
 among bowls and ladle the soup over top. Top with bean sprouts and herbs, a squeeze of lime and a sprinkling of 
crispy shallots
 (which I forgot to take a picture of).
Either way you choose to make it,  this comforting Laksa Soup will warm you to the bones.
I hope you like this Laksa Soup Recipe as much as we have! It is one of my personal favorite meals on the blog.
MORE RECIPES YOU MAY LIKE: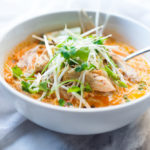 Laksa Soup – A Malaysian Coconut Curry Soup
 PREP TIME:

 

30 MINS

 COOK TIME:

 

25 MINS

 TOTAL TIME:

 

45 MINS

 YIELD:

 

8

 

1

X
---
DESCRIPTION
Comforting Laksa Soup Recipe – A Malaysian-style coconut curry noodle soup, that can be made with chicken or shrimp and rice noodles with fresh bean spouts, lime and cilantro. Makes 10 1/2 cups broth
---
---
---
NUTRITION
Serving Size:
Calories: 

485

Sugar: 

2.2 g

Sodium: 

1023.5 mg

Fat: 

20.3 g

Saturated Fat: 

12 g

Carbohydrates: 

49.9 g

Fiber: 

0.9 g

Protein: 

25.1 g

Cholesterol: 

66.7 mg