As someone who shops at gap for a long time, I am very excited to see what Mr. West does to the fashion line. 
Will Yeezy Save Gap?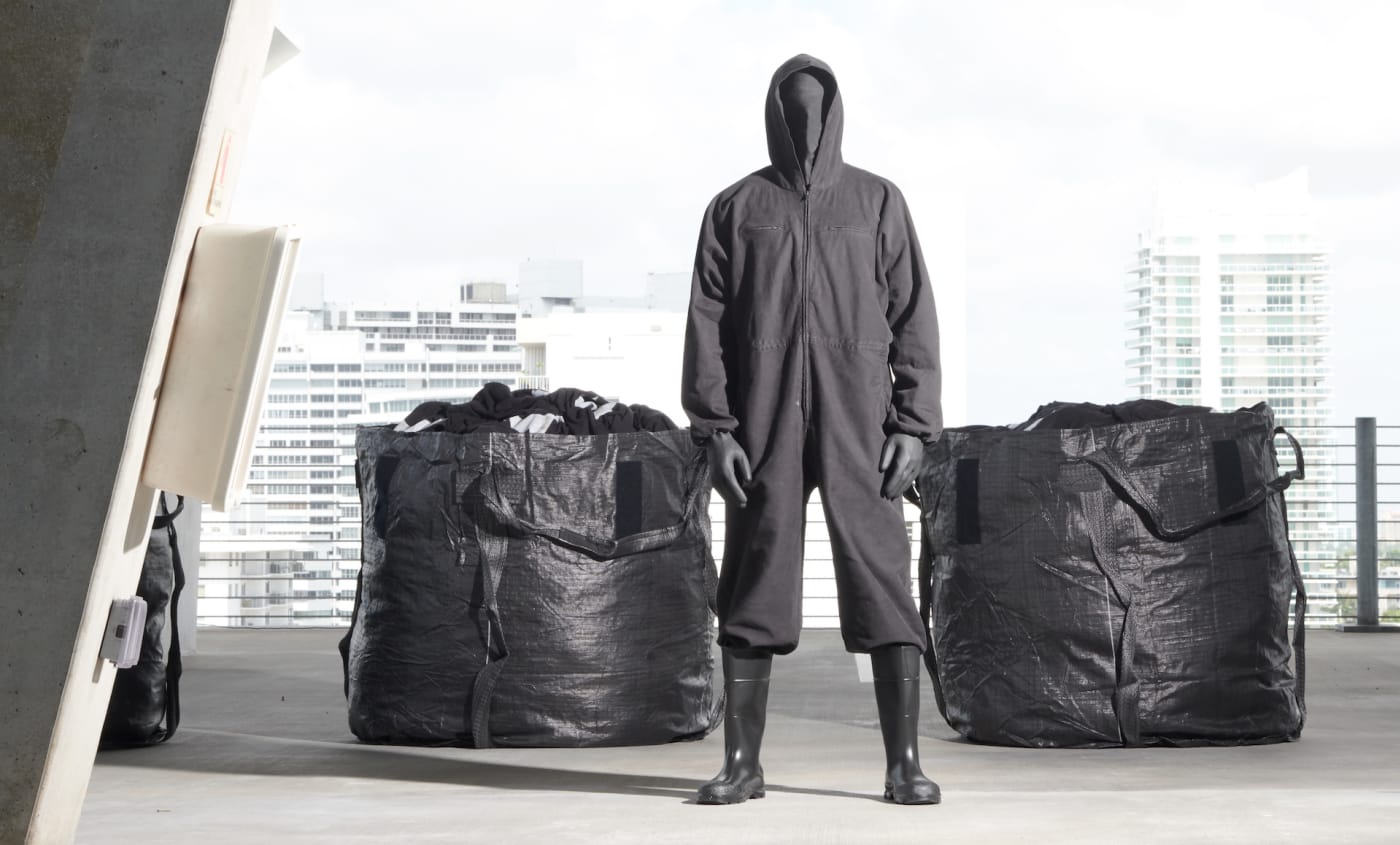 By the time Kanye's first Yeezy Gap pop-up in Times Square opened at 10 a.m. on Thursday, a line of approximately 100 shoppers had already snaked around the corner of 45th Street and Broadway. Naturally, Yeezy fans, like Peter Signley, a 37-year-old man from Uptown Manhattan, were aptly dressed. Singley, who has collected Kanye West-designed apparel since buying his first pair of Yeezy Adidas sneakers in 2016, was in line since 4 a.m. He posted up in a pair of long rubber boots, an oversized Yeezy Gap T-shirt Engineered by Balenciaga, black mesh basketball shorts, and a hat designed by Demna for the release of West's Donda album last year.
However, shopping for both Gap and Yeezy apparel is nothing new to him. Singley admits he was expecting "an army or mob scene" but ended up being one of the only fans in Times Square during those early Thursday morning hours, noting he had fun watching Gap put up a giant billboard advertising the Yeezy Gap Engineered by Balenciaga collection.
"I used to come out for the original Yeezy Season 1, 2, and 3 [Adidas] sneaker drops. It was always crazy with a line overnight. Usually there'd be wristbands or something but there was hardly anybody out here [last night]," says Singley, who also notes that Gap was one of the first labels he shopped from when he received his first paychecks as a teenager. "Gap jeans and graphic T-shirts were my go-to when I wanted to express myself when I was 13-16 years old because you could afford it at that age."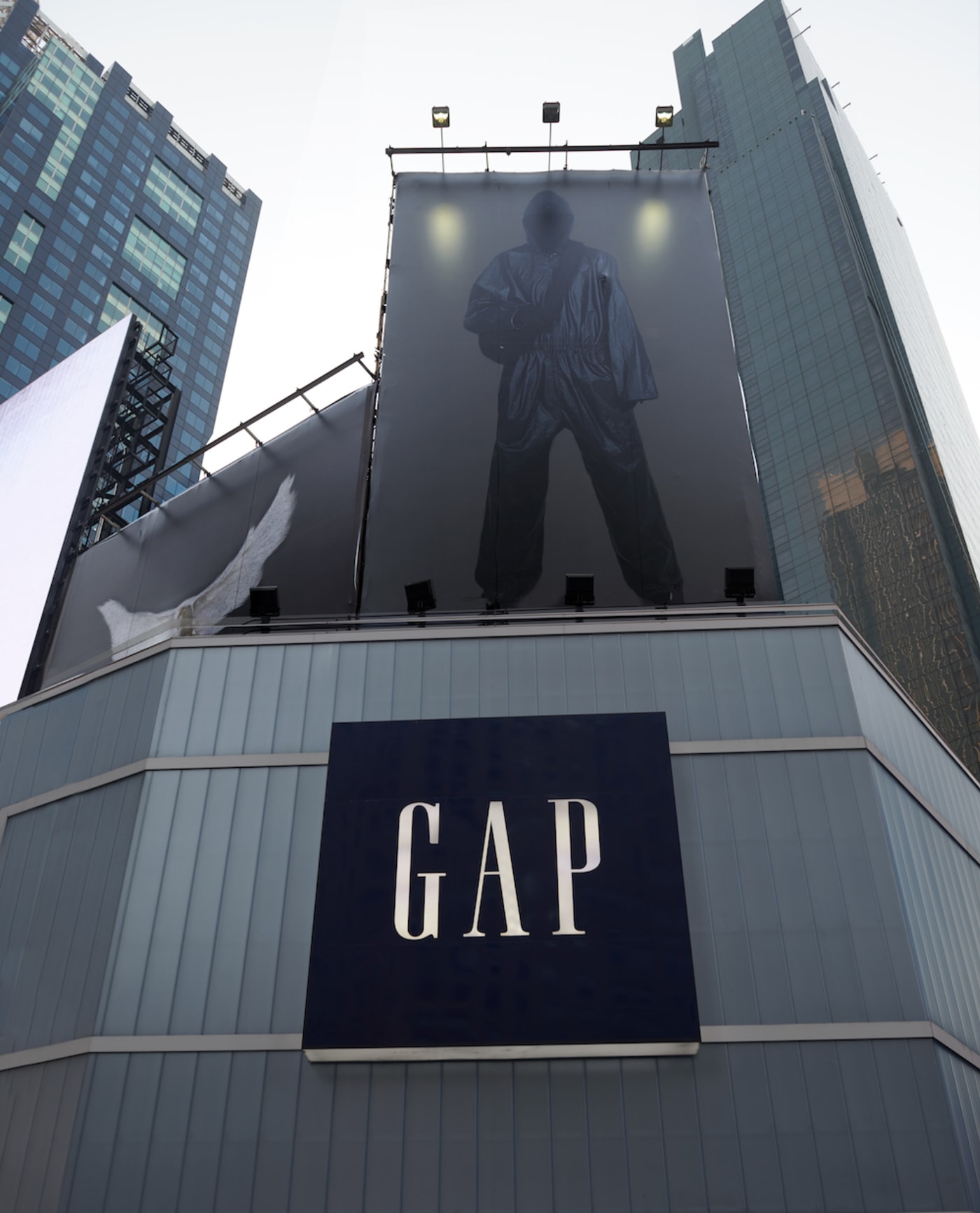 After West unveiled his collaboration with Gap in 2020, it has generated hype for a beloved American clothing label that has struggled to grow since its heyday in the late 1990s and early 2000s. Gap Inc. reported in November that the debut release of Yeezy Gap hoodies delivered the most sales by an item in a single day in Gap.com history, with 70 percent of customers being new to the brand. On Thursday, it only looked like Gap was prospering as customers ranging from the ages of 19 to 44 walked into a barebones all-black retail space to shop from black nylon bins filled with eight different styles from the Yeezy Gap Engineered by Balenciaga collection. Twitter users quickly compared it to shopping from bins in Goodwill's outlet stores. Opening brick-and-mortar Yeezy stores has been a lifelong dream for West, who also filed trademarks this month to possibly open "YZYSPLY" stores in the future.
Following the Times Square launch, Yeezy Gap launched similar in-person retail experiences across 45 Gap stores in the United States this past weekend. There were even pop-ups selling wares out of vans in Los Angeles, Chicago, and Miami. The collection was merchandised in actual dumpsters for shoppers to browse from. 
But Yeezy Gap has not led to wider financial success for Gap overall. Earlier this month, Gap Inc. revealed that Sonia Syngal stepped down as their president and CEO following a dismal first quarter of declining sales in 2022. Along with unveiling Yeezy Gap last year, Gap Inc. also shuttered all 81 of its brick-and-mortar stores in the United Kingdom.
Gap Inc. rose in the early 1990s and early 2000s, when their annual net sales steadily rose from $3 billion in 1992 to $16.3 billion in 2004. But these sales numbers began to steadily decline from 2005 to 2009. By 2014, Gap Inc.'s annual net sales barely changed after a decade, only pulling in $16.4 billion for that fiscal year. Granted Gap Inc.'s overall net sales increased during Yeezy Gap's first year of release—rising from $13.8 billion in 2020 to $16.7 billion in 2021—retail experts and ex-Gap employees tell Complex that West's co-sign is not enough to revitalize the popularity and financial success Gap once held two to three decades ago. However, it's clear amongst shoppers that West's ongoing collaboration with Gap is distinguishing the label within a crowded fast fashion market that competitors have taken over.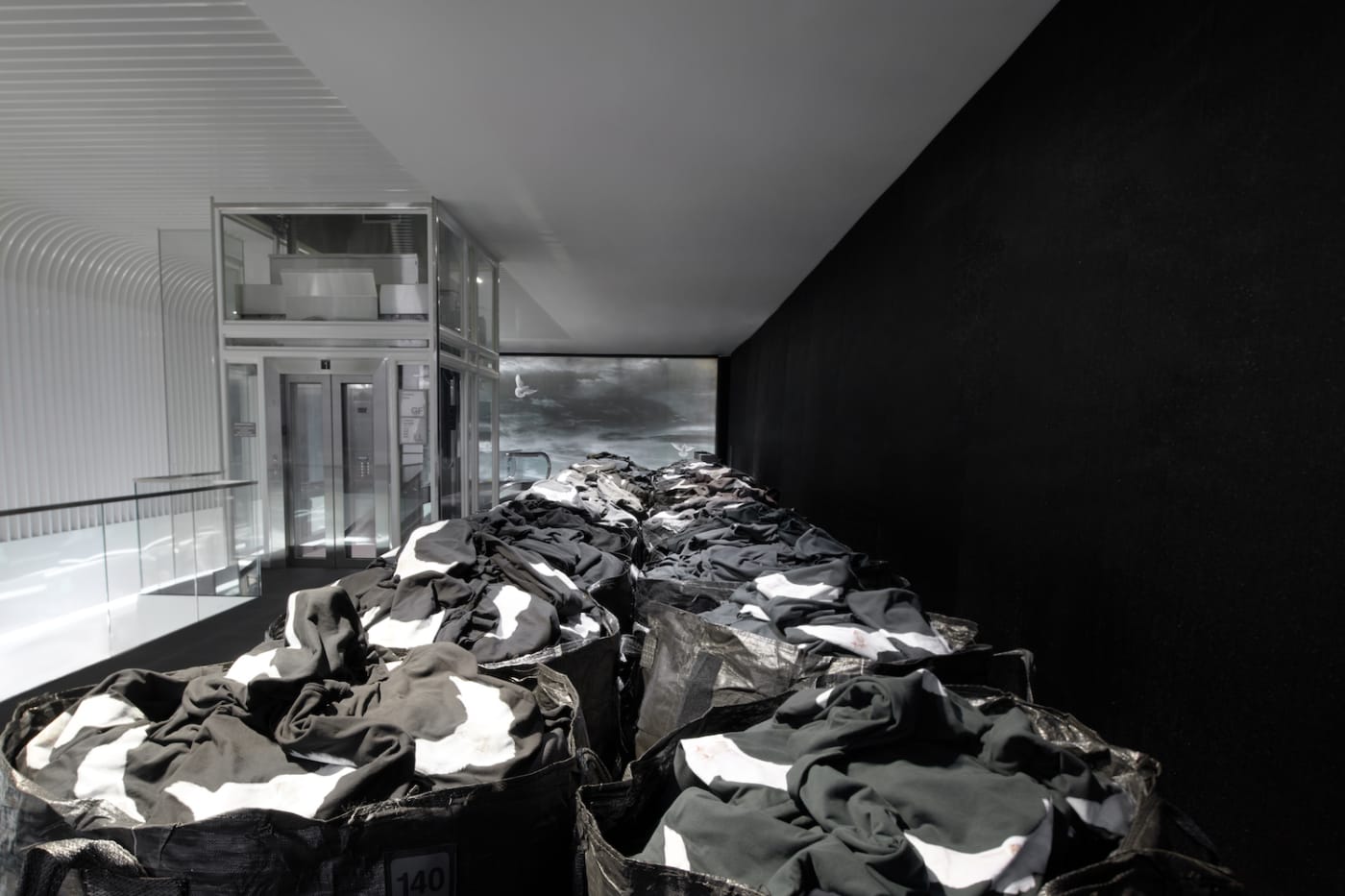 "For us, I think it's kind of cool that Gap is trying to take a different angle because the fashion industry has changed so much, especially with online shopping and fast fashion too," says 19-year-old East Harlem resident Aidan McAndrew, who waited in line wearing Bottega Veneta shades, Rick Owens boots, and a white Calvin Klein T-shirt. While customers interviewed in line nostalgically remembered Gap as the label their parents dressed them in, when asked where they would prefer buying inexpensive basics, they answered with stores like Uniqlo and H&M.
"I think the idea of a celebrity collaboration was a terrific idea. It's not unlike the strategy that Target has used for many years, not necessarily celebrities, but just high profile, better brands that come in and have drop in collections. But those are three month side shows rather than 10 year deals," says Jeff Sward, the founder of Merchandise Metrics, a retail and merchandise consultancy that's worked with other mall brands like American Eagle or Abercrombie & Fitch. "[Yeezy Gap] appeals to a very specific demographic and it was a hit for that demographic. But if Kanye West went away, would that demographic keep shopping at the Gap? It seemed to me to be a move that should have been for a season."
West's past work as a fashion designer and influencer has continuously drawn in a younger demographic. Jimena Fuego, a 19-year-old shopper who took an early morning train to Yeezy Gap's retail experience from Ronkokoma on Long Island, said she loves West's designs because of how comfortable they feel and his eye for quality. Alongside the Yeezy Foam Runner clogs on her feet, she also owns three other Yeezy sneakers, two Yeezy Gap hoodies in different colors, and "Calabasas"-branded collaborative apparel from his ongoing partnership with Adidas—which pulled in $1.7 billion in revenue for Adidas last year. Although she grew up wearing labels like Gap and Old Navy, West was the one who ignited her interest in style.
"I wasn't a fan of Balenciaga until Kanye, honestly. I want to say that it opened the door for me for fashion. I look at it differently now. It's not just clothes, but a personality," says Fuego. "Everyone has their own thing. So to be able to express myself through clothes is really cool. I think it's a good collab, and I was expecting the Balenciaga collab to be really expensive. But it's not as expensive as I thought it would be."
Since being unveiled in 2020, Yeezy Gap has rolled out three major drops within the last two years, which includes a $200 round puffer jacket made from recycled nylon last June and a range of $90 logoless double layered hoodies that arrived last September. The Yeezy Gap Engineered by Balenciaga collection was priced from $60 to $500. While an oversized graphic Balenciaga T-shirt at retail costs $895, Yeezy Gap's iterations are a more affordable luxury at just $140. According to a StockX representative Complex reached out to, Yeezy Gap hoodies in blue and black colorways are two of the top 20 best-selling apparel items on StockX this year. StockX also shared that pieces from the Yeezy Gap Engineered by Balenciaga collection resold for as much as $1,000 when it was first released—like other Yeezy Gap drops it was sold through pre-orders. But after the first orders shipped, StockX says the influx of supply lowered the collection's resale value, which was impacted by constant restocks from Gap. Few customers Complex spoke to were interested in reselling Yeezy Gap. Many were there to buy cheap and stylish high fashion basics.
"I'm a huge Gap girl. The clothes are affordable, good quality, and stylish. I've worn it since I was 10 years old. I honestly just got the Gap email and showed up here," says 44-year-old Eileen Quaresiml from Astoria, Queens. "I own two pairs of Yeezy sneakers and one of the Gap sweatshirts. I don't really follow his work as a fashion designer closely, but I like his music. I can't afford Balenciaga so I'm all for Gap's version."
Gap is known for its affordability. But consultants like Sward feel that deep discounts and sales are forefronted in Gap's marketing today before anything else. Gap has promoted discounts to shoppers in a bigger way this year because of overstocked inventory that's tied to late deliveries created by continuous supply chain delays and factory closures caused by COVID-19. But Gap cemented its place in American pop culture not just because it was a place to buy cheap khakis but also because of its memorable marketing.
"I think Gap's pared-back visual approach has always lent the brand an ethos of timelessness. Their archive is usually the first place I start searching," says 27-year-old Cody Parks, an art director for one of Gap's competitors, via email. "They always opt for clean, simple studio shots and all of their marketing ages well because it can't be placed without the context of the year the photos were taken in. Just beautiful, focused imagery of great clothing. Without a logo, you'd be sold on the look and feel alone."
In the early '90s, revered photographers like Annie Leibovitz shot Gap campaigns, which featured visionaries like Spike Lee and Whoopi Goldberg. In the early 2000s, Gap ran television commercials with Daft Punk dancing to "Digital Love" in all denim looks.  And as many hip-hop heads know, Fubu's ascent was greatly bolstered by LL Cool J shouting out "For us, by us, on the low'' and wearing a Fubu hat in a 1999 Gap television commercial.
Gap's marketing captivated fans like Micheal Bise, a 56-year-old elementary school teacher who religiously wears the brand and is currently on a quest to archive every single Gap in-store playlist from 1992 to 2006. Bise's quest to collect every single playlist was spurred by his own experience working as a visual merchandiser for the label for 15 years, starting when he graduated college in 1992. Bise sees Yeezy Gap more as a luxury designer brand rather than Gap merchandise and he isn't interested in buying the collection. He also doesn't think it's doing anything for Gap besides generating revenue. Like Sward, he feels it's been a hit amongst a specific demographic but won't solve other issues Gap's faced, such as offering bland products, keeping overstocked styles in store for too long, and deep discounting. However, he does feel that Yeezy Gap has released a strong product and a marketing campaign with a distinct feeling, which he believes the brand has been missing.
"1998 and 1999 were two of the most profitable years for the brand. Along with brilliant commercials and marketing, brilliant products backed it up," says Bise, whose favorite Gap piece in his closet is a plaid flannel shirt from 1992. "What made 1998 explode wasn't the basics. It was outfits that fit for the era but were just a little bit ahead. The marketing and the merchandising visuals all worked together to show everything off and they were clear collections that didn't drag on."
The marketing of Yeezy Gap is intertwined with West's own art as a high-profile musician, making it feel even more relevant. West wore the Yeezy Gap puffer when he performed at his first Donda listening parties in 2021 and while sitting front row at Balenciaga's couture presentation show last year. Recently released music videos like "Heaven & Hell," "Hurricane," and "Life of The Party," all songs from his Donda album, doubled as Yeezy Gap advertisements. These three music videos have garnered 5 to 9 million views alone. While West has certainly alienated fans because he supported President Donald Trump, implied that slavery was a "choice," and soapboxed an anti-abortion stance while running for president of the United States in 2020, his work as a creative continues to build a rabid cult following.
"Honestly, I think it's very like, if you know, you know. You gotta be like the first to know if you really follow him," says 24-year-old Christian Narvaez, who was dressed in Cactus Jack merch by Travis Scott from head to toe while waiting in line. "When I was on the train I saw he released a [Yeezy Gap] video game on his website. That's insane. So just bringing people from all over, just to see what his brand brings and what his collaboration entails, is just amazing itself."
The future of Yeezy Gap is solely left up to speculation. While Yeezy Gap may have increased more interest in Gap alone, shoppers in line said they still prefer to solely buy Yeezy Gap's offerings.
"Well, I go in the store and I try to see what they have, but I think what I really like about Yeezy Gap is that the cuts are perfect for what I like at the moment," says 24-year-old Leonardo Magallan, who was wearing Balenciaga shades and a Bottega Veneta handbag. "But I feel like the main stuff at the Gap is still not exactly that. So I'm just going to hold off until Ye drops more stuff."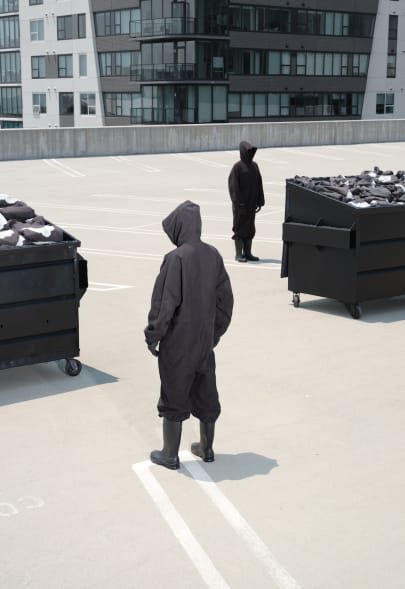 Sward believes that West's deal with Gap is fragile due to his unpredictable "antics" as a high-profile celebrity. He speculates that West's collaboration with Gap has only further affirmed that Ye can reach a broad audience and sell a lot of product in a very short time frame, leading Sward to believe that West can do it alone. Gap's own former CEO Mickey Drexler, the retail visionnaire who made Gap successful during his nearly two-decade tenure that stretched from the early '80s to the late 2000s, even advised West to not take the deal. "I probably shouldn't say this but I told him he shouldn't do the deal because it doesn't make any sense in my opinion," Drexler told Yahoo Finance Live last year. "I have a lot of friends at Gap still, but it doesn't work for someone like Kanye. He is not a corporate person and Gap is a big corporation."
During Syngal's tenure as CEO, West particularly expressed frustration about not receiving a board seat at Gap. Two days after Syngal's departure, West praised Gap Inc.'s interim CEO Bob Martin in an Instagram post and suggested Martin urged Gap "to go to the stores" on one of his first phone calls with the artist earlier this month. While the full details of West's 10-year deal with the Gap are unknown, fashion law experts, like Susan Scafidi of the Fordham's Fashion Law Institute, say that the Yeezy Gap deal ending sooner than expected is not out of the question.
"Without seeing the details of the deal, it's hard to know whether Gap under new management could walk away from the collab, but many agreements do contain clauses that allow one party to cancel if the other doesn't meet certain targets or engages in actions that bring negative attention," says Scafidi. "It depends on the contract again, but the shift could certainly inspire Ye to think beyond Gap after the term of the deal, especially since he doesn't have the board seat he originally wanted. On the other hand, Ye has the following but Gap has the established distribution channels, so continuing the partnership may make sense in complementary terms."
While it seems that Yeezy Gap is doing what it's supposed to do at the moment, Yeezy Gap's most recent visual campaign crystal balls the natural life cycle of most fast fashion garments. The dystopic commercial shows a mounting pile of overproduced merchandise as a cashier checks out a customer clad in a Yeezy Gap Engineered by Balenciaga denim jacket. Demna has frequently sneaked in commentary on fashion's impact on the environment. And it seems that he's completely aware that one day, Yeezy Gap product will likely end up on sale, be found in thrift stores, and shipped into clothing bales overseas once it's discarded when it eventually all goes out of style. But for now, it's in, and Yeezy Gap's clientele couldn't be happier.
"Now, it's fun to come back with Kanye here along with a really prestigious brand like Balenciaga doing the 'engineering,' says the Yeezy apparel-clad Singley five minutes before he's about to enter the store after waiting on line for nearly six hours. "I'd be surprised if I'm wearing anything else except what I buy from this collection for the next three seasons."