Is It Time For Tights? Julia Roberts Says Yes
---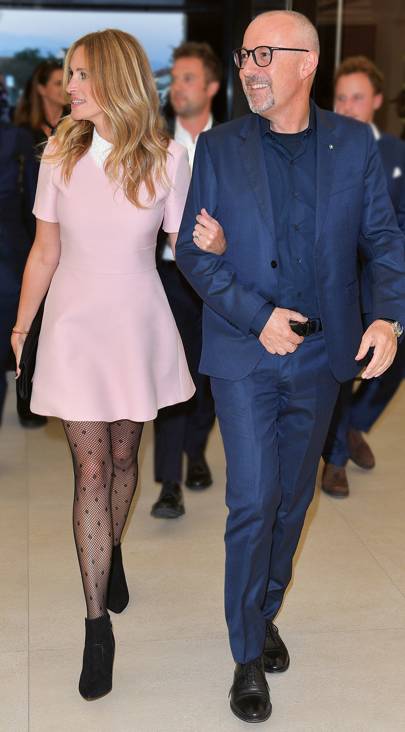 "I WEAR tights all year round," says Julia Roberts, in answer to the million denier question: when is it acceptable to fish the black opaques out from the depths of your drawers?
Roberts would say that. She has been the face – legs – of Calzedonia, the 30-year-old, billion-Euro Italian hosiery brand, for the past four years and was in Verona on Tuesday to promote her latest campaign for the company. Radiant at 49 (she looks about 30, and acts like it too), she was sporting a pair of metallic-flecked fishnets, paired with a black flip-hem skirt and a white blouse (she later changed into pink, with spot-patterned fishnets), and entered the room with a jovial holler of "Is everyone looking at my legs?"
We were. But mostly those fishnets. Brits have a complicated relationship with tights. It's a love/hate yo-yo that makes Brad and Angelina's divorce proceedings look civilised. For some, tights are a comfort blanket, an instant slim-fast for thighs and one that endorses a shorter hemline. For others they're an inconvenience, just one ladder away from slattern. British women, in my experience, talk about tights the way the nation at large talks about the weather: endlessly and in excessive detail.
Forget about your views on Brexit: tights are the great litmus test of our times. Views on when it is acceptable to wear them indicate whether you take public transport or devote most of your income to Uber; whether you've just enjoyed a last minute window of sun in Pantelleria or maxed out your holiday allowance; whether you have 100k Instagram followers or 10. Bare legs can variously indicate wealth, fame, madness, youth (or an obsession with it), a healthy immune system, an allergy. Often their reception is city-specific. In London, in February, they're scorned; in Newcastle, they're a birth right. And in New York – where else? – the honeyed limbs skipping through the snow in this season's Céline cone-heeled shoes confer status faster than the shoes themselves.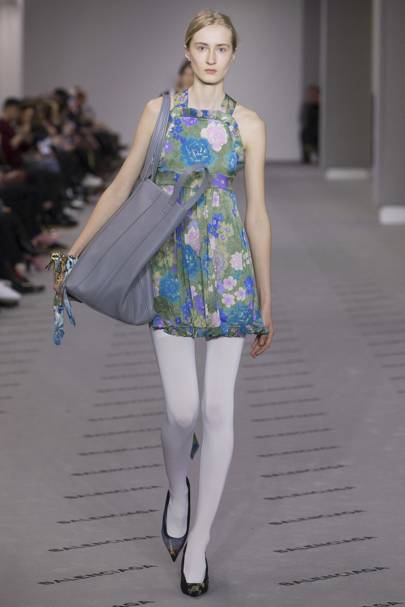 As August plunges into September and all hopes of an Indian summer look to be dashed, numerous British women are reaching for the comforting inkiness of 60 denier lycras. But don't despair: view this knee-jerk reaction to autumn as an inspired head start on a key autumn/winter 2017 trend. At Balenciaga every single look came with tights (bar two pairs of trousers) – from the acid green and burgundy shades that recalled Jane Birkin gambolling around in the Sixties film Blow Up, to the lacy black fishnet-inspired styles that underscored the mini dresses and set off scarf-print shoes. At Céline, lacy crochet wool tights peeked out from bubble-hemmed jersey dresses, popping next to gold shoes. And at Mulberry there were thick, cosy, standard back-to-school fuzzy wool tights in sweet shop colours to offset chunky loafers.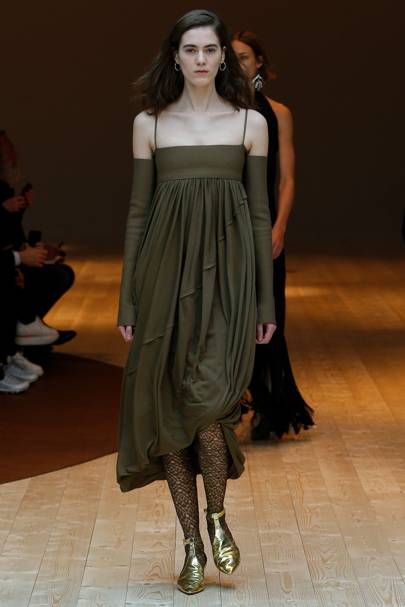 Which brings us back to Roberts, wearing tights in Verona on a 30°C September day. The LA-based actress bears no resemblance to the Teflon New Yorker women for whom a polar vortex only provides yet another opportunity to show off freshly epilated shins. She's enjoying a fanciful relationship with tights. "Maybe four years ago I was getting a little lazy about my fashion and this kind of brought me back into the fun of adding the element of tights. I was a victim of enjoying the bare legs and – no longer," she laughs.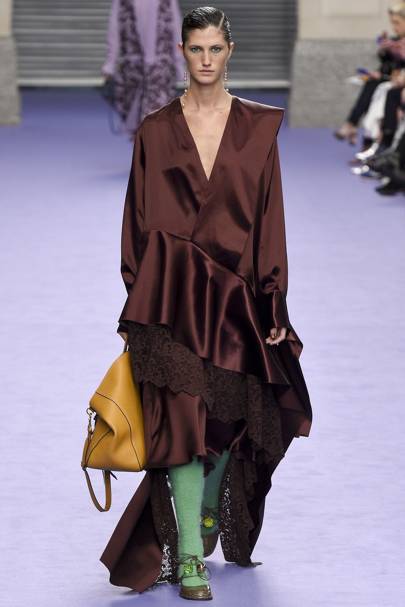 The prospect of turning 50 won't affect her flirtation with fishnets. "It's sort of a stereotype that women worry about getting older, or that men age better than women, so it's kind of this made up thing that we perpetuate," she says. "I am excited to turn 50 because… it's gonna happen. I feel so happy with my life and where I'm at, it's more about that than the number. I might wake up October 29 and weep but I doubt it. When you're 50 how you feel is really just right there on your face." And in her case, your legs. Consider yourself liberated.