How jeans conquered the world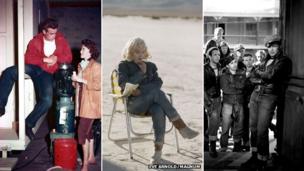 It's difficult to find a garment as widely embraced, worn and loved the world over as jeans. The classic symbol of the American West is now a staple in wardrobes around the world. But why?
Cowboys may wear them but so do supermodels, farmers, presidents and housewives.
Ask any group of people why they wear jeans and you will get a range of answers. For some they're comfortable, durable and easy – for others they're sexy and cool. Jeans mean different things to different people. Does this explain their wide appeal?
It is a subject that is relatively unstudied, says anthropologist Danny Miller, whose book Blue Jeans will be published next month.
In every country he has visited – from the Philippines to Turkey, India and Brazil – Miller has stopped and counted the first 100 people to walk by, and in each he found that almost half the population wore jeans on any given day.
Jeans are everywhere, he says, with the exception of rural tracts of China and South Asia.
The reason for their success has as much to do with their cultural meaning as their physical construction.
They were first designed as workwear for labourers on the farms and mines of America's Western states in the late 19th Century.
When a Nevada tailor called Jacob Davis was asked to make a pair of sturdy trousers for a local woodcutter, he struck upon the idea of reinforcing them with rivets. They proved extremely durable and were soon in high demand.
Davis realised the potential of his product but couldn't afford to patent it. He wrote to his fabric supplier, the San Francisco merchant, Levi Strauss, for help.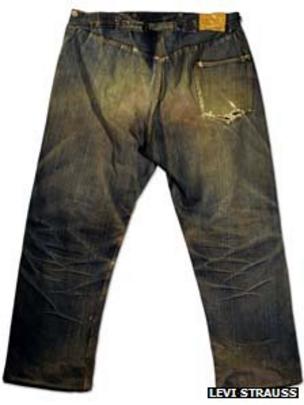 "The secratt of them Pents is the Rivits that I put in those Pockots," he said. "I cannot make them up fast enough…My nabors are getting yealouse of these success."
Levi's, as the patented trousers became known, were made in two fabrics, cotton duck (similar to canvas) and denim.
"They found really early on that it was the denim version that would sell," says Paul Trynka, author of Denim: From Cowboys to Catwalks. Denim was more comfortable, softening with age, and its indigo dye gave it a unique character.
Indigo doesn't penetrate the cotton yarn like other dyes but sits on the outside of each thread. These molecules chip off over time, causing the fabric to fade and wear in a unique way.
"Why did it sell?" asks Trynka. "Because the denim changed as it aged and the way it wore reflected people's lives."
Because of its fading quality, denim was sold raw – unwashed and untreated – and by the beginning of the 20th Century workers began to realise they could shrink the trousers to a more comfortable fit.
Not only were they more durable but each pair of jeans began to tell the story of the worker and his work.
"Jeans are the most personal thing you can wear," says Miller. "They wear to the body."
But the initial explosion of denim into the world of casualwear had more to do with what jeans had come to symbolise.
Before World War II jeans were only worn in America's Western states. In the east they were synonymous with romantic notions of the cowboy – rugged, independent and American, but at the same time rural and working class.
Affluent easterners would escape humdrum suburban life to holiday on "dude ranches" – working farms where they could play at being cowboys – and wearing jeans was part of the experience.
"It was the kind of clothing that represented the American West and it was this cachet and this sort of magical thing," says Lynn Downey, archivist and historian at Levi Strauss & Co. But back in Connecticut or New York, the jeans stayed in the closet.
When they did start to be worn as casual wear, it was a startling symbol of rebellion – the spirit captured by Marlon Brando in his 1953 film The Wild One and by James Dean two years later in Rebel Without a Cause.
"If you were a 15-year-old boy in 1953 you wanted to be Marlon Brando," says Downey.
"Hollywood costume designers put all the bad boys in denim."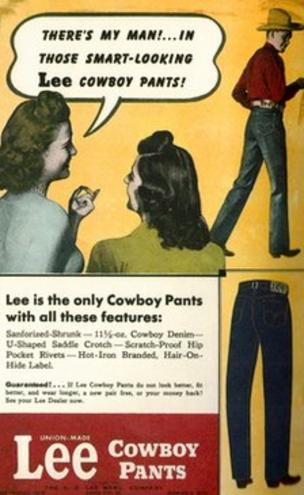 Dean and Brando wore denim off-screen too. Both represented a subversive counter-culture – a group of young GIs just returned from war, who rode around the US on motorcycles instead of moving to the suburbs and having children.
"They freaked out the establishment in the United States because they were not conforming and they were wearing jeans," says Downey.
They were soon banned in schools from coast to coast which only added to the fervour with which teenagers embraced them.
Outside America the trend was beginning to catch on too. Many of the GIs stationed in Europe and Japan during the war were working-class boys from the Western states. While off duty they wore their jeans proudly as a symbol of home.
The trousers represented an easier, happier American way of life, which Europeans wanted to buy into.
During the 1960s jeans had also spread to the American middle class. Protesting college students began wearing them as a token of solidarity with the working class – those most affected by racial discrimination and the war draft.
But jeans weren't only a symbol of democratisation, they put different classes on a level playing field. They were affordable and hard-wearing, looked good worn as well as new, and didn't have to be washed often or ironed at all. They conformed to the body in a way that matched even the most finely tailored clothes. This became especially important for women because then, as now, they paid more attention to fit.
This versatility, the ability to become all things to all people, is the secret to jeans' survival as a clothing staple.
In the decades after World War II, every youth subculture – from rockabillies with their wide turn-ups, hippies with bell-bottoms and punks with orchestrated rips and tears – have put their stamp on jeans.
"It was an individualist uniform – which is an oxymoron – but that still does function today," says Paul Trynka. "Jeans still have a badge of individuality even if you buy them off the rack."
Today, jeans are mostly sold pre-shrunk and pre-worn. In his book, Miller argues they have become so mainstream that they are now a symbol of the ordinary, a garment people put on to feel comfortable and fit in.
"Jeans have become this neutral foundational garment. If you want to show you are relaxed, if you want to be relaxed, you wear jeans," says Miller.
But Trynka believes there is still something in their symbol of youth, their ease and casualness, that puts jeans beyond the reach of certain people.
"Famously, George W Bush and Tony Blair went out on the street in denim during their first summit meeting. The statement was, 'We are regular guys,' but of course they both looked like dorks," he says.
Jeans purists were offended by their pristine appearance. Many of them avoid washing their jeans for as long as possible – and it seems that the fabric may have some as yet unexplained capacity to stay clean.
Last year a microbiology student at the University of Alberta, Josh Le, wore the same pair of raw denim jeans for 15 months without washing them and then tested their bacterial content.
He tested them again two weeks after washing them and found the bacterial content to be much the same .
"This shows that, in this case at least, the bacteria growth is no higher if the jeans aren't washed regularly," said Rachel McQueen, a professor of textile science, who worked with Le on the informal scientific experiment.
But while different people wear jeans in different ways, the most traditional styles remain among the most popular.
"They're simple, they're not complicated," says Downey of the original Levi's 501 jean. "It's just denim, thread and rivets."
But unadorned denim is still special, says Trynka.
"It's not just a three-dimensional material, it's four-dimensional because it changes with time as well. The eternal appeal of jeans is just that they reflect us and they reflect the lives that we've had in them."
Danny Miller spoke to The Forum from the BBC World Service. Listen to the programme here.