Most of Corporate America wears jeans, its easy maintenance as you don't have to iron and can wear them all day as jeans are comfortable like yoga wear. My husband loves to wear jeans to work with a  tailored shirt and a sweater(as we are still having cold weather) 

please read Great Article written by Michelle Persad and Julie Wilson on  11 Women Get Refreshingly Real About Finding Jeans That Fit Their Bodies.  




?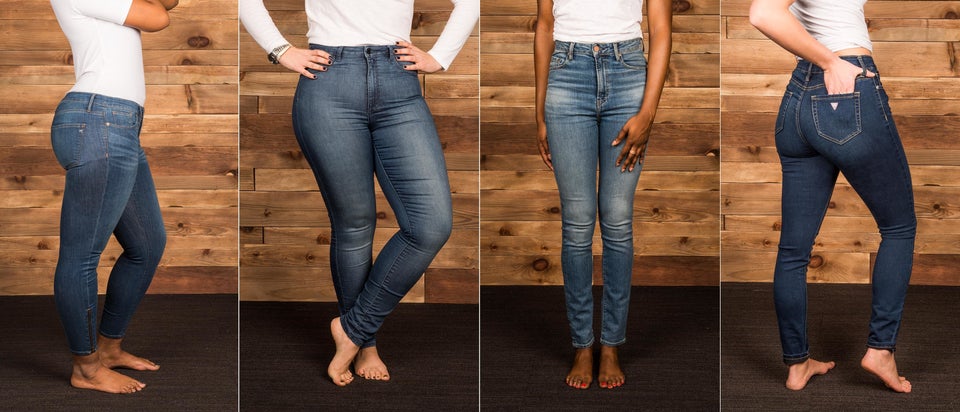 DAMON DAHLEN/HUFFINGTON POST
Jeans are a struggle. Period.
Whether you've got a big butt, flat butt, wide hips or barely any hips at all, all women face challenges when shopping for denim. But no matter your size or shape, everyone wants to feel confident in their jeans.
For some god awful reason, we only see one specific body type represented in ads, commercials and online. But news flash, there are countless women who don't look that.
To that end, we asked 11 ladies to strike a pose in their favorite jeans and give us some no bullshit advice on finding the right pair for their beautifully unique bodies. Here's what they had to say:
Let me break this down for you: I'm 5'10, have big hips, thick thighs and a bubble butt. Finding jeans that fit me perfectly is on par with slamming my forehead into a brick wall — it's painful and frustrating. I found this pair of legging jeans from Zara by accident and they do everything I need them to do. They hug my curves in a way that covers what needs to be covered while also still showing that I have a shape. I love the true blue wash and the length is A+ for taller girls."Jenna

I'm tall and thin, but I've got a little bit of booty. One styling trick that I use to create the illusion of a curvier figure is wearing my tops tucked in high-rise denim with whisker detailing right at the hips. I absolutely can't get enough of this light wash pair I discovered at Aritzia! They're extremely long and extremely comfortable."Dana
I know the jegging/jean debate is real, but I've found a jean with some stretch is the best fit for me, so jeggings it is! I've always struggled finding a pair that fits my wide hips without being too big in the waist, but high-waist has solved that problem for me. Not to mention, a higher waist draws attention away from my hips and toward my narrow waist."Katelyn
At 5'11", I have a very hard time finding denim that is long enough. Usually I just settle for a cropped style, but there are a few brands that make jeans with long legs in mind. My favorite pair are these ones from MiH. They are long enough to wear with boots, sandals and sneakers and come in a bunch of different washes."Michelle
I rarely have to hem my jeans because I tend to purchase skinny jeans that fall right at the ankle or a bit below. As much as I love boyfriend and wider leg styles, they don't seem to work on my frame. Most of my pants are solid, dark colors, so this destroyed, light wash pair is an anomaly in my closet. I love them because they're edgy, but I can still wear them with pretty much any top for any season."Kate
Having love handles just means there's more me to look fabulous. I adore a great pair of flares or bootcut jeans because they add balance to my rounder midsection. And it doesn't hurt that the '70s are totally on trend right now — but really never go out of style. I also make sure the waist of the jeans is a little roomier so that they don't cut into my skin and accentuate those 'lovely' handles of mine."Julee
The luxury of having curves is that you know you've found the perfect pair of jeans when they easily slide up over your thighs, hips and up to your waist. I tend to look for things that taper at the bottom, because even the slightest flare makes me uncomfortable. I like simple dark washes because I feel like darker looks better and also accentuates my hips in a nice way. Also, this might be controversial, but I'm so down with the high rise cut because they let shirts flow freely in my outfits, and since I don't do super tight jeans, they don't crush my organs."Chanel
Being a shorter woman with a big butt can definitely make it hard to find jeans that fit. It's hard to find pants that fit my butt and legs, and also don't expose my booty whenever I sit down. I always look for either high rise jeans or jeans that are a bit higher-rise in the back than they are in the front. These Guess jeans show off my butt while also fitting my legs. Other types of jeans that fit my body type well are Gap, these specific Levi's jeans and really any Citizens of Humanity jeans.Alanna
I've experimented with almost every single style of jeans, and can now confirm that flat butts need skinny jeans, so peoples' eyes are drawn more toward your legs than to your butt (or lack thereof). At 5'4″, I also like to go for ankle-grazing jeans to make my legs look a little longer. I tend to go for plain black jeans or ones with an interesting style or pattern — the more you can distract people, the better! Oh, and never wear leggings — they can make your butt look non-existent."Alex
I'm really proud of my calves — they have always been strong and prominent, but they have also always given me issues, whether it be in fitting into jeans, boots, etc. I remedy that with loose fitting boyfriend styles that are flattering up top and forgiving on the bottom. I especially love this pair from MiH. Mine have funky roping detail, but their Boyish Jean offers the same type of fit. As for shoes, I find wearing a shorter bootie fits underneath the cuff and looks great with the jeans."Jamie
"I'm a tall, curvy girl, so I look for long jeans that hug my legs and butt perfectly without riding down throughout the day. That's kind of hard since there's a big difference between the inches in my waist and my hips, but I never settle for less when it comes to denim. High-waisted jeans are my fave but I have a soft spot for a good pair of tall, skinny Levi's."Taryn