Fashion color trends 2022—which shades to choose and how to wear them
From bold brights to cool pastels, the fashion color trends of 2022 offer a rainbow wardrobe guaranteed to make you smile
(Image credit: Getty)
After months of lackluster lockdown outfits, the fashion color trends of 2022 have exploded onto our fashion radar. So get ready to go big, bright, and bold and embrace a newfound color confidence 
Gone are drab greys and harsh blacks, the time has come to re-evaluate your capsule wardrobe and inject some life into your outfits. One of the biggest fashion trends 2022 has to offer is bold, attention-grabbing columns of color. Coined 'Dopamine dressing', it was seen on the runway at the likes of Valentino and Christian Dior, encouraging you to embrace mood-boosting bright color clothes and bring the fun back into style. But it isn't all highlight hues, we're seeing lots of soft pastels too. Thanks to the Pantone Color of the Year 2022, lilac has made its way to the top of the fashion ladder after it coined 'Very Peri' the shade to be seen in, with other delicate tones making waves on the runways. And finally, there are the classic neutrals. For the more minimal among us, white is staying strong and should be weaved into your wardrobe essentials this summer.
When choosing which fashion color trends 2022 to sartorially adopt, it's worth bearing in mind which tones suit you best, ask yourself 'what color suits me', before making any big investments. "The first thing to consider is your natural coloring—your skin tone and the contrast level between your eyes, hair, and skin depth", says Cliff Bashforth, managing director of image consultancy Colour Me Beautiful.  "Everyone can wear every color, it's just the undertone, depth, and clarity of a shade that matters." Have a play around and see which hues make you feel most confident.
Whether you're looking to ease your way into wearing color with popping accessories, searching for a bold top to elevate your best jeans or want to make a statement in top-to-toe brights, these are the fashion color trends you should know about.
TOP FASHION COLOR TRENDS 2022
KERMIT THE FROG GREEN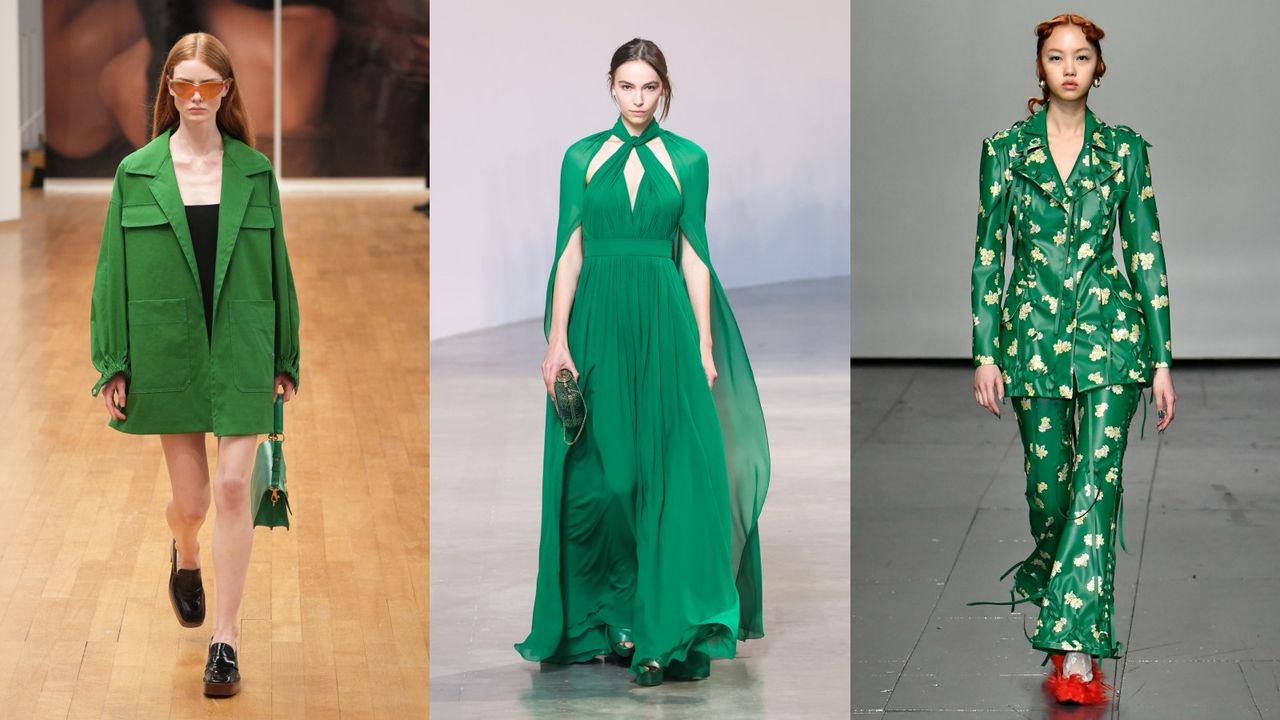 Fashion is known for having unlikely style icons, but it's been a while since The Muppets have been part of the style set. When it comes to shades of green, it's the vibrant Kermit color that deserves your attention. Particularly striking for redheads, look to fashion houses Elie Saab and Tod's for inspiration. "Green is the color of nature and therefore generates a sense of calmness, serenity and helps to reduce anxiety", explains Cliff. It looks great when clashing with fuchsia pink or toned down with other shades of green.
Our fashion editor recommends…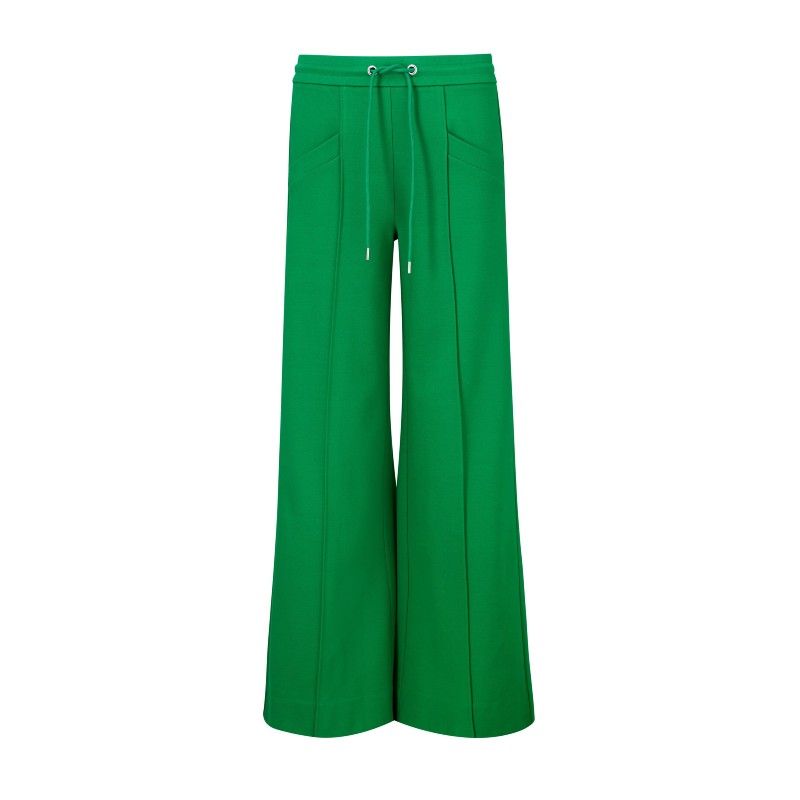 Me & Em Super Wide-Leg Ponte Pant
RRP: $195 / £125 | Comfortable and stylish? We're sold! These wide-leg trousers skim over thighs and bum and look just as good with your best white trainers as they do with a camisole and heels. Wear with a plain white t-shirt to let the green be the star.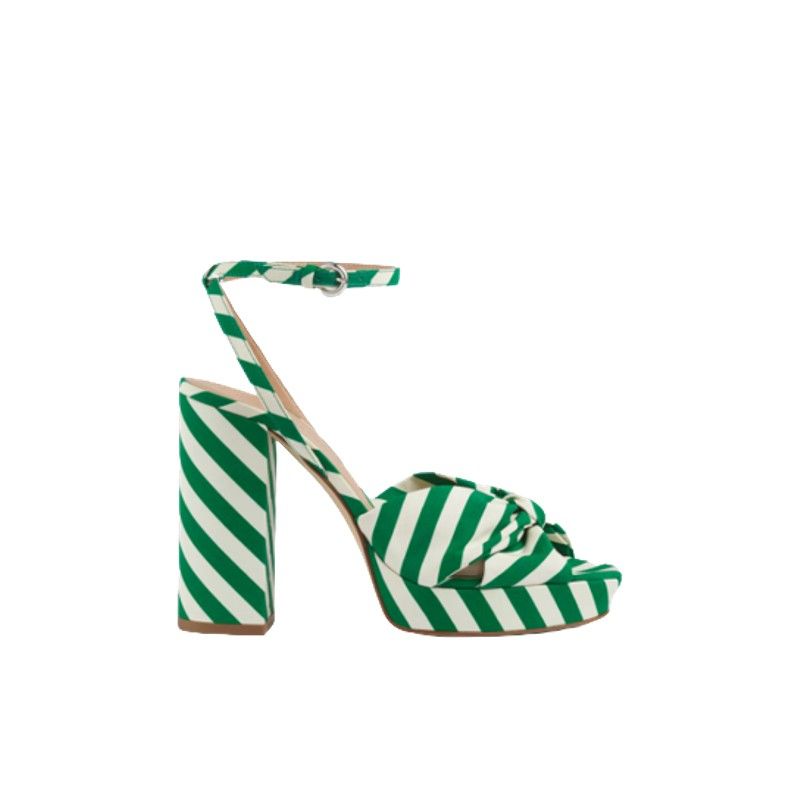 LK Bennett Green and White Stripe Sandals
RRP: $500 / £279  | Step into summer in style with these gorgeous platforms. The bold stripes are guaranteed to put a smile on your face. Try them with jeans, simple skirts or even a clashing print and watch the compliments roll in!
Maje Rianette V-neck Midi Dress
RRP: $385 / £279  | Stuck on what to wear to a wedding? This gorgeous green frock is the answer. Add some statement earrings and platform heels for a color masterclass. Fabulous for all skin tones, it's a great investment for feel-good dressing.
HOT ORANGE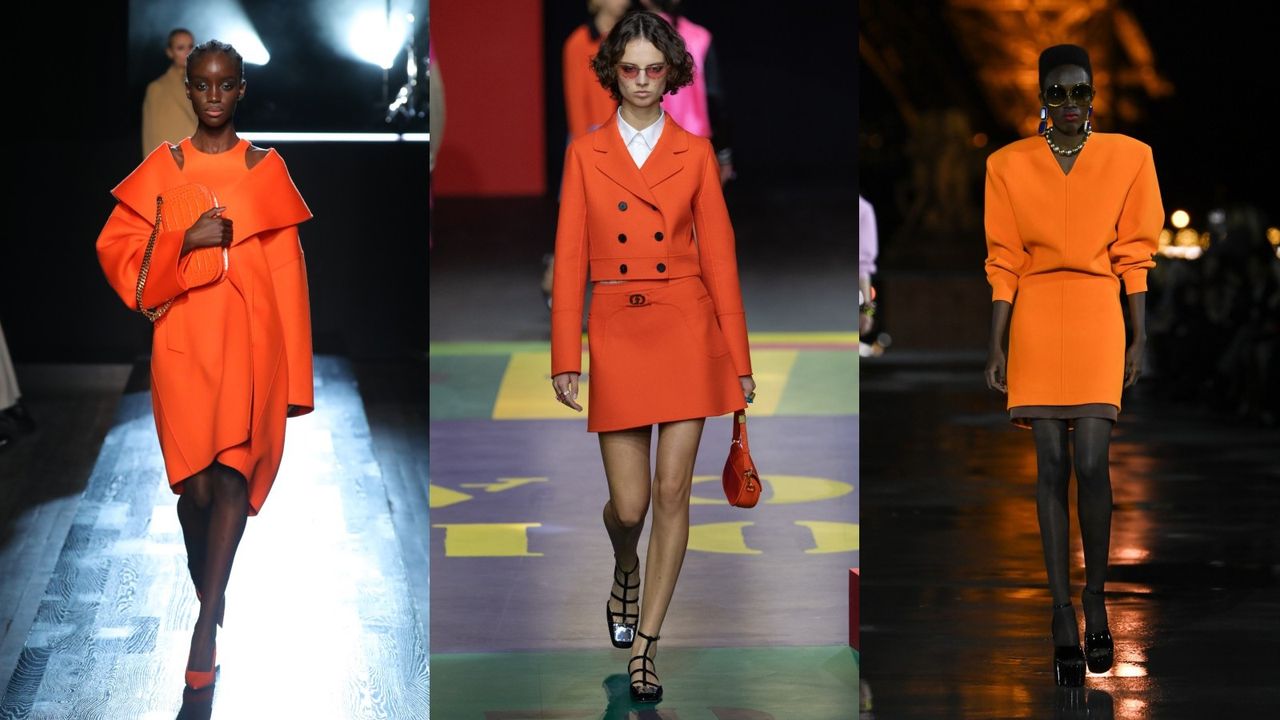 Forget smoky, burnt tones or pale peaches, this year orange is bolder than ever. It's not always the easiest color to wear but is guaranteed to get you noticed for all the right reasons. "Orange is cosy, warm, frivolous, and joyful," says Cliff. "A great hue for the summer or to wear for a night out." Keep the color warm by teaming with turquoise or bronze and gold jewelry. Cool it down by pairing it with crisp white or violet.
Our fashion editor recommends…
Ted Baker Top
RRP: $195 / £110 | Elevate your denim and wear this show-stopping top with your best skinny jeans. The asymmetric neckline feels modern while the puff sleeve gives a dramatic silhouette, and the peplum floats over a tummy.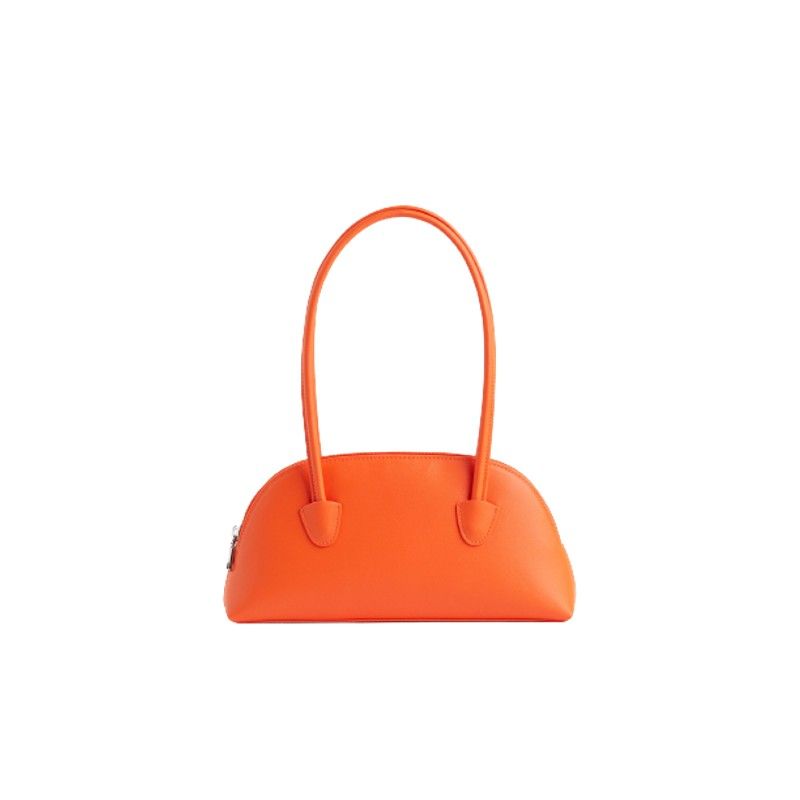 H&M Bowling Purse
RRP: $14.99 / £9.99 | If you're in the market for some new arm candy and are browsing the handbag trends 2022, this shape needs to be added to your wishlist. The structured shape is super chic while still being roomy enough for your essentials.
Mango Wide-Leg Pants
RRP: $59.99 / £35.99 | If you're looking for separates that will have you feeling fabulous on vacation, these are the perfect buy. With an elasticated waist and relaxed fabric, the punchy hue is ideal for taking you from the beach to bar.
FUCHSIA PINK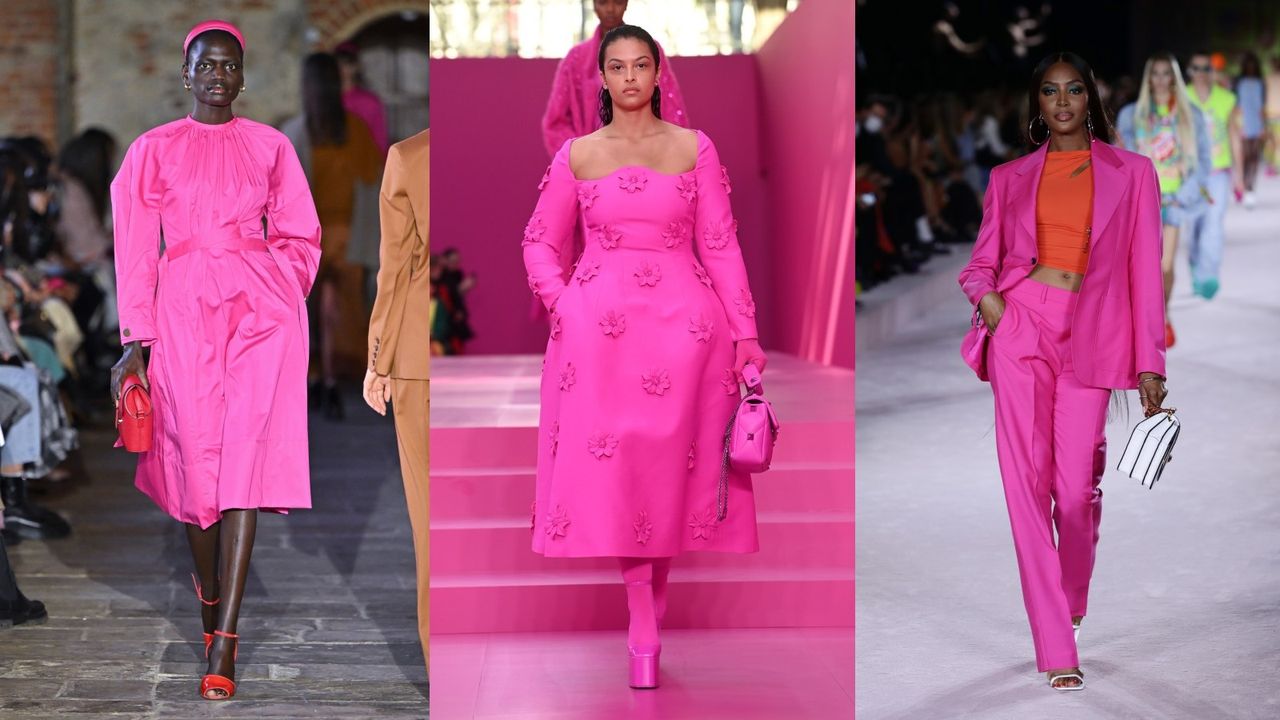 Soft, feminine pinks are out and loud, and proud cerise pink is in. This strong hue looks great with all hair colors, so have fun with your styling. Try color blocking with other bold shades for a graphic look. Or add fuchsia shoes or accessories to brighten up a simple outfit. Cliff reveals that the color conveys confidence and energy, so it's a great option if you need a pick-me-up.
Our fashion editor recommends…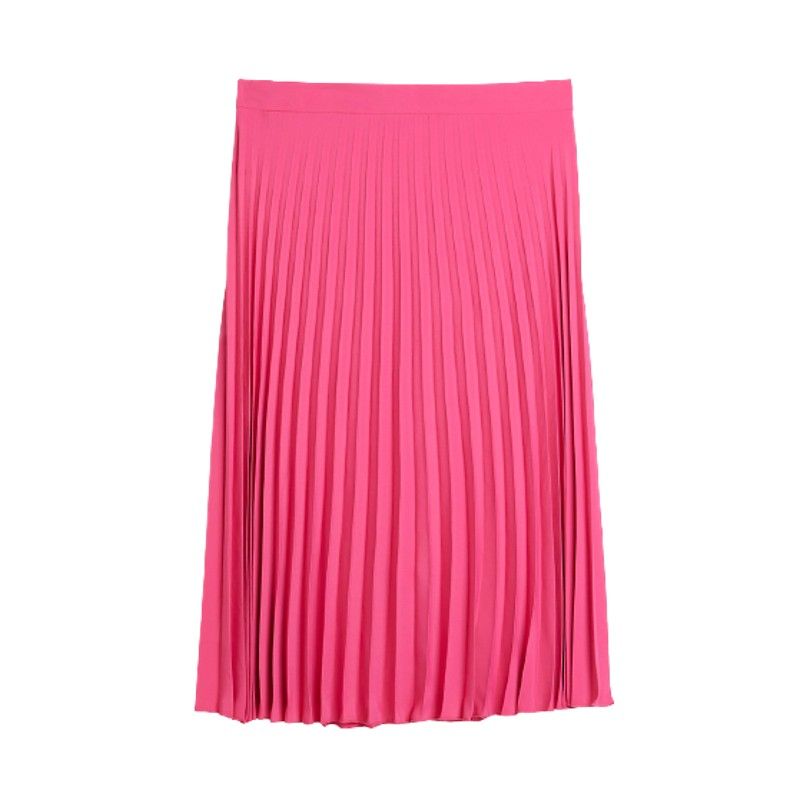 River Island Plus Pink Pleated Midi Skirt
RRP: $71 / £38  | If you're looking for the best plus-size clothing, River Island is worth bookmarking. This fuchsia skirt is timeless, the vertical pleats elongate your figure and it can be worn with sandals in summer or boots in winter. A must-have purchase.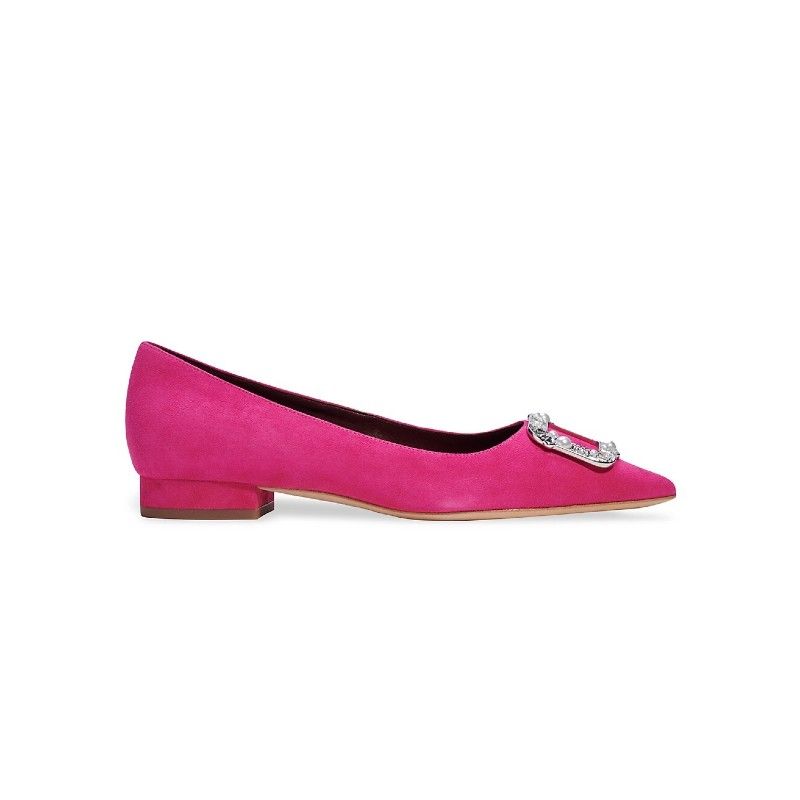 Kate Spade New York Buckle Up Suede Flats
RRP: $218 / £175.63 | These pointed flats are ideal when you're looking for a smart-casual outfit. The buckle detail on the front and the soft, suede material gives this footwear a seriously luxe feel. Ease into color and wear with a neutral outfit to let the shoes pop.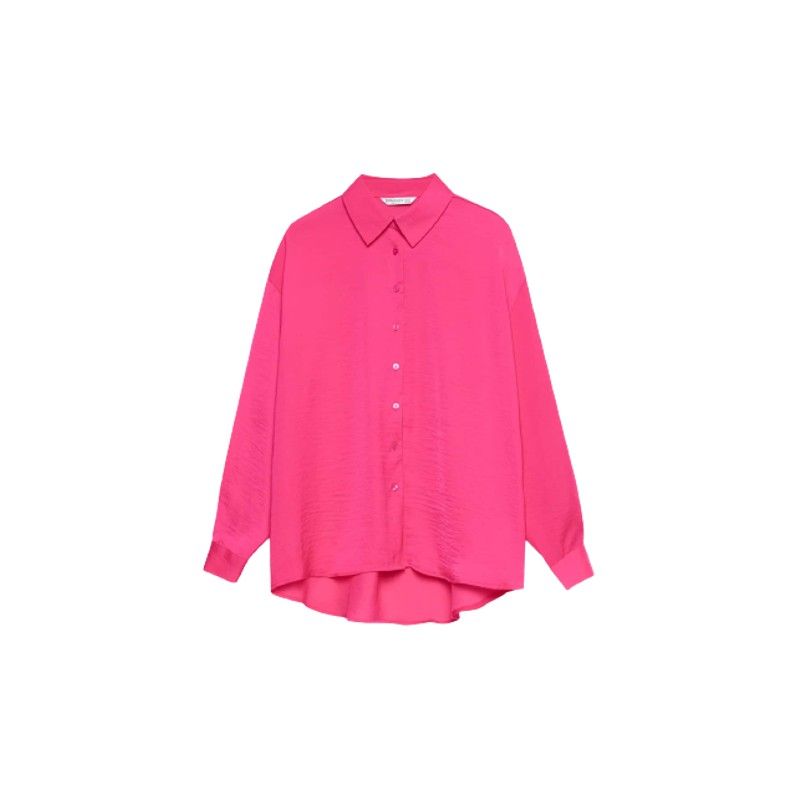 Stradivarius Sateen Shirt
RRP: $29.90 / £19.99 | We recommend relaxed fit shirts in multiple colors – you'll be surprised how versatile they can be. Try them with jeans, skirts, or thrown over your bathing suit as a cover-up by the pool. Thank us later!
COBALT BLUE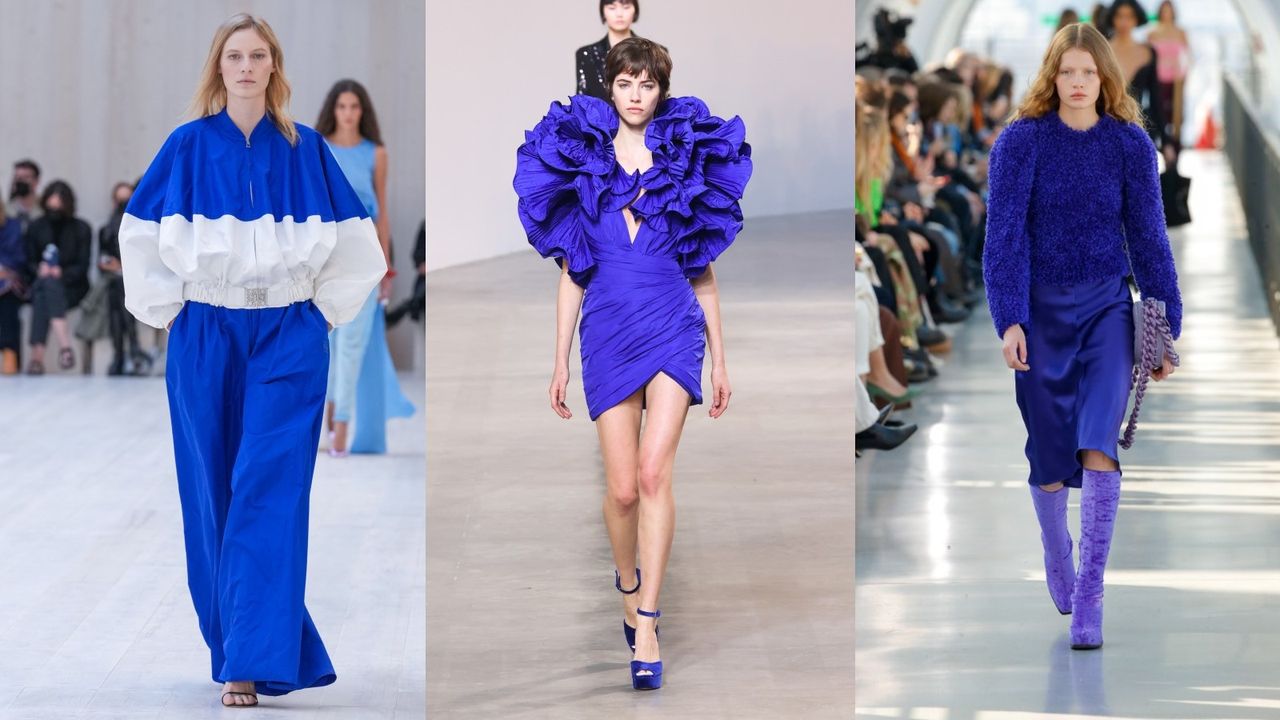 Cool tones like blue are said to have a calming effect, but this season opt for a more dynamic approach with cobalt. Fashion houses Loewe and Stella McCartney are just some of the big brands that sent top to toe bright blue down the runway and now it's time for us to follow suit. The bolder tone of blue is said to "represent authority but with a calm and confident air". Look like you mean business and wash the blue moods away with this cobalt shade.
Our fashion editor recommends…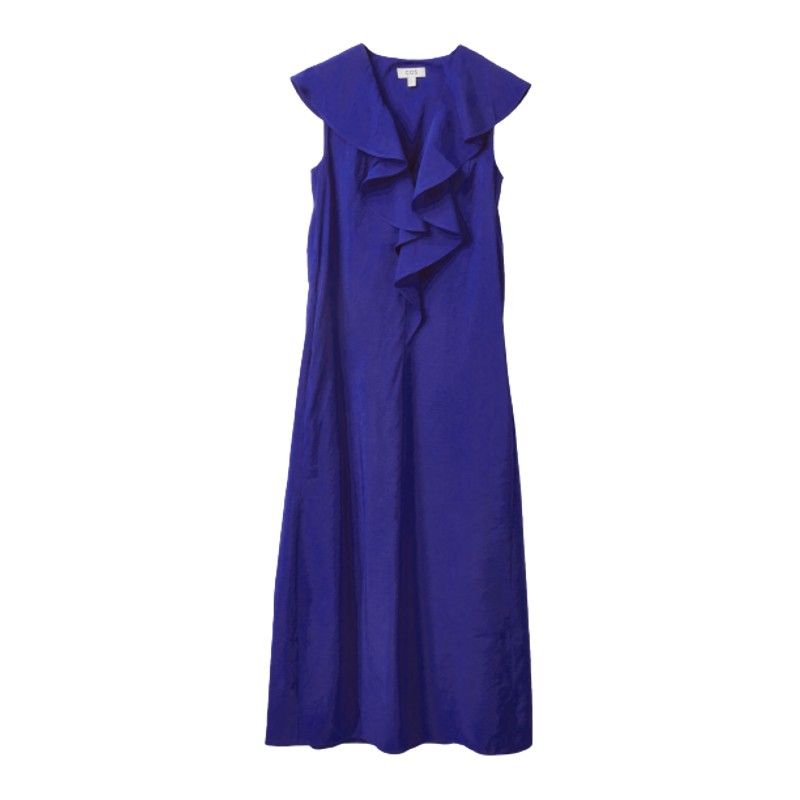 Cos Blue Ruffled Maxi Dress
RRP: $150 / £99 | This is one of the best dresses for summer. Period. It's the perfect throw-on-and-go number that will make you feel fabulous in seconds. Loose enough to skim over hips without overwhelming your figure, and we love the stylish ruffles and pockets. Add to your basket now.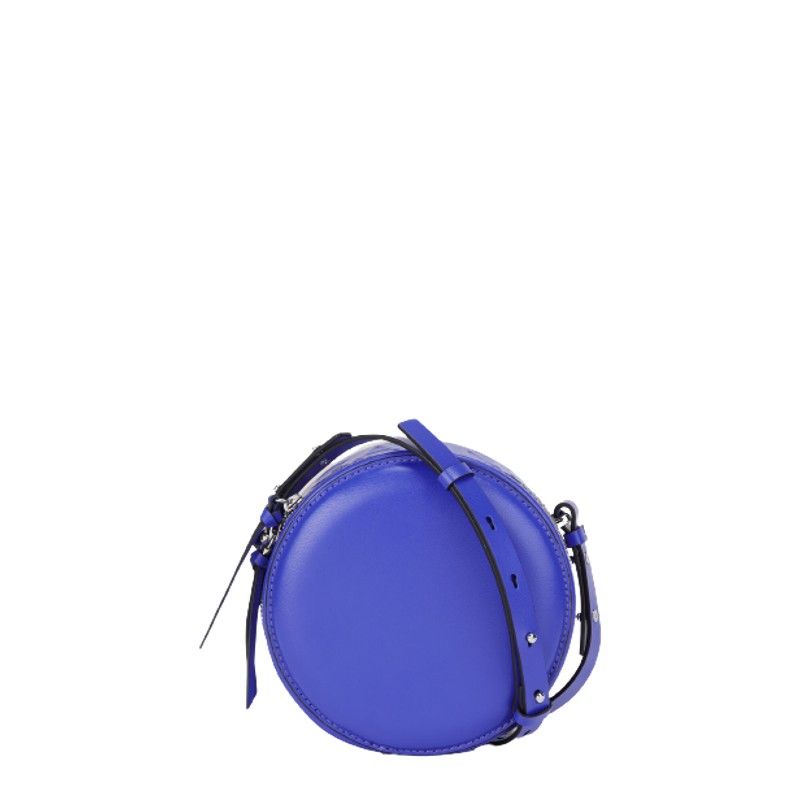 Ganni Round Crossbody Logo Bag
RRP: $295 / £215 | Ganni is one of our favorite Scandiavian clothing brands and this bag proves why. Not only does the color pack a punch, but the fun round shape with zip all the way around makes this quirky accessory a winner. Great for day to evening dressing.
& Other Stories Mock Neck Sweater
RRP: $49 / £35 | For a simple injection of color, this cobalt blue sweater is so easy to slip on. Whether it's over a dress on cooler days, with a midi skirt, or with a pair of jeans, its relaxed fit makes it a purchase you won't regret.
CITRUS LIME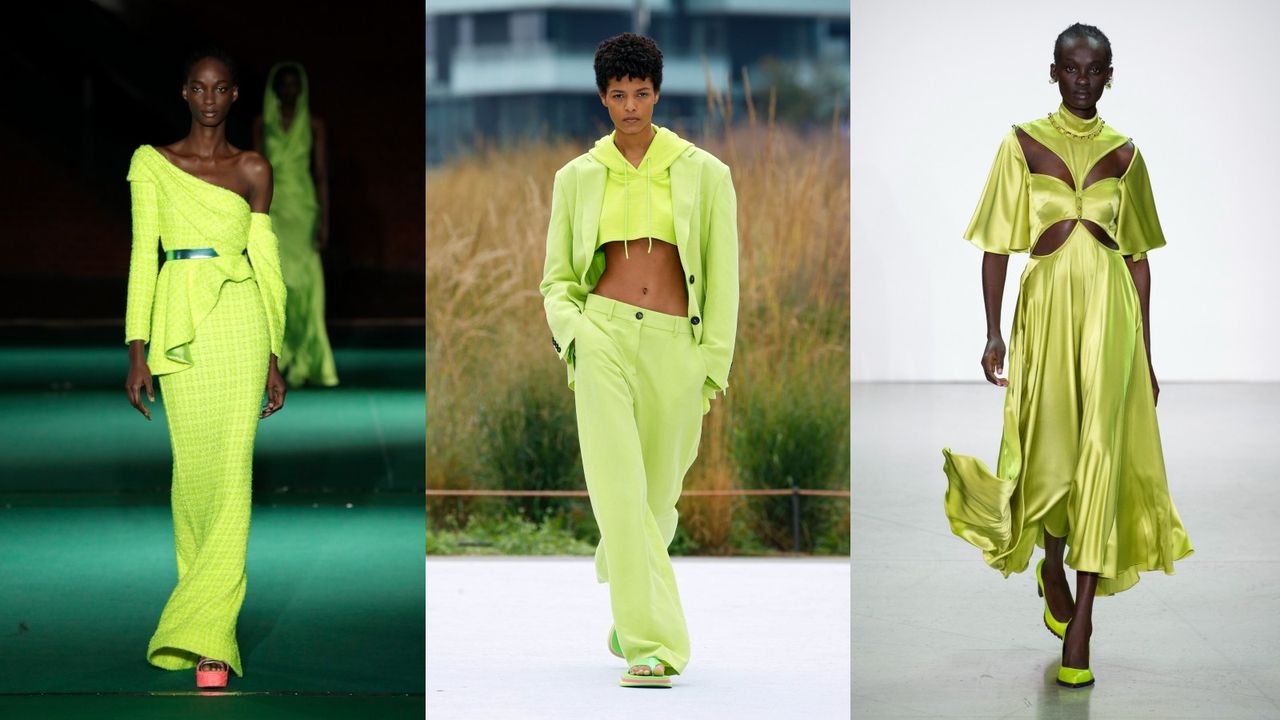 Give your wardrobe a refresh with lime separates. The color oozes vitality, although it can be a tricky one to pull off. More synonymous with summer, lime can sometimes be seen as a piercing neon, but there are some more subtle versions available with pale yellow undertones. A lime suit is a great option for weddings while a lime sandal in the sun is a no-brainer. If you have a pale skin tone, think about weaving it into an outfit with other shades to provide a contrast.
Our fashion editor recommends…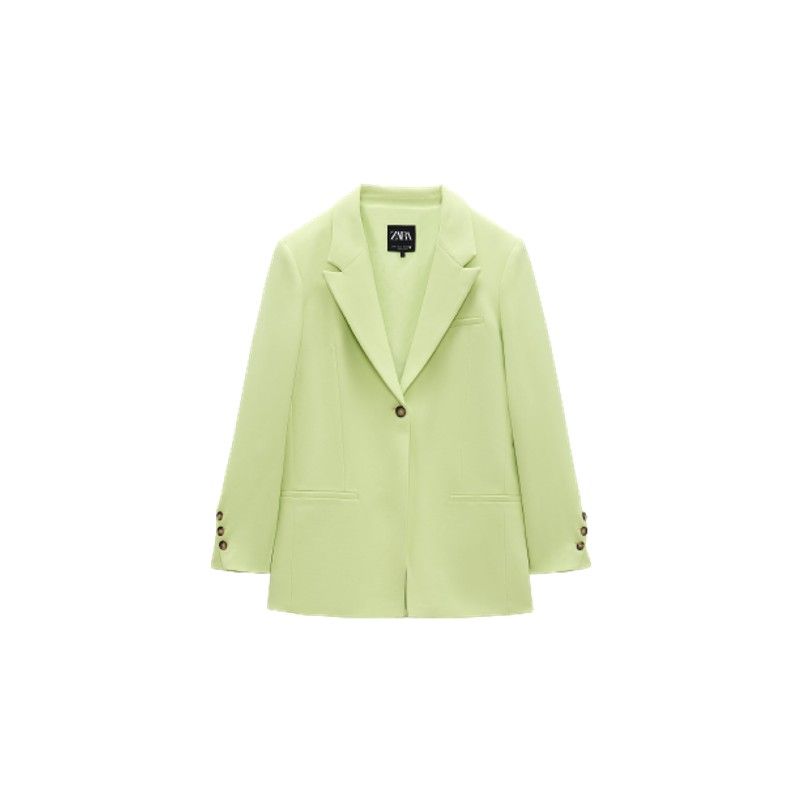 Zara Straight Cut Blazer
RRP: $89.90 / £59.99 | When it comes to the best blazers, a colored option never goes amiss. This single breasted lime design is great for a pear-shaped body as it skims hips. Wear with the matching wide-leg bottoms or on its own over a midi dress.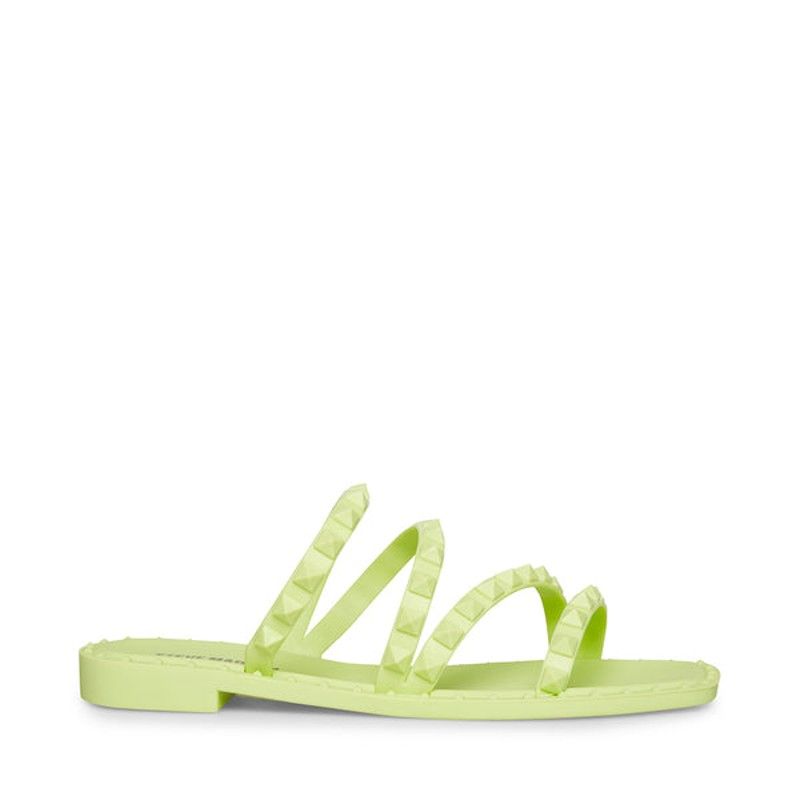 Steve Madden Skyler-J Lime
RRP: $49.95 / £60 | Add this pair to your list of best sandals and your feet will thank you. A seriously good pair of comfortable flats, the studded detail gives a nod to the shoe trends of 2022. Get pedi ready with a clashing nail varnish to really embrace summer color.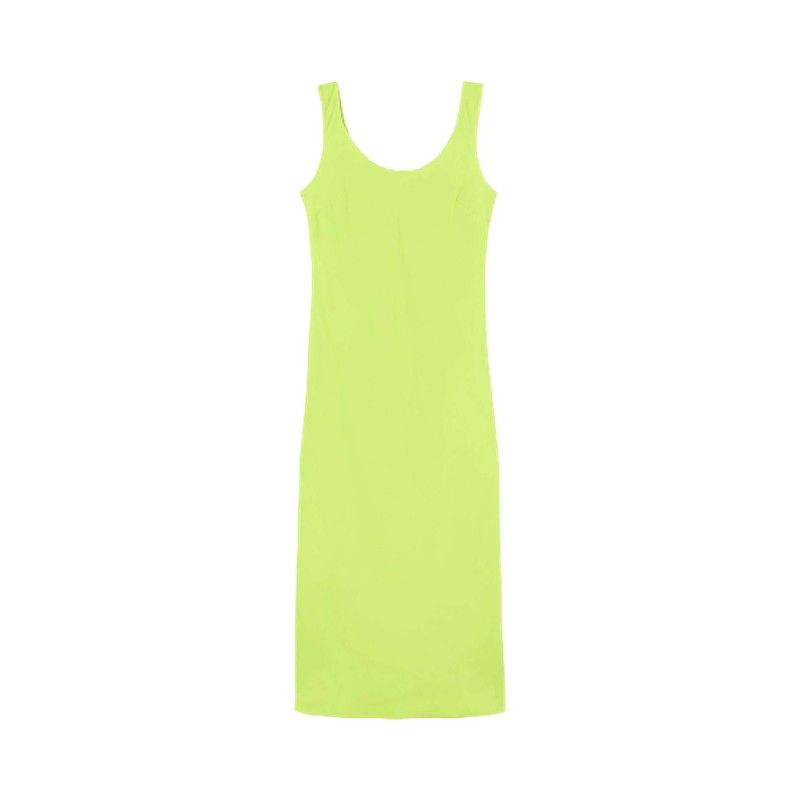 Calvin Klein Satin Midi Dress
RRP: $132 / £100 | Sometimes the simplest of designs work the best if you're looking for a color infusion. This soft satin vest dress is simplistic, yet the vibrant hue will make you stand out. Team with tan and gold accessories for an instant summer-ready look.
SOFT LILAC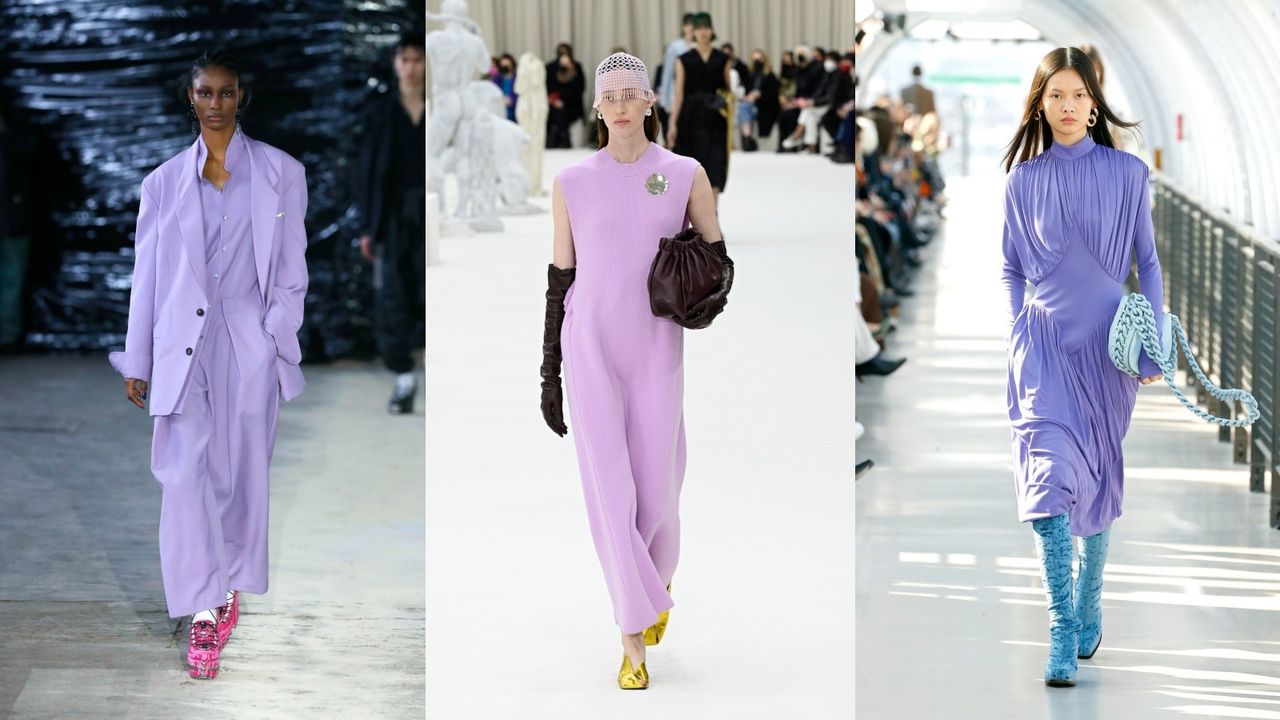 This shade of purple is having a moment. Oscar-winner Jessica Chastain wore a stunning lilac Gucci gown at the Academy Awards, putting her on the Oscars 2022 best dressed list this year, while King Richard actor Demi Singleton opted for a lilac Miu Miu frock at the awards bash, proving it's certainly the color du jour. A great option if you want to instil some sophistication into your look. "Lilac is part of the purple family, thus giving the impression of sophistication and quality. It also shows that you are understanding, supportive and maybe a little bit spiritual", says Ciff. "Your ultimate aim is to immerse yourself in a peaceful and tranquil environment, so this is a great hue to wear if you're feeling stressed or you're the mediator in a business meeting."
Our fashion editor recommends…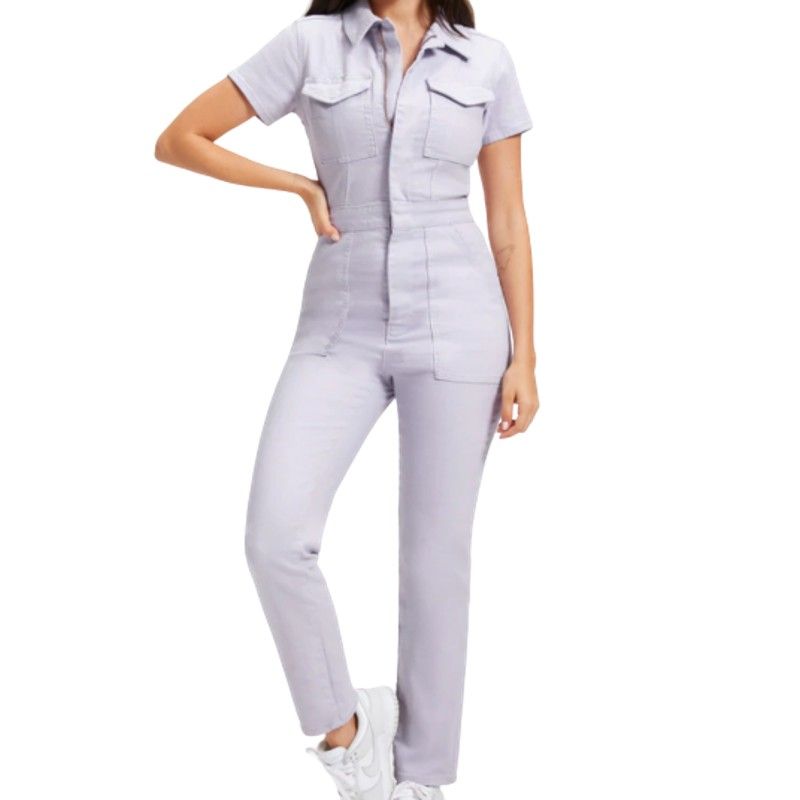 Good American Fit for Success Jumpsuit
RRP: $159 / £150 | Flattering jumpsuits are ready-made outfits that need little styling. The slim leg and waist seams create an hourglass silhouette, ideal for showing off curves. The lilac shade isn't overpowering and the size range is great. Get yours ASAP!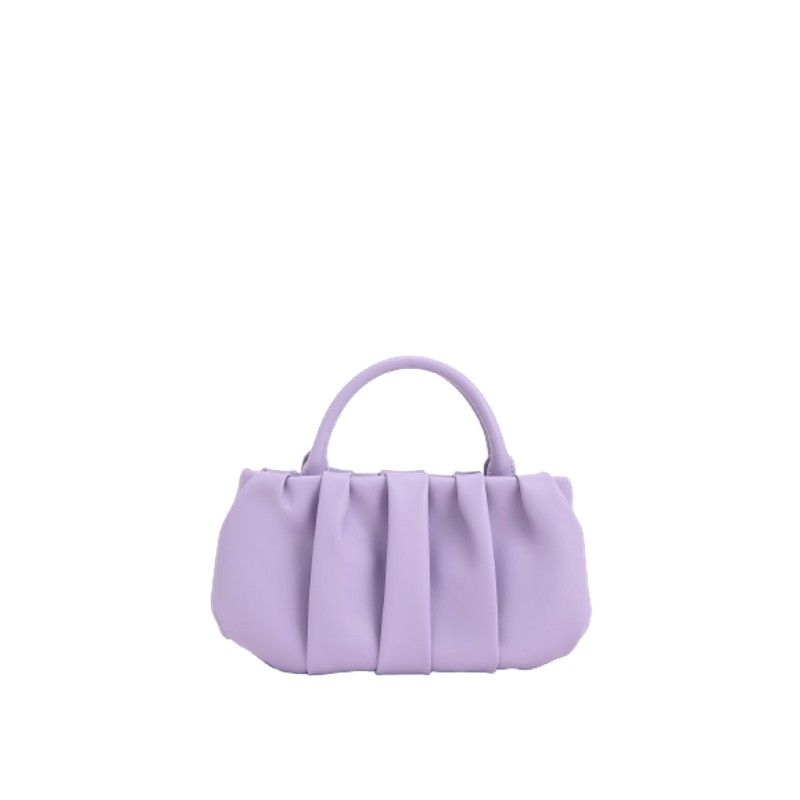 Charles & Keith Ruched Bag
RRP: $73 / £75 | Whether you want to add this to your best crossbody bags or hold it in your hand, it's a great buy for spring. Ideal to add to a floral frock or inject some pastel perfection to a casual outfit, it's an accessory you'll return to each season.
Mango Knitted Flare Skirt
RRP: $79.99 / £49.99 | The midi skirt might have reigned supreme for a while but it's the maxi's time to shine. This knitted tube skirt is a fab all season-round purchase and, thanks to its slim fit, can be teamed with oversized shirts with ease.
BUTTERMILK YELLOW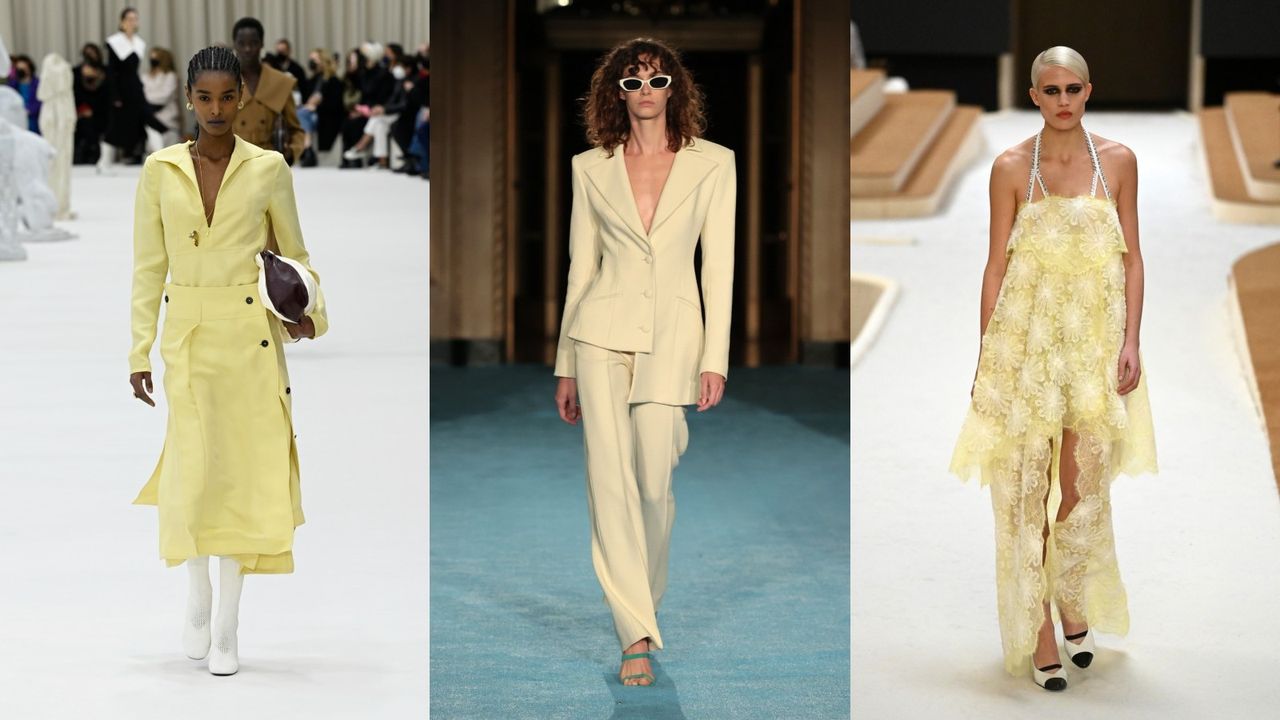 Warmer than cream, but paler than a sunshine hue, buttermilk is a hybrid between neutrals and color. For those who dress with a minimal aesthetic in mind, this is a great shade for helping you to edge a little closer to brights. It's also an optimistic tone. "Yellow offers hope and happiness. It's known as the most creative hue", reveals Cliff. Gold jewelry naturally goes well with this shade to keep the warm feeling, but avoid teaming it with black as the contrast can be too harsh.
Our fashion editor recommends…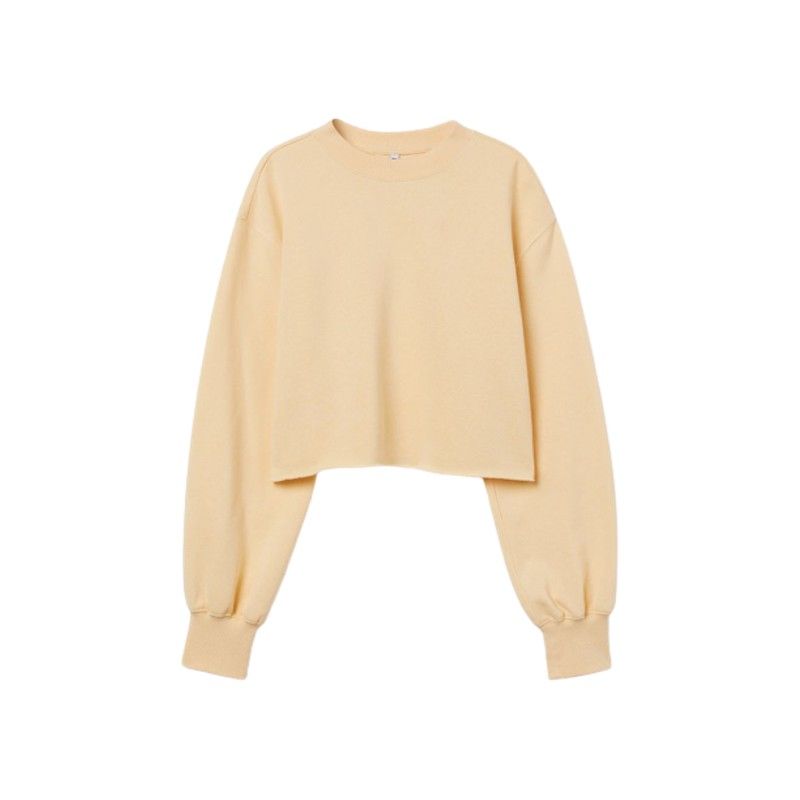 H&M Cropped Sweatshirt
RRP: $12.99 / £9.99 | Who said the best loungewear had to be in classic colors? This pale yellow cropped sweatshirt makes lazy Sundays much more stylish. Wear with the matching joggers or layered over a vest top and jeans.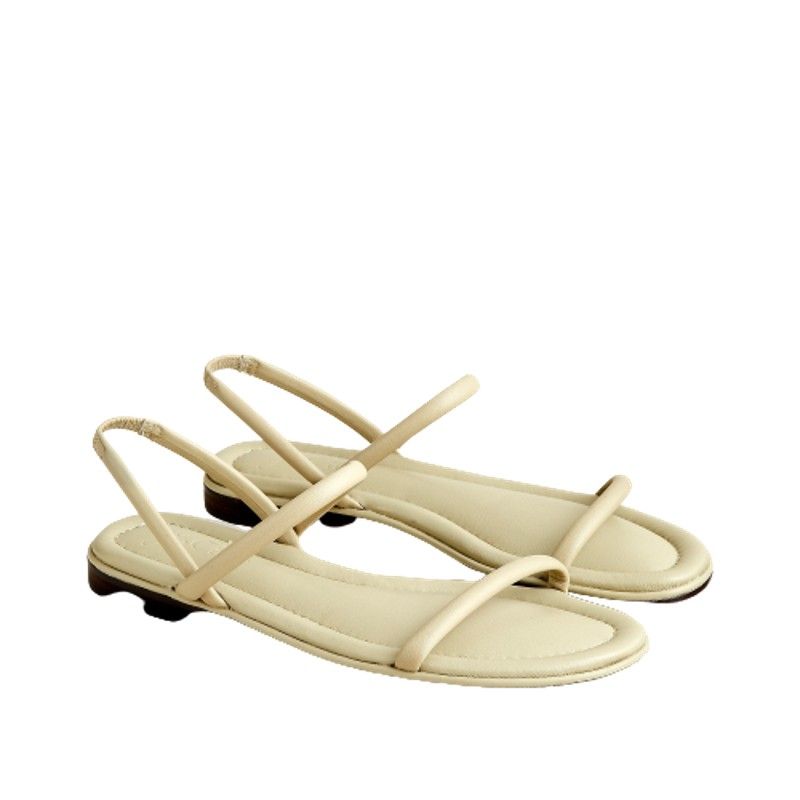 J.Crew Padded Slingback Sandals
RRP: $98 / £110| If you're after a pared-back summer look, these sandals are essential. The soft buttermilk color keeps the minimal feel while the fuss-free straps mean they will go with any outfit. Comfort is guaranteed thanks to the cushioned footbed, too.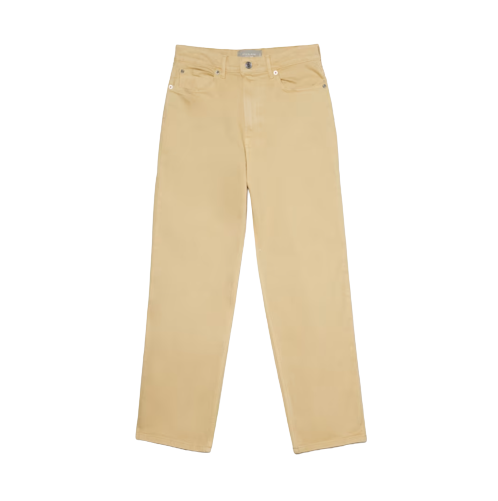 Everane The High-Way Jean
RRP: $98 / £100 | These sustainable jeans dyed with eco-friendly processes are dreamy. High-waisted so they lengthen your legs and with a bit of stretch to make them even more comfortable. Plus, the light shade will freshen up your denim in seconds.
CHOCOLATE BROWN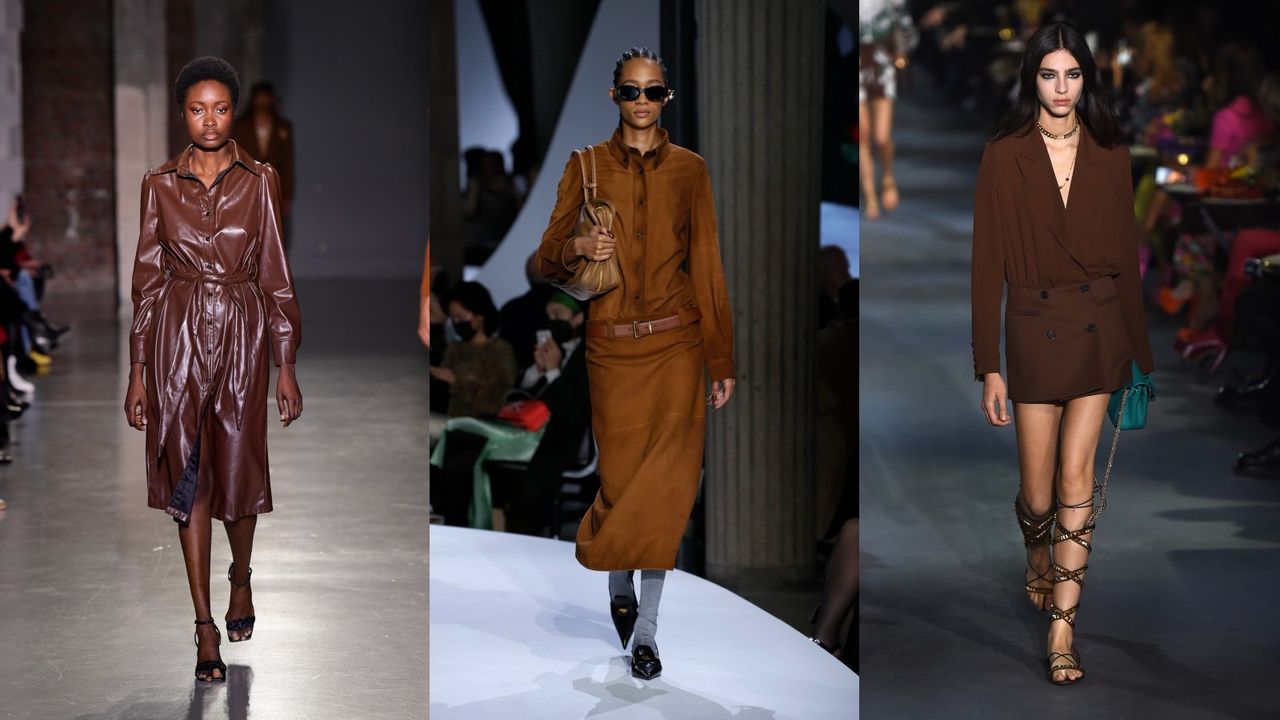 While always turning back to black might be your sartorial habit, it's worth considering a softer chocolate brown. Although black is a failsafe option, it can be extremely draining on a lot of skin tones, particularly as skin ages. Instead, look to warmer dark hues like brown. It's a great choice that can be lightened for summer and kept darker for winter. "Brown is usually associated with resilience, probably due to its earthy tones. It is viewed as a color that provides safety and security", says Cliff.
Our fashion editor recommends…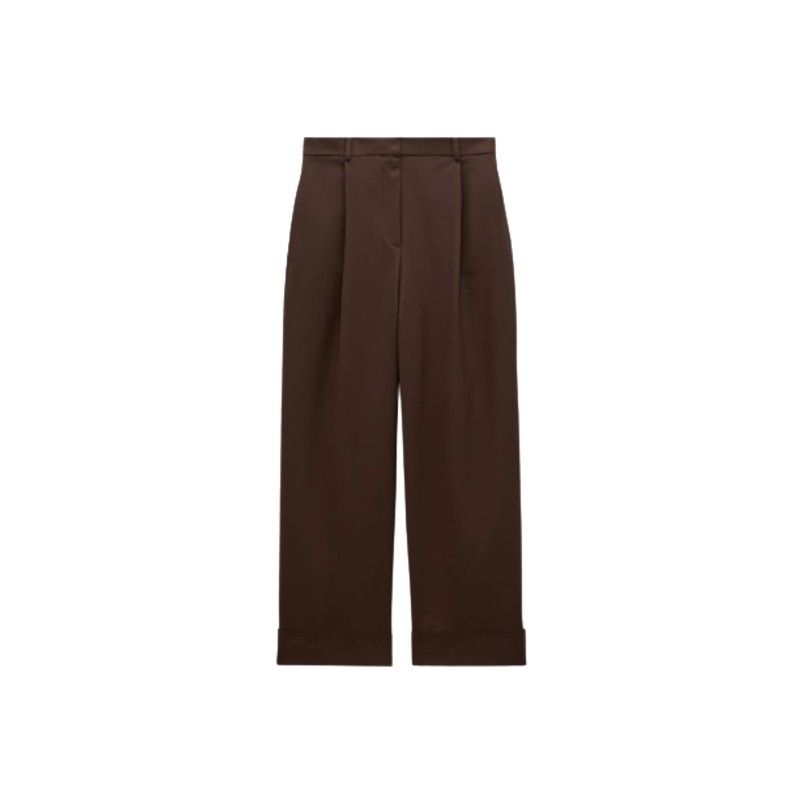 Zara Cuffed Wide Leg Pants
RRP: $69.90 / £49.99 | High-waisted and finishing just at the ankle with a turn-up cuff, these wide-leg bottoms are a great alternative to smart black trousers. Wear with a crisp white shirt for work and swap to a bright red top for the evening.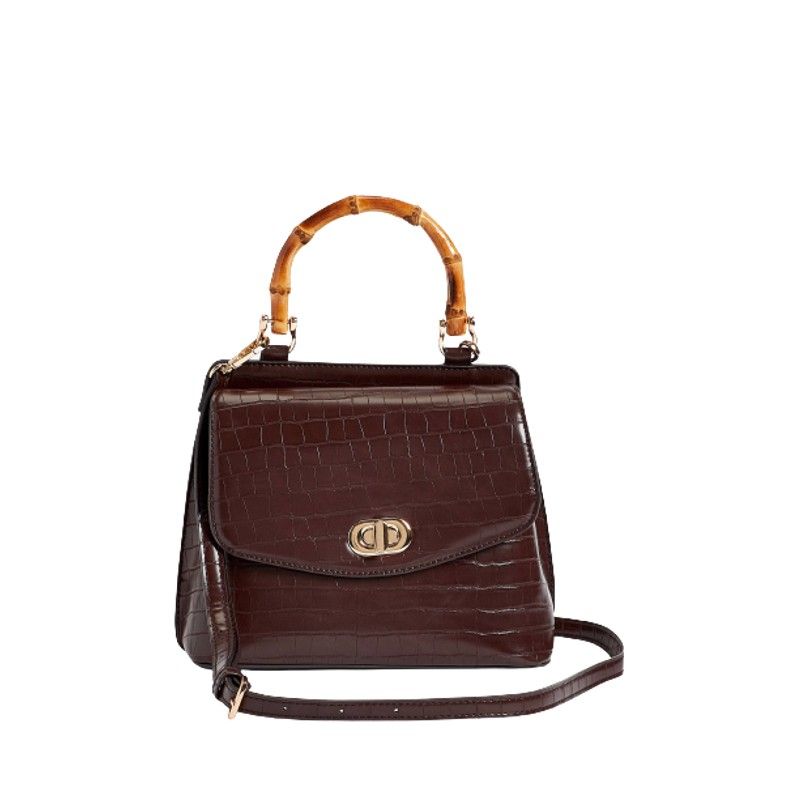 Next Bamboo Handle Bag
RRP: $47 / £32 | A classic structured shape with a modern bamboo handle, this is a great bag for all occasions. No swapping required when moving from work to play. The croc design adds a little texture, too.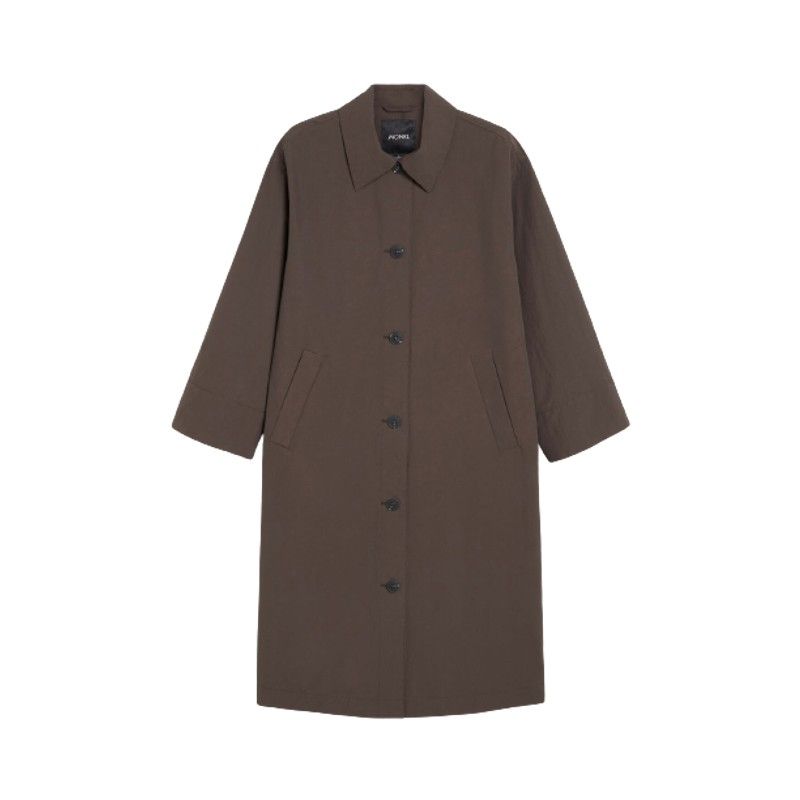 Monki Oversized Lightweight Coat
RRP: $80 / £65 | Every closet needs a transitional lightweight jacket. While you might be thinking about how to wear a trench coat, it's worth considering this darker shade for in-between weather. The simple design means it's great with prints.
CRISP WHITE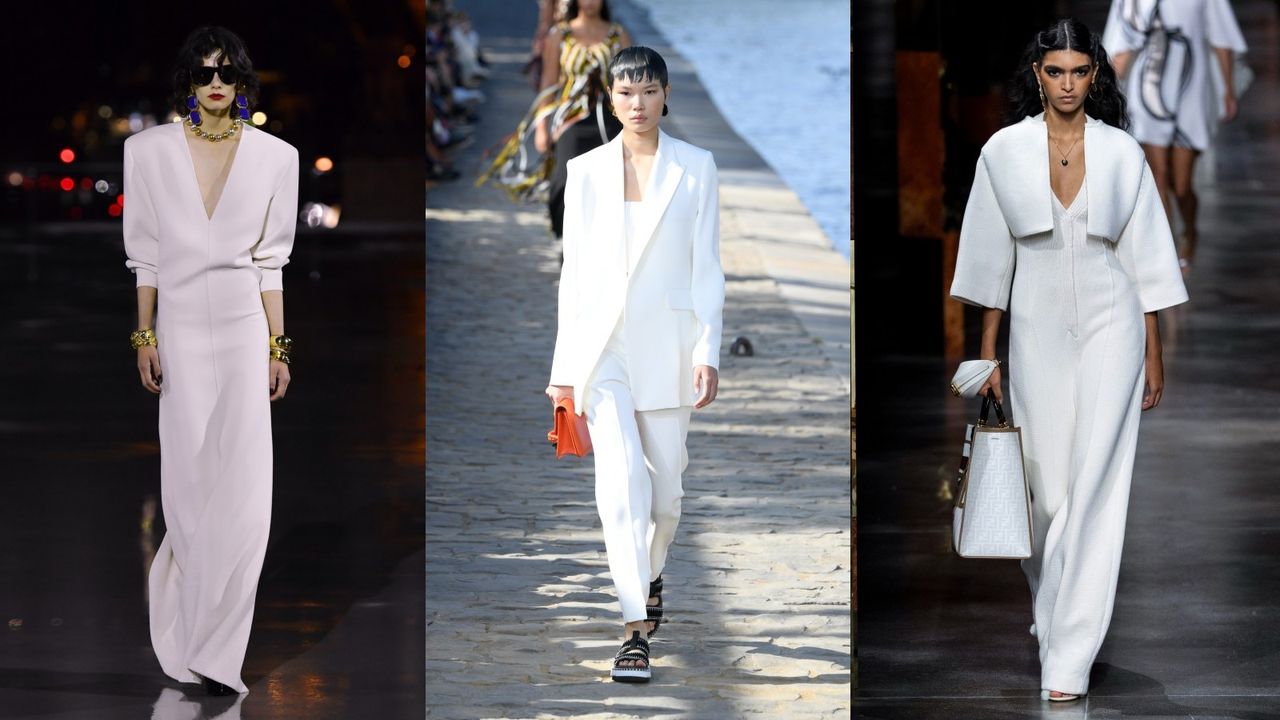 Rarely falling out of style, white is the ultimate color for summer. Think of it as a blank canvas. You can use a white t-shirt as a neutral and keep your outfit pared back or use it as a base for adding brights to your look. "White denotes purity and freshness. It appears clean, hygienic, and sterile" explains Cliff. "Everyone needs a version of 'their' white in their wardrobe, but consider wearing it in a textured fabric, i.e. linen, if you wish to soften its appearance. It reflects the lights so is an ideal hue to wear in hot weather."
Our fashion editor recommends…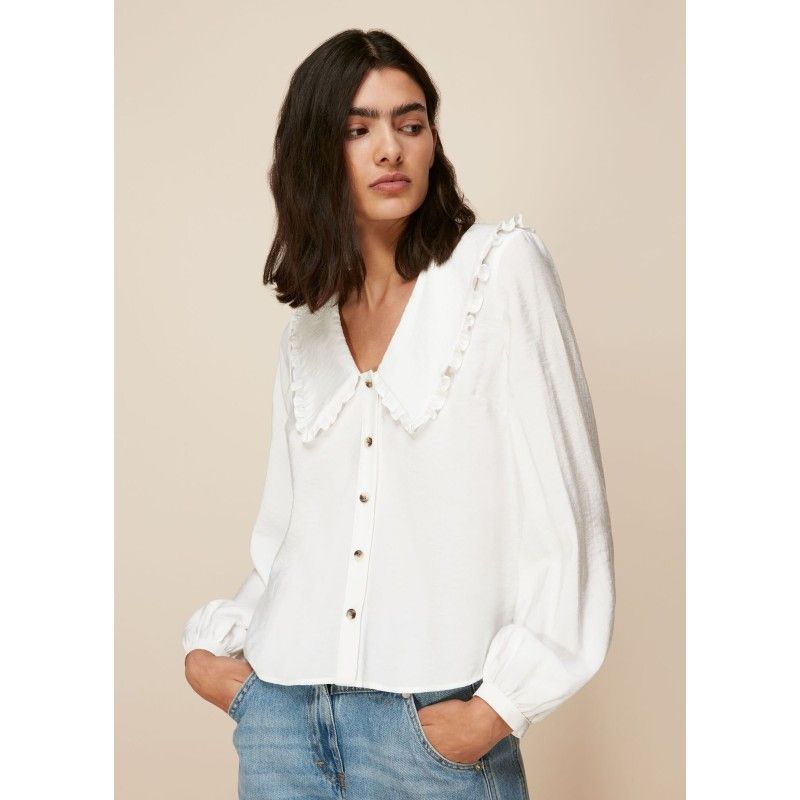 Whistles Oversized Collar Detail Top
RRP: $179 / £89 | Every capsule wardrobe needs a classic white shirt, but why not look for some extra style details? The oversized collar on this shirt gives it some understated fashion credentials and it will work with any skirts, trousers or even under pinafore dresses.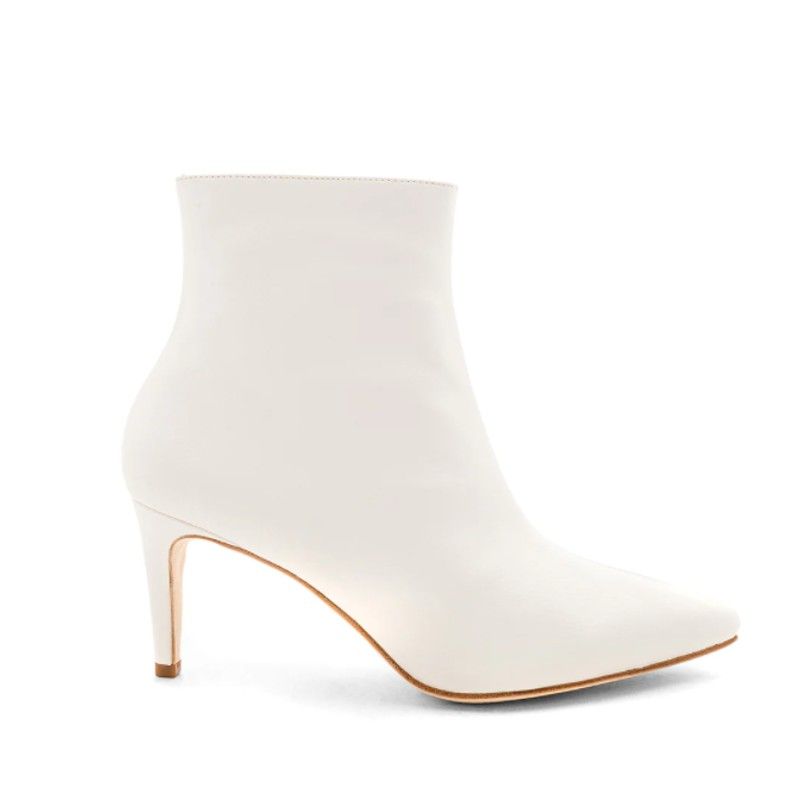 Revolve White Maisie Bootie
RRP: $188 / £175 | White boots have been on trend for the last few seasons so it's worth investing in a pair. These mid-heels boots are a great height while the pointed toe elongates your legs. Wear with jeans for a contemporary look.
Anthropologie Femme Ruffled Midi Dress
RRP: $198 / £160 | This cotton dress is a must-have for garden parties and barbecues. The V-neck is flattering for larger busts, while the A-line skirt skims over hips. Wear with a straw bag and tan sandals for a classic summer take.
Joely Chilcott is an experienced fashion and features editor having spent over ten years writing, styling and editing for a number of women's lifestyle publications, including Woman & Home, Woman and Woman's Own.
A certified shopping expert, Joely is always on the lookout for new and exciting brands that she can champion, while holding the high street close to her heart. She has had work published in Drapers, Women's Health, Fabulous, YOU, The Sun and the Metro, as well as being a regular fashion contributor to TalkRadio.
Related