As Taylor Swift and Selena Gomez continue to showcase their love for bucket bags, it's clear that this '90s-inspired accessory is back in the spotlight. The versatility, functionality, and timeless appeal of bucket bags make them a staple in the wardrobes of fashion enthusiasts worldwide. So, whether you're a devoted fan of Taylor or Selena or simply looking to elevate your style, consider adding a bucket bag to your collection — it's a trend that's here to stay.
Bucket Bags Are Making a Comeback, as Confirmed by Taylor Swift and Selena Gomez
If Taylor Swift's latest girls' night out was any indication, bucket bags are definitely back. On Nov. 4, the singer hit the town with famous friends Selena Gomez, Sophie Turner, Gigi Hadid, Cara Delevingne, and Brittany Mahomes for a star-studded dinner at NYC's BondSt. While each star was dressed to impress in their own stylish ways, Swift and Gomez's bag choices in particular caught our attention.
Swift carried a croc-embossed bucket bag from Stella McCartney to top off her black long-sleeve top, plaid miniskirt, and over-the-knee boots. The bag was adorned with the designer's signature chainlink detail and made of an innovative vegan material sourced from apple waste. Similarly, Gomez held a black bucket bag with gold hardware from Saint Laurent to accessorize her cozy belted sweater dress. Their versatile purse choices make sense considering bucket bags made a splash on the fall/winter 2023 runways earlier this year.
Swift's McCartney purse is from the aforementioned collection, while luxury brands like Bottega Veneta, Hermés, and Ulla Johnson also reimagined the design for their recent shows. Mansur Gavriel — which popularized the now-ubiquitous silhouette in 2013 — recently debuted a revamped, eco-conscious version of its famous style. More affordable brands like A.P.C and Madewell have also come out with their own iterations, like the latter's The Essential Bucket Tote recently worn by Katie Holmes.
The bucket bag is making a steady comeback as larger, more practical bags take priority over micro-mini and kitschy statement accessories. Aside from Gomez and Swift, celebrities like Holmes, Meghan Markle, and Rosie Huntington-Whiteley are also bringing back the versatile, hands-free style this fall. Take a closer look at the trend in action ahead.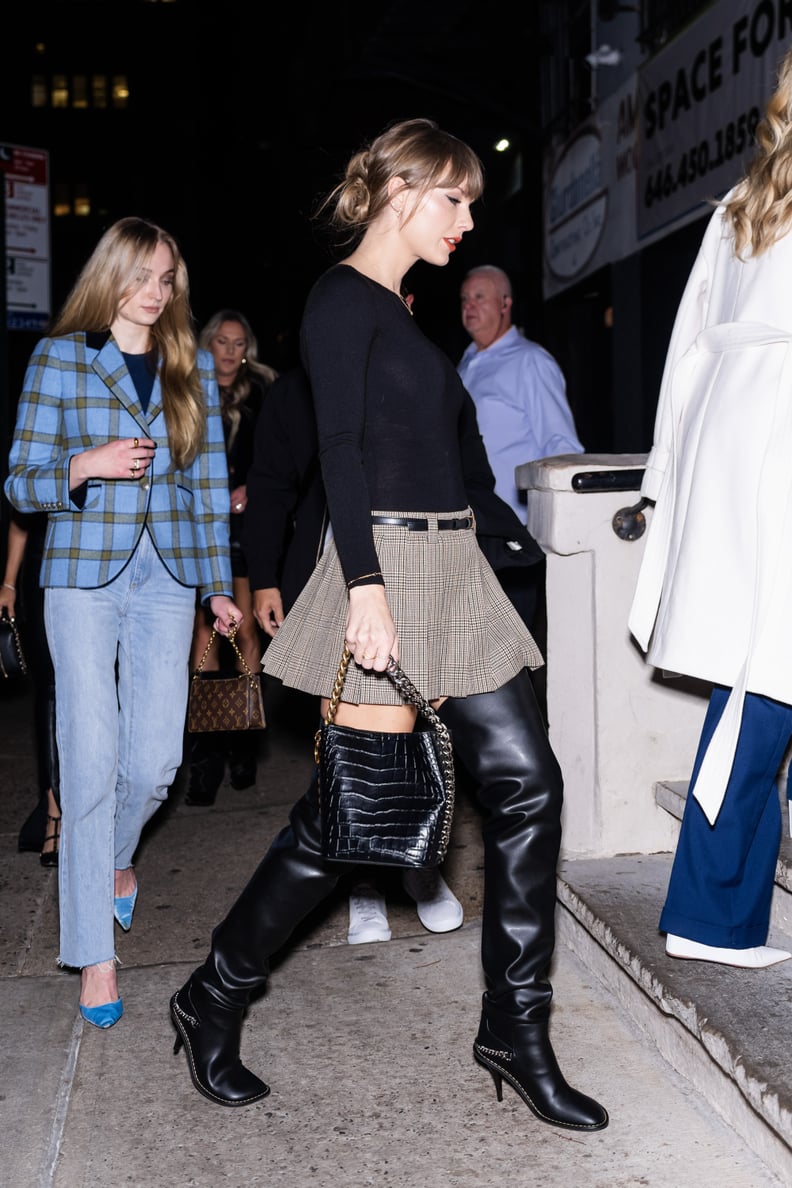 Taylor Swift Carrying a Bucket Bag
Swift styled her preppy nighttime look of a plaid miniskirt and Stella McCartney over-the-knee boots with the designer's new Apple Skin Embossed Bucket Bag. The unique purse features a gold and silver chainlink handle and a detachable shoulder strap.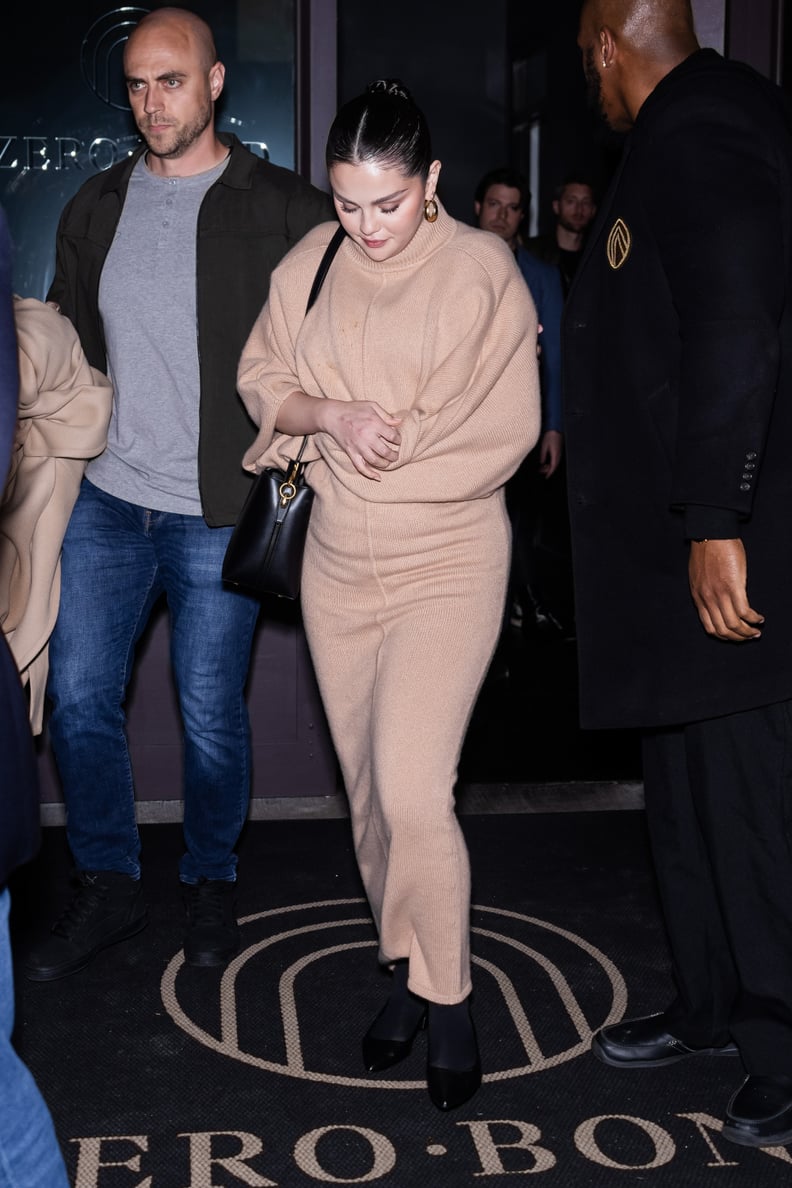 Selena Gomez Carrying a Bucket Bag
For the night out, Gomez paired her maxi cashmere dress from Frame with black Steve Madden slingbacks and Saint Laurent's mini bucket bag with brushed gold-tone metal details.
Katie Holmes Carrying a Bucket Bag
Holmes ran errands around NYC with her $178-Madewell bucket tote in tow. The rest of her outfit included a casual navy hoodie, sweatpants, and the celebrity-favorite Adidas Sambas.