Apple-Cranberry Crostada
While a good pie crust ought to be a part of every cook's repertoire, sometimes there just isn't the time. But why leave the baking to the grocery stores or bakery when puff pastry is a simple, high-quality stand-in for the original? In this Crostada, the sheet dough is baked free-form with ingredients piled on top. Couldn't be easier!
Ingredients
3

 

tablespoons

 

butter

2

 

pounds

 

Granny Smith apples (or other firm, crisp apples), peeled, quartered, cored and sliced 1/4-inch thick

1

 

pound

 

Macintosh apples (or other soft-textured apples that fall apart when cooked), peeled, quartered, cored, and sliced 1/4-inch thick

½

 

cup

 

sugar

½

 

cup

 

dried cranberries

1

 

sheet

 

frozen puff pastry, thawed but still cold (follow package directions)

1

 

egg white, lightly beaten

1

 

tablespoon

 

sugar

1

 

cup

 

Optional: Ice cream or lightly sweetened whipped cream
Directions
Heat butter in a large skillet over medium-high heat. Add apples, 1/2 cup sugar and cranberries; cover and cook until apples release their liquid, about 5 minutes. Remove lid and continue to cook, stirring frequently, until soft apples fall apart and juices thicken to a thin-syrup consistency, about 5 minutes longer. Pour onto a large-lipped cookie sheet or jellyroll pan and cool to room temperature. (Can be refrigerated in an airtight container up to 5 days.)

Adjust oven rack to low position and heat oven to 400 degrees. Open puff pastry sheet on a lightly floured work surface. Roll into a rectangle, about 10 by 16 inches. Transfer to a large cookie sheet. (I suggest lining the sheet with parchment paper; this ensures the crostada doesn't stick and allows easy cleanup.)

Spread cooked apples over pastry, leaving a 2-inch border. Fold up pastry borders over apples. Unfold corners and form ruffled creases to keep dough from overlapping. Brush pastry border with egg white and sprinkle with the remaining 1 Tb. sugar. Bake until pastry is golden brown, 25 to 30 minutes. Serve warm or at room temperature with optional ice cream or whipped cream.
Tips
Copyright 2004 USA WEEKEND and columnist Pam Anderson. All rights reserved.
Nutrition Facts 
(per serving)
| | |
| --- | --- |
| 396 | Calories |
| 18g | Fat |
| 60g | Carbs |
| 4g | Protein |
Reviews 
(6)
Check out our Community Guidelines about reviews.
What do you think of this recipe? Share your experience to help others.
Most helpful positive review
I make it as is – BUT – I add cinnamon to the sugar. It makes the flavor go a long way. The family and friends love it and its easy to make
Most helpful critical review
Didn't have much flavor to the "filling". I would rather just make an apple crisp or a pie. If you really wanted to use the puff pastry, I would cut it in small squares and place the squares in a cupcake pan and still use the filling to make a small tart.
Very good but I had to add some cinnamon and fresh grated nutmeg. Very good and not too sweet. My hubby couldn't wait and had to have a slice before his dinner.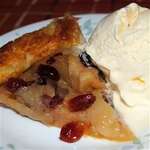 This is a simple, rustic dessert. It is delicious, as is. I may add some cinnamon the next time. I used demerara sugar to top the crostada. Very tasty with a scoop of vanilla ice cream!