Male style tribes: As lines blur, do they still exist?
Published 15th January 2018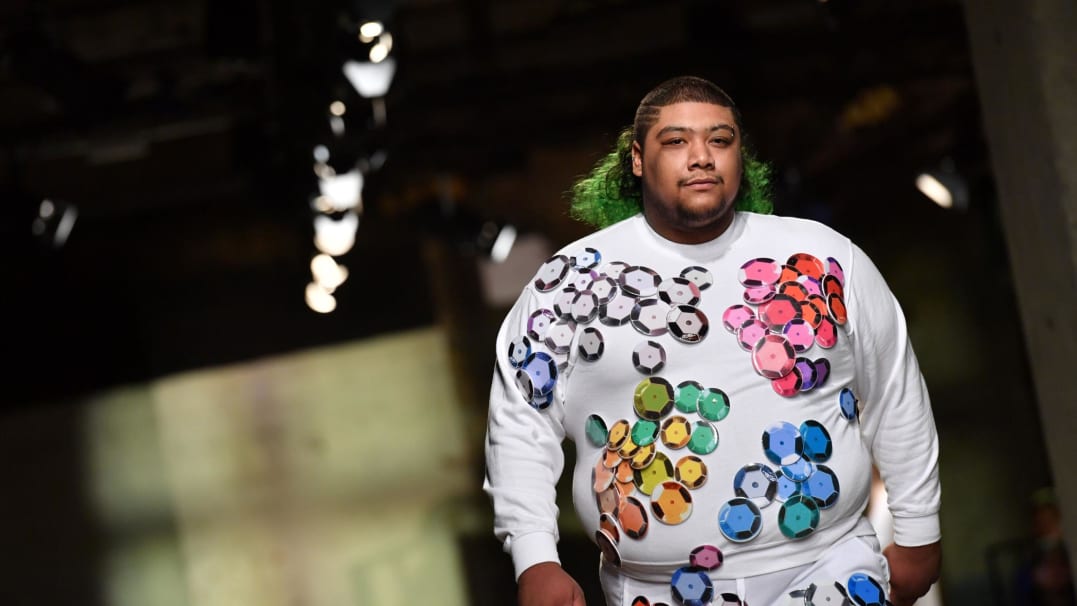 Credit: BEN STANSALL/AFP/AFP/Getty Images

Male style tribes: As lines blur, do they still exist?
In post-war Britain mods, rockers, skinheads and teddy boys would happily engage in casual violence to defend the honor of their dress sense. In America meanwhile, bikers would beat up hippies in parking lots just for having marginally wider jeans — "like trousers, like brain" as The Clash's singer Joe Strummer put it.
Fashion divided and united. In the 1980s London's clubbing Blitz Kids or New York's Club Kids (who ruled the city's dance clubs until the early 1990s) found solace in numbers by sticking out rather than fitting in. From
Congolese Sapeurs
to "Madchester" pill-heads, clothes helped men bond, express themselves, and break away from parochial attitudes and cultural traditions.
In the 1989 coffee table classic "
Jocks and Nerds
," Richard Martin and Harold Koda categorized the last century of menswear into 12 consistent male identities: The eponymous high school archetypes sitting alongside the worker, rebel, cowboy, military man, businessman, Joe College, sportsman, man-about-town and dandy.
By today's standards these categories sound almost Victorian. But have they been replaced with distinct modern styles or have they simply mutated? Is today's Vetements victim yesterday's sportsman in a garish colored windbreaker jacket? Is the bearded urban lumberjack just the bastard offspring of the cowboy and the nerd?
1/9
– Charles Jeffrey Loverboy
Have the distinct style tribes of the past overlapped and coagulated until merging into one? When I see my dad in a windbreaker that wouldn't be out of place on Drake's Instagram, or a TV chef in a JW Anderson x Uniqlo scarf, I worry that we're edging ever closer to a sartorial lowest common denominator. "Hypernormcore-alization," if you will.
Lastly, capitalism has accelerated fashion to the point where our icons change their dress sense with every album, film or season. The proliferation of low-cost disposable clothes means that anyone with an online account at a high street shop can keep up, regardless of the impact on the environment.
The internet makes every look available in real time, meaning Zara can rip off Balenciaga before the campaign's even been printed in Vogue. And social media meanwhile weakens the desire to gather in real life to feel appreciated (or indeed alienated).
Debates around manhood and masculinity are evolving while gender-specific subcultures are dying out. Revolutions in equality slowly dismantle boundaries, blurring old lines and throwing up new conversations. In these politically fraught but socially progressive times, what can we learn from modern menswear designers? And where does it leave our disparate style tribes?
Harry's Style: Gucci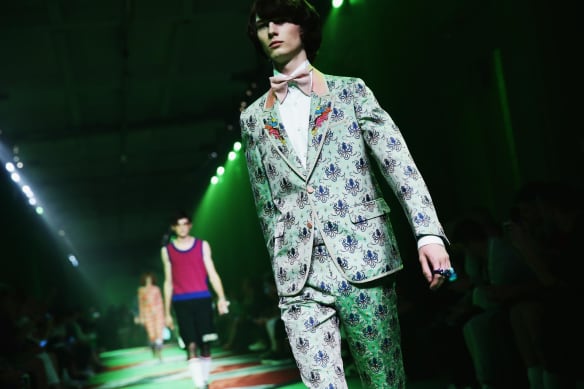 The metrosexual male may have died off along with Hugh Grant's character sometime between the second and third Bridget Jones movies, but its descendants still walk the earth. Guys who google "best moisturizers for men" and wear Dove roll-on deodorant but "only the gray one."
Thankfully, labels like Gucci are doing the hard psychological work so that we don't have to, ditching separate male and female shows
in favor of a single unisex catwalk
. It's one of many gambles that have paid off for the brand, still riding high after appointing Alessandro Michele as creative director in 2015.
Ed-Hardy-on-acid prints and medieval maximalism have brought the brand back from the outlet store and built an army of celebrity devotees in the process, from Florence Welch to Lil Pump. The latter is currently doing for Gucci what American hip-hop trio Migos did for Versace in 2013 — namely providing millions of dollars' worth of free advertising by name-checking the brand several times in a song, while helping keep the demographic young, with
55% of 2017 sales made to people under 35
, according to a Guardian report. For his latest collection Alessandro even raided Elton John's archive and lived to tell the tale, which should help keep Harry Styles floral for the foreseeable.
Cold War Kids: Gosha Rubchinskiy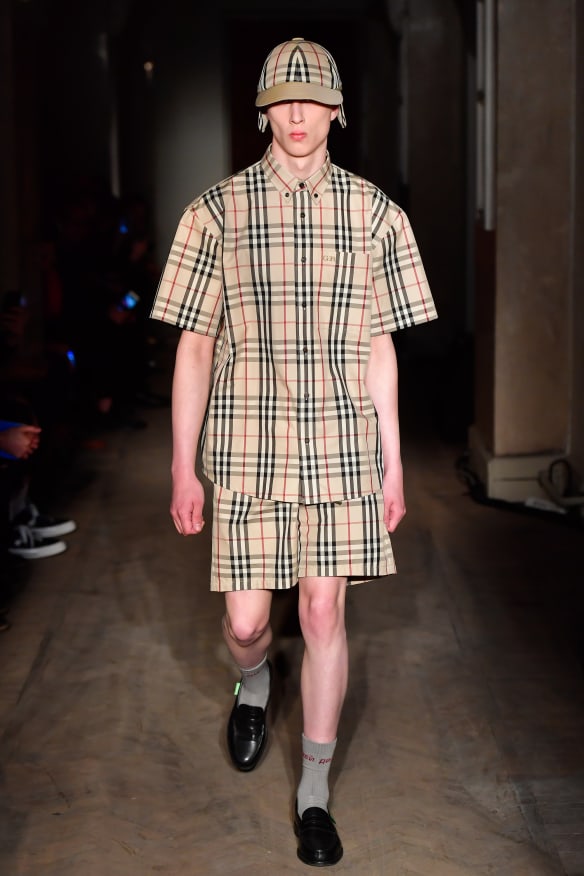 The Berlin Wall has now been down longer than it was up, and in the thirty years since its fall Eastern Europe has evolved into an unlikely fashion superpower. Although some of the "Eastern Bloc Aesthetics" that journalists enthuse over are just brutalist fantasies projected onto a large part of the world they don't understand, the international influence of young designers like Demna Gvasalia and Gosha Rubchinskiy are undeniable.
The latter's recent Burberry collaboration has caused Jumangi-esque stampedes at ultra-cool concept store Dover Street Market in London earlier this month, as dot-com-dads fight pseudo-lads for the first "essential drop" of the year. Arriving just in time for the Russian world cup this summer, the collaboration purports to
"remix the past and present
" celebrating football, youth culture and that iconic Burberry tartan. Most importantly it looks like fun, and reminds us that an Iron Curtain influence means more than wearing your hammer and sickle on your sleeve.
Urbane Outfitters: Off-White
As the weekly queues down London's Brewer Street and LA's Fairfax Avenue for the latest Supreme garment attest, young streetwear brands are now more bankable than even the most hotly tipped Central Saint Martins art school graduates. Rapper Tyler the Creator opened his new Golf Wang superstore in time for its second Converse collaboration, while UK skate royalty brand Palace continue to blow kids' minds and bank accounts, with its most limited edition items garnering more attention than the deluxe brands it started out bootlegging.
Palace and Golf are so popular that they're even inspiring new little brother labels like Earl Sweatshirt's Deathworld and model and skater Blondey McCoy's brand, Thames. There's always room on the board. One designer managing to merge the
Hypebeast
mentality with high fashion is Kanye West's creative director and former architecture student Virgil Abloh. In an interview with High Snobiety, Abloh said, "For Off-White, my contribution was I should take a young idea of streetwear, this idea that T-shirts and hoodies are important, but making that in the same factories as luxury houses."
Essentially Milan for millennials. He envisions it as democratic, open-source couture, with recent seasons inspired as much by Princess Diana and Peter Saville as his teenage years skateboarding to Nirvana.
Cross-culturalists: Wales Bonner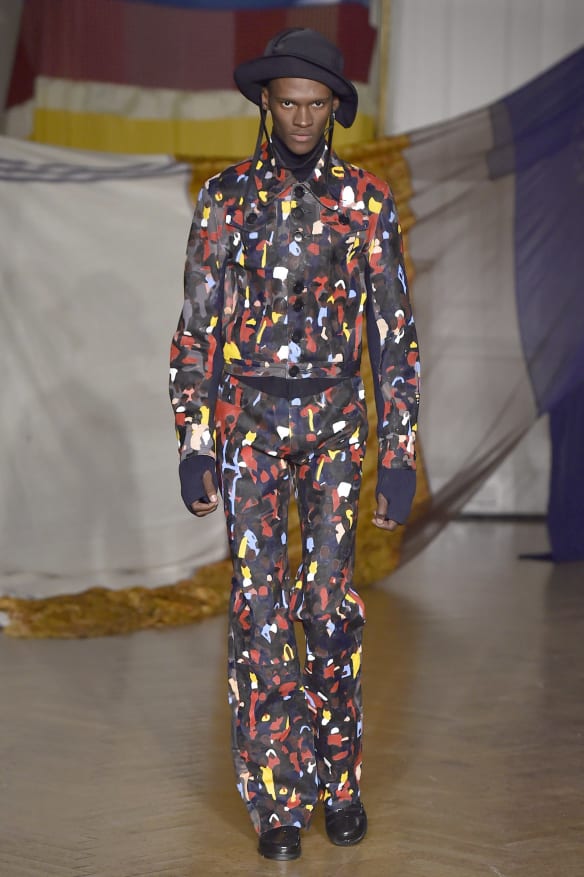 British suit tailoring prides itself on tradition. Regardless of the risks taken over the years, it usually returns to classic fabrics, fits and silhouettes. Whether it's Savile Row or Marks & Spencer, ageing customers know what they like and like what they know. Traditions are at play in the work of 2016 LVMH Prize-winning designer Grace Wales Bonner, but not such obvious ones.
Her Autumn-Winter 2018 collection focused on Creole identity in the Caribbean and "the joy of collective belonging," according to a
Vogue report
The cultural narratives of her first six seasons reflect her extensive personal research into post-colonial theory and black literature (
as told in an interview to the Guardian last year
), strengthening her vision with rare intellectual vigor. Vice recently suggested that the suit has lost its "
cultural capital
" and though this might be true for the Western establishment, it's exciting to see a young designer giving new life to formalwear by weaving in some of its richest historical threads.
Lover Boys: Charles Jeffrey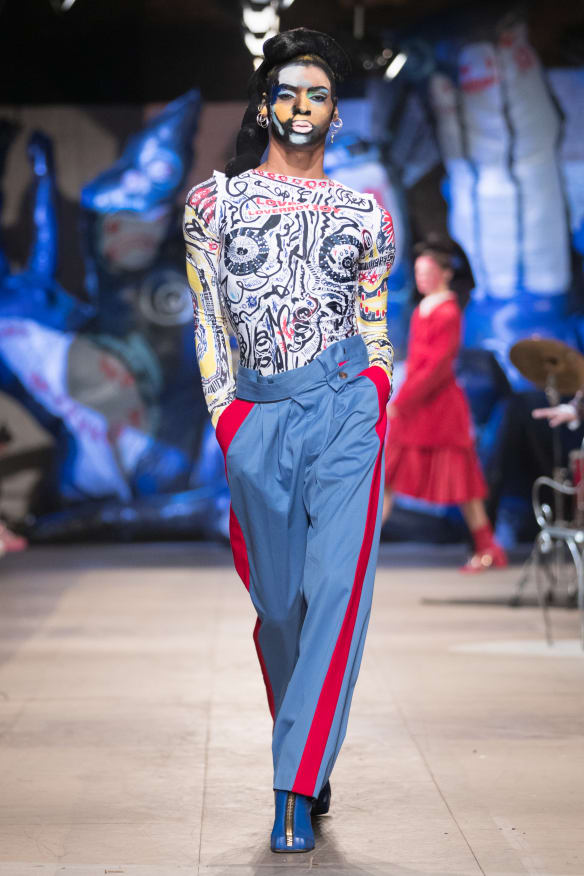 This past London Fashion Week Men's show might have only been his second ever, but Charles Jeffrey's Loverboy (named after the London club night that helped fund his degree) has already garnered a serious reputation. This season the aptly named "Tantrum" collection centered on "the myth of gay pride" according to his press release and its defense mechanisms of "peacockery and aggressive flamboyance" in the queer community. Cartoon picadors, corsets, slashed suits, leathers, tartans and skirts appeared in the colors of both of Jeffrey's native Scottish flags, with any notions of gender seeming truly archaic in the face of it all.
With screaming models choreographed by performance artist Theo Adams, a man painted blue drumming to The Prodigy and Gary Card sculptures slowly inflating, this was orchestrated chaos from a closely knit family of collaborators celebrating more than just a collection of clothes. With Jeffrey citing Alan Downs' "The Velvet Rage: Overcoming the Pain of Growing Up Gay in a Straight Man's World" as a key inspiration. It's uplifting seeing Loverboy build a world of its own. They might just be the last gang in town.