The Clock Is Ticking on Armani's Empire of Timeless Fashion
Can the 84-year-old designer turn around a company built on classic style in the Gucci era?
By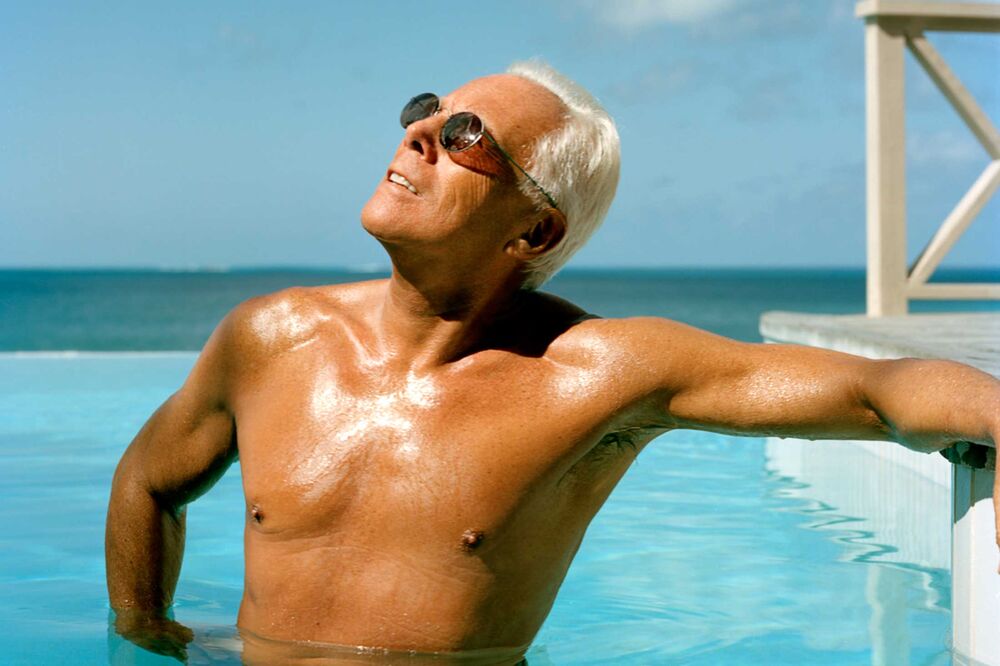 A few days after the death of Chanel designer Karl Lagerfeld in February, Giorgio Armani summoned guests to his personal museum in Milan for his fall-winter collection runway show. At the former granary wrapped in stark concrete walls, he revealed the latest lineup of his softly tailored jackets, velvet bombers, and evening gowns to the friendly nods of magazine editors, department-store buyers, and celebrity clients such as Naomi Watts. At the finale, instead of his habitual quick bow and wave, Armani took the hand of a model and paraded the length of the catwalk. The crowd cheered in amazement. Perhaps a touch of sentiment in the wake of Lagerfeld's passingcontributed to the applause. Nevertheless, it was a thunderous exclamation that the 84-year-old Armani—the creative director, chief executive officer, and sole owner of his namesake company—remains a force to contend with and one of the last creative titans of the fashion industry.
"It was actually quite an emotional moment," Armani, a cautious communicator who's never mastered English, says in a written interview. His name is one of the world's most recognizable brands: a sprawling fashion and lifestyle empire producing everything including red-carpet gowns, logo swim briefs, perfumes, eyeglasses, and sleek hotels dotted around the world. Armani's aesthetic—streamlined but sensual, dressed-up and laid-back at the same time—has become shorthand for classic Italian elegance and luxury design. His savvy at exporting it to the world has helped him amass one of Italy's biggest fortunes.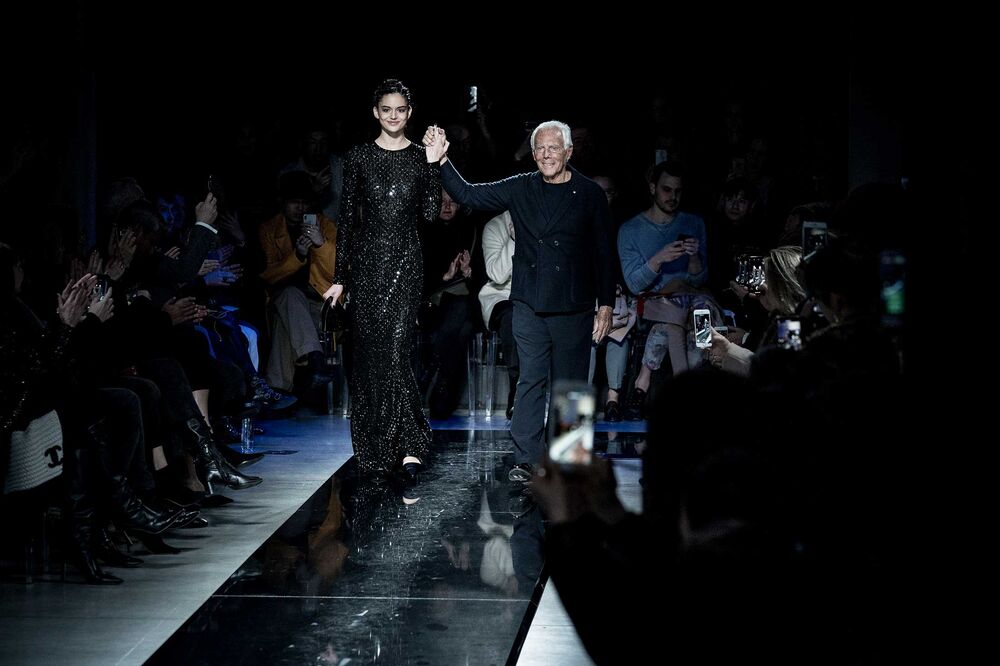 But falling revenues since 2016 suggest the time may have passed for Armani's timeless style. Recent years have seen his creations fall out of fashion's spotlight. A period of ultracasual and athletic dressing has taken hold—with hoodies, sneakers, and yoga pants infiltrating many business workspaces—as social media-friendly designs spearheaded by Gucci's extravagant aesthetics seduced young luxury shoppers to the detriment of more conservative creations. The decline of American department stores and the rise of online shopping, where $3,000 tailoring is a tough sell, have also hurt. "When you've been so successful, sometimes it's difficult to realize you have to change," says Mario Ortelli, a London-based luxury consultant. "The company remains true to its DNA, but it hasn't been fast enough to target a changing customer."
Net revenues fell 5.5% at constant exchange rates to €2.3 billion ($2.6 billion) in 2017, the last year for which the company disclosed sales. Armani said in a statement last August that he didn't expect it to return to growth before next year. General Manager Livio Proli stepped down in March and was replaced with two internal hires. Armani declined to comment on the reasons for the separation.
The company has embarked on a restructuring plan to streamline its seven labels. Midprice department-store lines such as Armani Jeans and Armani Collezioni are being discontinued and their products folded into a more manageable stable of three main labels. That could reduce customer confusion and allow for a more focused investment in digital advertising, Ortelli says.
Ralph Lauren, Armani's American analogue who is celebrating 50 years in the trade, has also seen his business fortunes decline in recent years, though he recently bounced back by refocusing the brand on classic styles and targeting younger shoppers through collaborations and headline-grabbing products such as moon landing-inspired jackets with built-in heaters.
Much like Lauren, Armani is known for living the dream he's selling. Instantly recognizable for his white hair and deep tan, often seen in relaxed drawstring trousers and a fitted T-shirt or crew neck sweater, he cruises around posh corners of southern Italy on his 210-foot custom superyacht Maìn, a childhood nickname for his mother, and visits more than a half-dozen homes in Antigua; St. Moritz, Switzerland; and elsewhere, furnished with an ever-expanding menu of Armani-designed wares to ensure that everything meets his aesthetic specifications. "I admit to being a control freak," he says. "It's important that everything that bears my name is inspected through my personal lens."
As the only shareholder of his company, with a net worth of about $6.6 billion, according to Bloomberg calculations, Armani can be as fussy as he chooses. His sharp eye extends to licensing agreements: In meetings with the team managing L'Oréal SA's Giorgio Armani Beauty subsidiary, he's been known to toss out most images from a photo shoot in a matter of seconds, keeping only the one or two he finds "most Armani" for the campaign.
"He likes to make sure that everything that touches his name is consistent with his vision," says Nicolas Hieronimus, deputy CEO and head of L'Oréal's luxury division since 2011. Adds Cate Blanchett, who accepted her Best Actress Academy Award at the 2014 Oscars in a gold gown from the designer and became Armani Beauty's global spokeswoman last year, "To say he is hands-on is an understatement. I remember one fitting where he sent the seamstress out and got down and pinned the hem of my dress himself."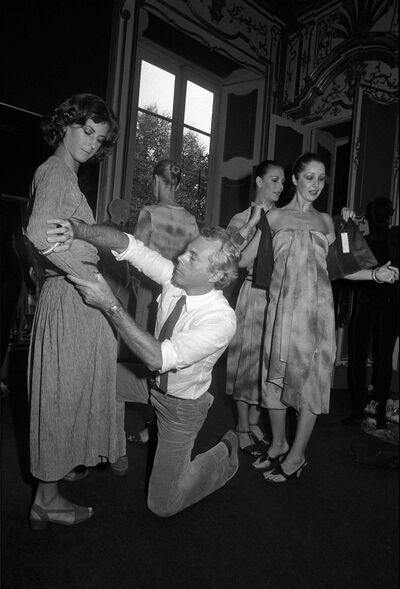 Armani got his start dressing windows in Milan's iconic Rinascente department store, becoming a menswear designer under Nino Cerruti, at the time one of the biggest names in Italian fashion. He founded his own company in 1975 with his partner, Sergio Galeotti. The big breakthrough came in the 1980s, when Armani turned his focus west—chasing opportunities to dress American stars for the red carpet and outfitting them on screen, as in the case of the mobster epic The Untouchables, the hit TV series Miami Vice, or a young Richard Gere in American Gigolo.
The blend of Hollywood glamour and Armani's sensual Italian aesthetic revolutionized fashion, pushing aside boxy and buttoned-up tailoring in favor of roomy suits that draped suggestively across the body. The look found female fans as well, particularly among corporate women who quickly eschewed earlier strains of "power dressing" in favor of the soft but conservative lines of Armani suits that put a feminine spin on sophisticated menswear-inspired styles.
When Galeotti died in 1985, Armani was forced to make what he called a "crucial decision": bring in new business partners or even sell outright so he could focus on design, or become a force in business as well as design. "I decided to embrace the challenge," Armani says. "And from that day I never looked back." He spent the next three decades extending his take on design into a total lifestyle offering by leading the luxury industry's push into eyewear, home goods, and furniture. He's opened restaurants and hotels from Milan to Dubai, where the 160-room Armani Hotel Dubai occupies 10 floors in the world's tallest skyscraper.
Whereas French luxury rivals LVMH Moët Hennessy-Louis Vuitton and Hermès built a business by snubbing wholesalers, Armani was more opportunistic, sprouting subbrands to target customers with different tastes and budgets, in different kinds of stores. His famously meticulous hand preserved the classic appeal of his high-end Giorgio Armani and made-to-order Armani Privé labels. The rise of e-commerce has muddied his message, though, as the increased visibility of more affordable products has raised the likelihood of distracting consumers. In online searches, $60 sweatpants from his EA7 leisure-wear line and even Emporio Armani jockstraps pop up before his $2,000 suits.
Armani isn't the only classic Italian brand struggling to define its space and keep up sales. Tod's SpA, the maker of $500 suede driving loafers and staid leather handbags, and Salvatore Ferragamo SpA, with its silk scarves and country club-friendly Vara pumps, are among the companies to see sales decline over the past two years, even as Chinese demand has pushed French rivals Louis Vuitton and Gucci owner Kering SAto record highs.
Fashion empires have declined and fallen before. Roberto Cavalli SpA, the namesake brand of one of Armani's Italian contemporaries, moved to shutter its U.S. stores this year and entered negotiations with creditors to avoid bankruptcy. French fashion billionaire Pierre Cardin, at age 96, has maintained control of his business but watched it fizzle into a portfolio of mostly empty stores, a Paris nightclub, and an iconic Mediterranean mansion propped up by license fees for underwear and pillowcases.
Armani's much more sizable presence makes a similar fate less likely. Indeed, the company is still growing in key fields: In cosmetics, for instance, Armani foundations and fragrances such as Sì Passione and Acqua di Giò cologne helped drive L'Oréal's sales. Armani had free cash flow of more than €1 billion when it last reported earnings, in August 2018. Still, the empire remains guarded about the pace of its turnaround. The company has yet to announce its results for last year and declined to make other executives available.
In the wake of Lagerfeld's death, generational issues plaguing the fashion industry are more in the spotlight than ever. Miuccia Prada, LVMH's Bernard Arnault, and other aging designers and entrepreneurs appear irreplaceable, and luxury companies have done little to clear up questions over succession. Faced with the challenge, Fendi, Bulgari, and Gucci have all sold themselves to French luxury conglomerates beginning in the 1990s, and Donatella Versace handed control last year to the American group Michael Kors Holdings Ltd. For his part, Armani—who's never married or had children but is close with a sister and two nieces, who also work with the company—has created a foundation that will inherit ownership of the company upon his death and be charged with guarding its independence and supporting social causes.
Armani continues to tack on new projects: developing a suite of luxury apartments attached to his Madison Avenue flagship store in New York and clinching a deal for Emporio Armani to outfit the Italian national soccer team. At his personal museum, where mannequins stand in clusters throughout four mostly windowless stories like guards at an emperor's tomb, Armani has tried to liven up things by hosting events to try to keep his brand relevant. There was a retrospective on the architect Tadao Ando during the latest Milan Design Week and a workshop for aspiring filmmakers led by Call Me By Your Name director Luca Guadagnino.
Armani's hunger to branch out into new activities may be responsible for the tentacled structure his company is scrambling to revise—but the diversity of his empire might also be what saves him. "Luxury isn't only about selling handbags or lipsticks anymore, it's selling a whole experience. Armani is one of the only brands that's had success getting into all sort of different things," says Elspeth Cheung, brand valuation director at Kantar's BrandZ division. Even as sales shrank, Armani's presence in categories such as hotels as well as strength in entry-price categories such as beauty helped the value of his brand increase 5% last year, according to BrandZ. "They're providing a unique experience," Cheung says. "Armani has a very good potential to revive the brand."
At an age where many men choose to spend their time shouting at the television, Armani says his days are "full but rewarding." He wakes up at 7 a.m., eats a breakfast of yogurt and fruit (often kiwis), and works out with his trainer for an hour before walking down the block to his creative studios and head office, where his teams are currently preparing the collections for menswear week in Milan. "I feel as energetic and committed to my work as ever before in my life, but I'm a realist," Armani says. "There are still many challenges ahead, but possibly the hardest is not having enough time to devote to all the things I would still like to achieve."
(Updates with Armani's latest available revenue figures in the fourth paragraph. An earlier version corrected the spelling of Louis Vuitton in the 13th paragraph.)
BOTTOM LINE – 
As luxury goods makers cope with the internet and tilt offerings toward younger consumers, the future of classic brands such as Armani is clouded.